County Council Sets Out Budget And Council Tax Proposals For Year Ahead
Published on Thursday 21 January 2021
Proposals to keep a rise in council tax as low as possible while protecting vital services and meeting significant budget pressures are to be considered by Derbyshire County Council this week.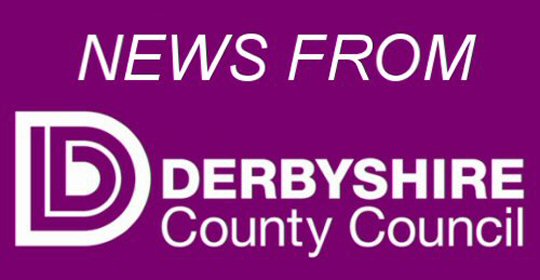 The county council's Cabinet will meet on Thursday (21 January) to consider how it will manage and spend its proposed £571.7m budget for 2021-22, and the level of council tax required.

The Revenue Budget Report sets out the council's current financial position, the impact of Covid-19, details of the Government's Spending Review 2020 and the Provisional Local Government Finance Settlement, including council tax levels, before identifying the service pressures facing the council and consequent budget savings required.

This year the Government is permitting local authorities with responsibility for adult social care to raise council tax by a maximum of 5%, made up of an adult social care precept of 3% (which must be spent solely on adult social care) and 2% for general council expenditure.

Derbyshire County Council is proposing to set its increase at half that amount at 2.5%, made up of 1% for adult social care (which would raise just over £3.4m) and 1.5% for general council expenditure. If agreed, the council would have the option of levying the remaining 2% adult social care precept the following year if required.

If the council tax rise is agreed it would mean an extra 50p per week for an average band B household and for a band D household the rise would be 65p per week.

Derbyshire County Council Leader Councillor Barry Lewis said: "We are facing budget pressures like never before as we see demand for adult and children's social care continue to rise and extra challenges placed on each department and its services due to the current pandemic.

"We have welcomed significant extra Government funding for social care and to help meet Covid costs in the past year and the council remains in a stable position financially.

"However, adult and children's social care budgets will continue to fall short in future years due to demand and increased costs. While we work hard on innovative and enterprising ways to provide these vital services we need a longer term solution to funding."

Councillor Lewis added: "We realise that many households are facing extra pressure themselves due to the pandemic and we do not want to add any extra financial burden to residents which is why we've worked hard to propose the lowest council tax increase that we can."

Significant additional Government support in the shape of the Social Care Grant saw the council receive just over £21.9m last year to be spent on adults and children's social care, with a further £27.6m for the coming year.

The council has also set aside a further £10m as a contingency to meet further increases in social care costs to ensure it can meet its commitments.

The adult care budget will rise for the coming year by £3.5m to £262.1m, and the children's services budget will increase by £10.4m to a total of £121.3m.

Although Covid-19 has put pressure on departmental budgets across the council, costs in 2020-21 are currently being met following announcements of funding during the pandemic including £45m from the Ministry of Housing Communities and Local Government in emergency grant funding, an additional forecast £4.8m for lost sales, fees and charges income and £38.0m of ringfenced Covid-19 specific funding against the pandemic-related costs.

To ensure the books continue to balance for the years ahead a cross-council savings target of £13.3m has been set for 2021-22 and the savings target over the next five years for the council is approximately £72.6m.

The council last year announced it was to invest £4m on tackling climate change, and the report states that early costs associated with this work may be offset by future savings as the work continues.

In addition to the Revenue Budget, Cabinet will also consider the council's capital programme, which includes a range of schemes including investment in the Local Transport Plan of £22m to support maintenance of the highways, major capital projects, such as the A61 Growth Corridor and a programme of road safety and traffic management engineering schemes. These capital proposals are contained in a separate report.

This follows on from the announcement in the autumn that the council will spend £40m across the county over 18 months on improving roads and pavements.

At its meeting Cabinet will make recommendations to Full Council to consider when it meets on Wednesday 3 February 2021.

---
More News From Amber Valley Info
Read Some Of The Latest News Articles From Amber Valley Info
Derbyshire people go back for second helping of Covid-19 vaccines People all across Derbyshire are going back for a second helping of Covid-19 vaccine, as the largest vaccination pr read more

---

PCC urges dog owners to take part in new survey on theft Derbyshire Police and Crime Commissioner Hardyal Dhindsa has unveiled a new survey to understand the risk and impact of dog read more

---

Amber Valley Borough Council Secures £700,000 grant towards carbon neutrality by 2030 Amber Valley Borough Council has been awarded a grant of £700,000, by the Governmen read more

---

Use of unregistered waste removal company results in prosecution Darren Steele of Everest Drive in Somercotes, appeared before Derby Magistrates Court on 22 February charged with fa read more

---

Man Charged With Arson After An Incident In Heanor A man has been charged with arson with intent to endanger life after an incident in Heanor, last week. read more

---
The Amber Valley Info Noticeboard
Read Some Of The Latest Posts On Our Noticeboard
You can't catch Covid-19 from the vaccination. You can't catch Covid-19 from the vaccination. It doesn't contain the live virus and cannot give you COVID-19 infection. It is possibl read more

---

Stay at home and still vote on 6 May Stay at home and still vote on 6 May in the local elections. Register for your postal vote now! read more

---

Monday sees the return of Traffic Cops to our screens. Derbyshire's officers will again star in the popular Channel Five series Traffic Cops. read more

---

Heanor Vision Hope & Joy art competition. With 12 High Street Goody Bags on offer and the chance to see your child's artwork on Heanor Market Place, this is a perfect opportunity to read more

---

Meet With Your Commissioner- Amber Valley Police and Crime Commissioner Hardyal Dhindsa invites you to discuss key issues in the Amber Valley area read more

---
---