Santa Visits Heanor Tonight - Hucknall Round Table
Published on Tuesday 15 December 2020
Hucknall Round Table are delighted to announce we'll be running our annual Santa Sleigh events this year!

It will be different this year to comply with the latest guidance, but keep an eye out for us on the below dates and join us for a bit of Festive Cheer from the comfort of your home (or garden)!
Heanor— Tuesday 15th December (6PM)
Giltbrook– Thursday 17th December (6PM)
Collins Cash & Carry– Saturday19th December (10AM)
Berry Hill— Saturday 19th December (8:30PM)
Rise Park—Sunday 20th December (3:30PM)
We've had to reduce our number of runs and locations this year to ensure we can keep things safe, but we will do our best to visit those areas we're unable to this year in 2021.
In order to comply with Government guidance, we will be implementing the following measures:
We politely ask everyone to ensure you comply with Government guidance at all times. If we cannot be sure of everyone's safety, we'll have to withdraw the sleigh for the remainder of our route and potentially the calendar.
Please do not approach Santa, the Sleigh or his Helpers - Where possible, please stay on your own property. Where this isn't possible, please ensure you maintain 2 Metre Social Distancing at ALL times.
We'd love for you to wave, cheer and sing along with us from a safe distance. It's been a tough old year, so please make plenty of noise for Santa!
(Why not go a step further and don your finest festive attire for the visit?!)
We will not be doing bucket collections this year but if you still wish to donate, please use our TEXT code or visit our Facebook page for more info.
On behalf everyone at Hucknall Round Table, we hope you have a very Merry Christmas and a Happy New Year!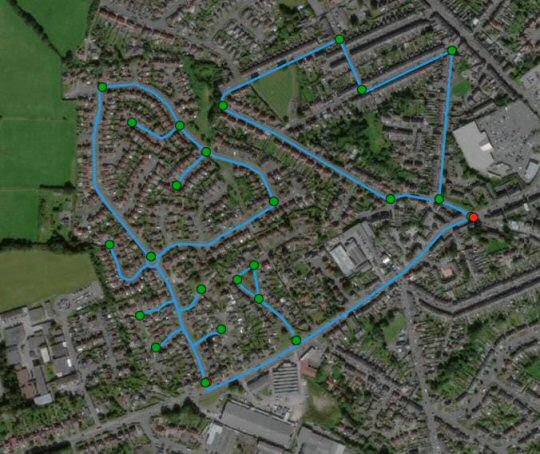 Our Heanor route will start at Peatburn Avenue and end on Nelson Street. We will be setting off between 6 and 6:30 on 15th December!
Our proposed route is below, but this may be subject to change owing to conditions and factors beyond our control.
We look forward to seeing you!
---
More Posts From The Amber Valley Info Noticeboard
Read Some Of The Latest Posts On Our Noticeboard
Derbyshire County Council Emergency Temporary Footpath Closure Derbyshire County Council apologises for any inconvenience caused while work takes place. read more

---

Heage Windmill are selling flour again Heage Windmaill have reopened for the sale of flour - why don't you pop by and stock up read more

---

Shipley Woodside Community Garden is now registered on Bug-Life's B-Lines map Shipley Woodside Community Garden is now registered on Bug-Life's B-Lines map - as are Shipley Country read more

---

Delays With Amber Valley Refuse Collections From Amber Valley Borough Council: Please be aware we are currently experiencing some delays with refuse collection services. If your roa read more

---

Latest Vacancies At Derbyshire Constabulary Are you on the lookout for a new challenge or a change in career? Derbyshire Police have the following opportunities in force: read more

---
News On Amber Valley Info
Read Some Of The Latest News Articles From Amber Valley Info
Ripley Woman charged with fraud offence A woman from Ripley has been charged following an investigation into alleged charity fraud. read more

---

Mobile speed camera locations in Derbyshire until the 5th May Derbyshire Casualty Reduction Enforcement Support Team (C.R.E.S.T) will be carrying out mobile safety camera enforcemen read more

---

Health Director Says Support Derbyshire's Economy Safely Derbyshire's Director of Public Health is urging residents to support the county's economy safely as outdoor hospitality, no read more

---

Derbyshire's Community Testing Sites To Offer Free Kits Free coronavirus testing kits will be available to everyone without symptoms at Derbyshire County Council's community testi read more

---

Belper Library To Play Host To Poet Laureates National Tour Poet Laureate Simon Armitage is to visit Derbyshire County Councils newest library as part of his national A to Z Librari read more

---
---