Derbyshire Sewing Bees Take To The Catwalk At David Nieper
Published on Tuesday 2 July 2013
Award ceremony at David Nieper rewards fashion and sewing talent in a bid to pass on fashion manufacturing skills
Rebecca Rawson aged 13 from Mill Hill School in Ripley, Megan Saxton and Kinga Graczyk both aged 14 from Heanor Gate Science College and Euan Brailsford, aged only 5 from Copthorpe Community School in Alfreton, have their fashion futures sewn up after winning Gold, Silver and Bronze awards at David Nieper's own Junior version of the Great British Sewing Bee.
All the winners were presented with their trophies during a special awards ceremony at David Nieper. The event was attended by more than 180 students, aged five to 16, teachers, parents and even grandparents who toured the Alfreton-based fashion house and spent time learning sewing skills showcased by David Nieper staff.
Now in its third year, the Fashion for Free! competition run by David Nieper, challenged Derbyshire school pupils to design and create a wearable garment, hat, bag or belt following the 'bee' style theme. Using only recycled materials and incorporating sewing skills such as embroidery and threadwork, the winning students took to the David Nieper factory floor as an improvised catwalk to show-off their creations.
Students from schools, including Leys Junior School, Tibshelf Townend Junior School and Belper School also received highly commended certificates for their creations.
Christopher Nieper, managing director of David Nieper, said: "Because we design and make all our women's fashion here in Derbyshire, we need to encourage young people into the industry. This competition is all about passing on skills to the next generation, and with the outstanding talent seen here today, we have a very promising and skilled workforce of the future."
According to the British Fashion Council, over 60% of workers in the textiles and manufacturing sectors are over the age of 40 and the sector is facing an uphill struggle to find new recruits who possess the necessary fashion manufacturing skills.
David Nieper has taken the issue into its own hands, introducing competitions, paid internships and a fashion design scholarship, to highlight job opportunities in the industry and encourage younger people to learn from experienced hands.
Article & Photos provided courtesy of Nellie PR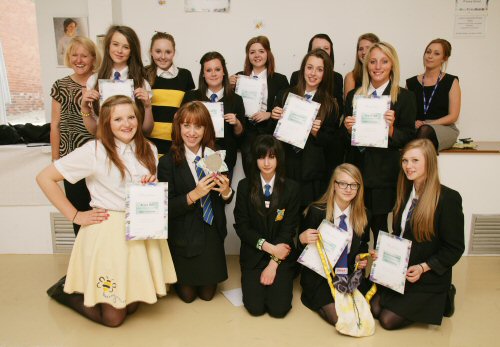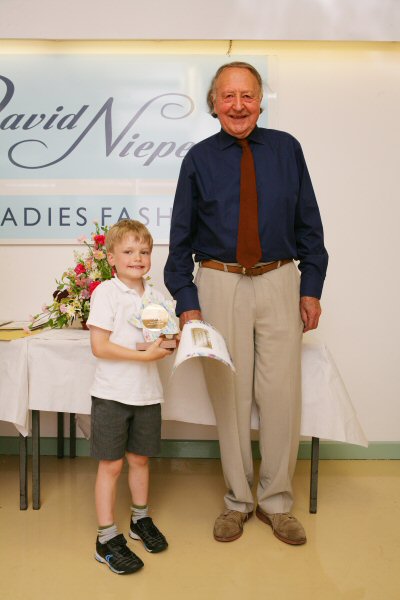 ---
More News From Amber Valley Info
Read Some Of The Latest News Articles From Amber Valley Info
Croots Farm Shop in Derbyshire named Shop of the Year Popular Derbyshire farm shop Croots has won the title of Shop of the Year in the Great Food Club Awards 2022/2023. read more

---

Local artist completes 50m mural at Chesterfield Royal Hospital Chesterfield Royal Hospital's children's department recently unveiled a special piece of artwork spanning more than 5 read more

---

Patrols continue following warrant in Ripley Patrols are continuing in Ripley following a warrant in the town yesterday morning (Thursday 29 September). read more

---

Folk Tales, Pine Forests and Nordic Traditions Will Delight the Senses at Chatsworth This Christmas The Norse god of mischief, enchanting folk tales and the heady scent of pine fore read more

---

Bollywood Glamour Comes To Belper and Derby This Autumn Dozens of people of all ages, abilities and cultural backgrounds will come together for two flashmob performances - bringing read more

---
The Amber Valley Info Noticeboard
Read Some Of The Latest Posts On Our Noticeboard
Stop Loan Sharks It's not always easy to spot loan sharks. They can take many guises and operate in a variety of ways. You can help protect your community from loan sharks by learni read more

---

Market Towns - Shop Front Improvement Grant Do you run a business in Alfreton, Ripley, Heanor or Belper? If so, you could be entitled to some support for shop front improvements! read more

---

Administration Assistant Job Vacancy at Ripley Town Council Deadline for applications is 15th August 2022. read more

---

Ripley Town Council Certificate of Merit Award 2022 Do you know someone in the Ripley Township (Ripley, Waingroves, Marehay, Ambergate, Nether Heage, Heage, Bullbridge, Sawmills, St read more

---

Alfreton Male Voice Choir are looking for new members Ever fancied joining a choir, Alfreton Male Voice Choir are looking for new members... read more

---
---