Virtual wards launch in Derbyshire
Published on Wednesday 15 November 2023
The roll out of virtual wards across Derby and Derbyshire - providing hospital level care in patients' homes around the clock - is underway and aims to help reduce pressures this winter.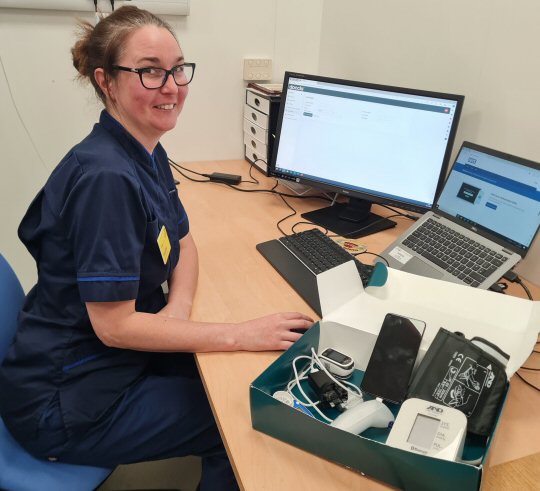 Heather Stroud, Lead Respiratory Nurse (Virtual Wards) showing the Doccla system and equipment for respiratory patients.
A total of nine virtual wards are operating and will be developed further across the healthcare system including Chesterfield Royal Hospital NHS Foundation Trust and University Hospitals Derby and Burton NHS Foundation Trust.
The wards will care for patients across six specialties including cardiology, respiratory, frailty and palliative (end of life)*. There is also a diagnostic virtual ward, which allows testing and monitoring of patients over longer periods of time.
Patients on our inpatient wards will be identified by clinicians within the hospital and following discussions to assess their clinical suitability, they will be allowed to go home, where they will receive direct care and monitoring by state-of-the-art technology.
This includes a tailor-made box of equipment provided to patients, which includes a pre-configured smartphone or tablet with a large font that is easier to read.
Additionally, medical devices within the kit can monitor vital signs such as heart rate, respiration rate, body temperature, blood oxygen levels, and blood pressure. This data is then remotely monitored by healthcare professionals from five dedicated clinical hubs across the region. In cases where face-to-face care is necessary, healthcare providers can also make home visits.
Dr Hal Spencer, Chief Executive at Chesterfield Royal Hospital, said: "Our virtual wards are like a hospital without walls! Patients will receive hospital care in their own homes; they will be monitored by state-of-the-art equipment, flagging issues and providing clear advice on managing and responding as clinically appropriate.
"The virtual ward expansion forms part of an investment in schemes to increase capacity across all hospitals within Joined Up Care Derbyshire – the integrated care system. Our system virtual wards are a great tool open to our clinicians to support keeping people out of hospital, which is vital to relieve the pressures we particularly feel during winter and provides a much better experience for patients and their families."
Dr Seema Kumari, Senior Responsible Officer for Virtual Wards Derby and Derbyshire ICB, said: "Virtual wards are a safe and efficient alternative to NHS bedded care which will allow patients who would otherwise be in hospital to receive the acute care and treatment in the place they call home, including care homes.
"It allows our healthcare staff to allocate more time for those in need of acute hospital care as it frees up hospital bed space. This is better for patients' recovery and easier for their families and carers.
"The key to making virtual wards work, apart from multi-disciplinary team clinicians, is the monitoring equipment which allows clinicians to check on the progress of their patients while the patient is at home and the clinician is in the hospital."
Doccla Chief Medical Officer, Dr Greg Edwards said: "The need to deploy more technological solutions that can help streamline operations and reduce the pressure on hospitals has become an absolute necessity, and this is exactly why Doccla exists, to provide some much-needed breathing space for our NHS.
"As an accredited healthcare operator, and the first CQC-registered virtual ward provider in the UK, Doccla is able to use its own team of clinicians to plug-in and support healthcare workers, providing additional capacity and care for patients.
"We're really excited to support Joined Up Care Derbyshire in introducing virtual ward technology to hospitals across the East Midlands."
The NHS has embarked on an ambitious programme to expand virtual wards across England: The project with Joined Up Care Derbyshire will provide capacity to support over 200 patients at any one time; a significant sign of critical concurrent capacity.
---
More News From Amber Valley Info
Read Some Of The Latest News Articles From Amber Valley Info
New Fundraising Manager for Crich Tramway Village Crich Tramway Village, home to the National Tramway Museum, has appointed a new Fundraising Manager. read more

---

Mobile speed camera locations in Derbyshire through December Derbyshire Casualty Reduction Enforcement Support Team (C.R.E.S.T) will be carrying out mobile safety camera enforcement read more

---

Derby events company proves knock-out success in Canada A Derby company that has helped raise over £31m for charity by hosting bucket-list challenges for adventurous people ha read more

---

Developer Set To Make Special Wish For Mission Christmas An East Midlands based house builder, which was named one of the top fundraisers in the East Midlands last year by Mission C read more

---

CCTV released after thousands of pounds of jewellery stolen during burglaries Police Officers are appealing for the publics help after a series of burglaries in Derby, Amber Valley, read more

---
The Amber Valley Info Noticeboard
Read Some Of The Latest Posts On Our Noticeboard
Heage Windmill Update for Visitors - Change to Opening Times Now that the sails and cap have been safely removed from the windmill, work to replace the sheer timbers (and other repa read more

---

Employers! Promote your vacancies at the Amber Valley Recruitment Event Amber Valley Borough Council is working in partnership with the Job Centre, Department for Work and Pensions read more

---

King Charles's Coronation Celebrations And Community Activities Let's Celebrate this Special Occasion Together Riversdale, Ridgeway, Sawmills. read more

---

The Social Hub @ JGFC - Daytime Social Group The Social Hub @ JGFC is a daytime social group for adults with learning disabilities. One of our 3 Hubs is based in the Amber Valley ar read more

---

Derbyshire Time Swap Give time, get time, make a difference read more

---
---