Career route starts at Great British Car Journey for new apprentice
Published on Saturday 4 November 2023
An exciting apprenticeship opportunity has kick started the career of a young, classic car enthusiast at his favourite museum in Derbyshire.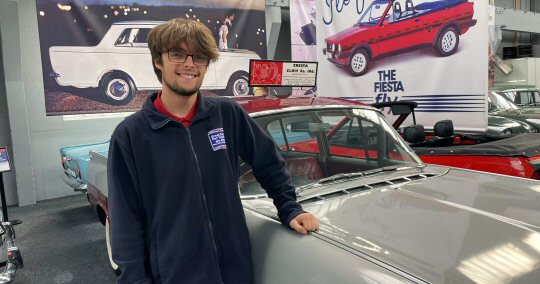 Riley Smith (19), from Underwood, has embarked on a Level Three Apprenticeship in Digital Marketing at Great British Car Journey in Ambergate.
He joins from Ashfield School where he completed A Levels in Computer Studies, Physics, and Business Studies.
Keen to get his career started after school, Riley explained: "I didn't want to go to university. I knew that I wanted to have a lived-experience of industry. Great British Car Journey has been a fantastic starting point for that to happen and I am looking forward to putting my Business Studies A Level into practice here."
In his new role at the classic car visitor attraction, Riley will be helping to market Great British Car Journey's new online range of merchandise.

Riley's journey with the classic car visitor attraction began last year when he completed a work experience placement. Subsequently, the placement helped Riley secure a weekend job as a coordinator for the popular Drive Dad's Car experience.
Richard Usher, Founder and CEO of Great British Car Journey explained: "Riley impressed us from the start. From a successful work experience week, through to his weekends working alongside members of the public; Riley has made an impact with his enthusiasm and willingness to learn."
Riley's enthusiasm for his apprenticeship is evident: "I'm living the dream! I'm restoring my own classic 1275 Mini at home so working at Great British Car Journey is a perfect fit for my future career ambitions and interests."
Riley is one of two apprentices now employed at the museum. Its heritage apprentice Luke Henshaw was named as the Tourism Young Achiever in 2022 in the Visit Peak District and Derbyshire Tourism Awards. Last year, the attraction was named as the best New Tourism Business in the Visit Peak District and Derbyshire Tourism Awards.
As the award-winning classic car attraction continues to go from strength-to strength, Richard reflects: "We are in a position to offer unique and meaningful apprenticeships and Riley is already making the most of his placement with us.
"The cars at Great British Car Journey here may have a rich history, but we are delighted to offer Riley a bright future with us."
To visit Great British Car Journey and purchase discounted tickets for entry, visit www.greatbritishcarjourney.com
---
More News From Amber Valley Info
Read Some Of The Latest News Articles From Amber Valley Info
Derby events company proves knock-out success in Canada A Derby company that has helped raise over £31m for charity by hosting bucket-list challenges for adventurous people ha read more

---

Developer Set To Make Special Wish For Mission Christmas An East Midlands based house builder, which was named one of the top fundraisers in the East Midlands last year by Mission C read more

---

CCTV released after thousands of pounds of jewellery stolen during burglaries Police Officers are appealing for the publics help after a series of burglaries in Derby, Amber Valley, read more

---

Visit Santa at the National Stone Centres Free Christmas Festival Santa Claus is coming to the National Stone Centre as the Derbyshire visitor attraction welcomes families for a mag read more

---

Operation Re-Fit At Heage Windmill The first of the six newly refurbished sails was lifted from the ground and transported to the mill cap read more

---
The Amber Valley Info Noticeboard
Read Some Of The Latest Posts On Our Noticeboard
Heage Windmill Update for Visitors - Change to Opening Times Now that the sails and cap have been safely removed from the windmill, work to replace the sheer timbers (and other repa read more

---

Employers! Promote your vacancies at the Amber Valley Recruitment Event Amber Valley Borough Council is working in partnership with the Job Centre, Department for Work and Pensions read more

---

King Charles's Coronation Celebrations And Community Activities Let's Celebrate this Special Occasion Together Riversdale, Ridgeway, Sawmills. read more

---

The Social Hub @ JGFC - Daytime Social Group The Social Hub @ JGFC is a daytime social group for adults with learning disabilities. One of our 3 Hubs is based in the Amber Valley ar read more

---

Derbyshire Time Swap Give time, get time, make a difference read more

---
---