Tramway Museum Society Appoints New President
Published on Wednesday 6 September 2023
The Tramway Museum Society (TMS) which owns and operates the National Tramway Museum at Crich Tramway Village, has appointed a new President for the next year.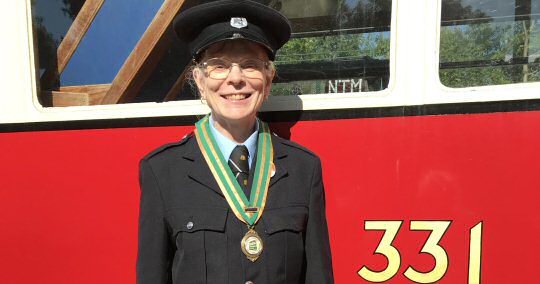 The Society was founded in 1955. Its founding members converted a disused quarry, located to the north of the village of Crich in Derbyshire, on the edge of the Peak District, into the fledgling Crich Tramway Museum. The Society became a registered charity in 1962, and Crich Tramway Museum expanded and grew its collection, eventually becoming the National Tramway Museum in 1980.

Sue Whiteley has taken over the reins from Bob Pennyfather, the previous president.

Each year The Tramway Museum Society Board members nominate a new president to officiate at special events and attend meetings which help to guide the direction of the Society.

Sue Whiteley, from Macclesfield, has been a volunteer at Crich since 1997 and a conductor since 2002.

Sue started as a volunteer in the Workshop alongside husband Peter, and they both volunteer regularly maintaining the trams as well as crewing together.

Asked what she likes most about her volunteering role, Sue said:

"I actually like cleaning the trams. It gives you a great sense of satisfaction when you can see a positive result."

Sue is looking forward to her role as TMS President and is already organising her diary to commit to the role, which she will combine with her continued commitment to other duties at the Museum.

Chairman of the Tramway Museum Society, Karen Rigg, said:

"We are very pleased to welcome Sue as our President to represent the Society for the coming year and I look forward to working closely with her".

---
More News From Amber Valley Info
Read Some Of The Latest News Articles From Amber Valley Info
Heanor Happy Cafe hopes to be a hit Monthly Happy Cafe events are now taking place at the new Infinite Wellbeing Community Centre in Heanor. read more

---

Ambitious PT 'works out' plan to save troubled Derby gym A Derby gym that was threatened with closure has been saved - in a bid that will save jobs, hundreds of memberships, and exe read more

---

Music Night Showcases Local Talent Some of Derbys most successful and up and coming music and dance performers will come together for a special event in the city read more

---

Appeal for information after two men are robbed in Heanor Police are appealing for anyone who saw anything suspicious in Heanor to come forward as they might be able to help with ou read more

---

Another Four Bus Routes To Get More Services This Autumn Services are being improved for four more bus routes, with changes already in place for the 90, and the 61, 272 and 257 to i read more

---
The Amber Valley Info Noticeboard
Read Some Of The Latest Posts On Our Noticeboard
Heage Windmill Update for Visitors - Change to Opening Times Now that the sails and cap have been safely removed from the windmill, work to replace the sheer timbers (and other repa read more

---

Employers! Promote your vacancies at the Amber Valley Recruitment Event Amber Valley Borough Council is working in partnership with the Job Centre, Department for Work and Pensions read more

---

King Charles's Coronation Celebrations And Community Activities Let's Celebrate this Special Occasion Together Riversdale, Ridgeway, Sawmills. read more

---

The Social Hub @ JGFC - Daytime Social Group The Social Hub @ JGFC is a daytime social group for adults with learning disabilities. One of our 3 Hubs is based in the Amber Valley ar read more

---

Derbyshire Time Swap Give time, get time, make a difference read more

---
---