Historic Derby Tramcar to Return to its Spiritual Home
Published on Wednesday 23 August 2023
A tramcar in the National Tramway Museum (NTM) collection at Crich Tramway Village, which originally ran in Derby, is to return to its spiritual home as part of an exciting new project.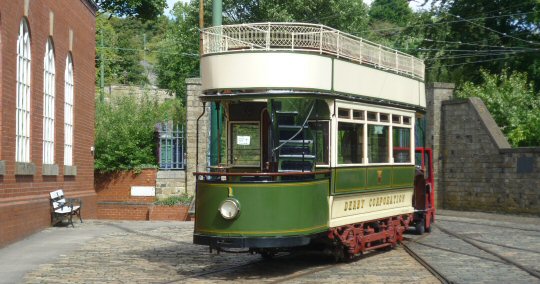 Derby Corporation tramcar No. 1, which was built in 1903, will be loaned for display as part of Derby's new centre for classic motor vehicle restoration - 'Great Northern Classics' – at the former Victoria Ironworks foundry on Osmaston Road. The building has a long history of industrial engineering use and most recently served as the Rolls-Royce Heritage Centre. Most significantly for the display of the Derby tram, at one time the building was used by Derby Corporation as a depot to house trams and trolleybuses. This ambitious project has re-purposed the building to house new commercial units, workshops and showrooms for classic motor vehicles, alongside running an Apprenticeship programme for engineering skills.
Dr Mike Galer, General Manager at Crich Tramway Village said:
"I am thrilled that after many months of work and negotiation, Derby 1 is returning to its once home and that doesn't happen very often. It will be able to be enjoyed by a brand-new audience who can appreciate Derby 1 in its original setting.
"We would like to thank Arts Council England and Museum Development East Midlands for the support for the Derby 1 tram loan project."
The founders of Great Northern Classics are keen to maintain the link with Derby's heritage of transport and engineering and will be opening to the public in November 2023.

Abigail Whitt, Sales & Marketing Lead at Great Northern Classics, said:

"We're super excited for the tram to return to its original home, that will sit among a wonderful collection of vehicles in our storage facility. The tram will be on display overlooked by our mezzanine and café for all of Derby to see. We're really proud to have such an important piece of Derby's transport history here at Great Northern Classics."

For more information about the project see: www.greatnorthernclassics.co.uk

Specific enquiries can be emailed to Crich Tramway Village: enquiry@tramway.co.uk

---
More News From Amber Valley Info
Read Some Of The Latest News Articles From Amber Valley Info
Appeal for information after aggravated burglary in South Normanton Police are appealing for anyone with information to come forward after an aggravated burglary in South Normanton. read more

---

DCG celebrates outstanding success in the National Teaching Excellence Framework (TEF) Derby College Group (DCG) has been awarded Gold for Student Outcomes and Silver for Student Ex read more

---

Quit Smoking For Good This Stoptober And See Good Things Happen Derbyshire smokers are being urged to quit for 28 days and see the difference that it can make. read more

---

Trust launches appeal to reclaim more space for people and nature in the heart of Ambergate! Derbyshire Wildlife Trust has secured the purchase of more than 80 acres of retired farm read more

---

Wilder Shipley event this Saturday - Celebrate Nature! Derbyshire Wildlife Trust is inviting residents across the county to Wilder Shipley, a full day of free activities to celebrat read more

---
The Amber Valley Info Noticeboard
Read Some Of The Latest Posts On Our Noticeboard
Heage Windmill Update for Visitors - Change to Opening Times Now that the sails and cap have been safely removed from the windmill, work to replace the sheer timbers (and other repa read more

---

Employers! Promote your vacancies at the Amber Valley Recruitment Event Amber Valley Borough Council is working in partnership with the Job Centre, Department for Work and Pensions read more

---

King Charles's Coronation Celebrations And Community Activities Let's Celebrate this Special Occasion Together Riversdale, Ridgeway, Sawmills. read more

---

The Social Hub @ JGFC - Daytime Social Group The Social Hub @ JGFC is a daytime social group for adults with learning disabilities. One of our 3 Hubs is based in the Amber Valley ar read more

---

Derbyshire Time Swap Give time, get time, make a difference read more

---
---