Support Derby College Group as an Invigilator
Published on Thursday 9 March 2023
Are you confident, reliable and trustworthy? Do you have strong interpersonal and organisational skills and the ability to maintain confidentiality? Are you looking for a flexible role that gives you the freedom to choose when you want to work?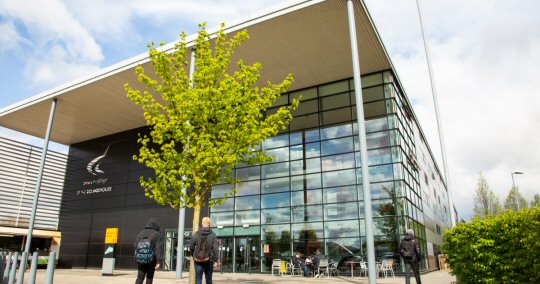 If this sounds like you, then why not consider joining our team of Sessional Examination Invigilators!

Derby College Group provides education opportunities for thousands of students every year. The role of an invigilator is key to ensuring our examinations are run efficiently and effectively for all our students. Your responsibilities will include assisting with the efficient administration, invigilation, reading and scribing of external examinations and ensuring that they are conducted in accordance with regulatory requirements.

Don't worry if this is all new to you – we will provide full training before your first invigilation and then ongoing training to ensure you are always up to date with new procedures and regulations.

The role is sessional and paid on an hourly basis, giving you the opportunity to balance your work alongside other commitments.

If you'd like to apply for this role, or just want to find out more, then contact Lucy Hanson at Derby College at lucy.hanson@derby-college.ac.uk

The closing date for applications is 30th April 2023.

---
More News From Amber Valley Info
Read Some Of The Latest News Articles From Amber Valley Info
Can you identify two men in Langley Mill? Police Officers in Amber Valley are asking for the publics help in trying to identify two men seen in the Langley Mill area, as they might read more

---

Three men sentenced for the murder of a man in Somercotes Three men have been sentenced to jail after Peshang Sleman was killed in 2021. read more

---

Spring has definitely sprung with new borns at Broomfield Hall Sunday 26th March was a very special day at Derby College Group's Broomfield Hall. Around 1000 visitors got to chance read more

---

Join Somercotes Community Singers for a Night at the Ritz Somercotes Community Singers are performing an evening of music from the movies at The Postmill Centre, South Normanton, on read more

---

White Peak Distillery reveals first main whisky release of 2023 - Wire Works Whisky - Caduro White Peak Distillery in Derbyshire is this week revealing its first main 2023 release o read more

---
The Amber Valley Info Noticeboard
Read Some Of The Latest Posts On Our Noticeboard
The Social Hub @ JGFC - Daytime Social Group The Social Hub @ JGFC is a daytime social group for adults with learning disabilities. One of our 3 Hubs is based in the Amber Valley ar read more

---

Derbyshire Time Swap Give time, get time, make a difference read more

---

Do you need help getting to certain routine health appointments, there is help available! If you need help getting to certain routine health appointments, then there is FREE transpo read more

---

You Now Need Photo ID To Vote At A Polling Station Elections are taking place across England on the 4 May. Youll need to bring photo ID to vote at a polling station. Check if your I read more

---

Belper Warm Welcome and Information Hub at Belper Leisure Centre Belper Warm Welcome and Information Hub at Belper Leisure Centre. Monday to Friday 4 - 7 pm until 31st March 2023. P read more

---
---