Jurassic News - The Dinosaurs are returning to Derby
Published on Wednesday 8 March 2023
Europe's largest dinosaur, Zeus the T-Rex, and his dino friends are returning to the Market Place in Derby's Cathedral Quarter on Saturday, July 22 – and you are all invited! The dinosaurs are the star attraction at 'A Jurassic Day Out in Cathedral Quarter' – a free family fun day, organised by the Cathedral Quarter Business Improvement District (BID).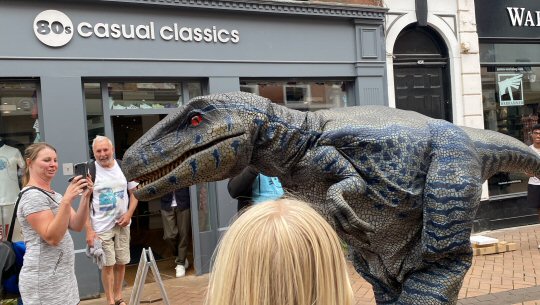 Special guests Tank the Triceratops and Emily Bronty, the brontosaurus, will be in attendance, with the chance for young visitors to train as Dino rangers and learn how to look after the dinosaurs.

Derby's St Peters Quarter Business Improvement District (BID) is also supporting the day with St Peters Cross being transformed into huge Jurassic Gates where visitors can snap their very own selfie with an impressive Dilong Paradoxus dinosaur.

Last year, more than 4,000 people met Zeus and his pals as they entertained visitors – and this year's free event is set to attract huge numbers too.

Eve Taylor, BID Project Executive for Cathedral Quarter, said: "We love creating events that put a smile on people's faces when they visit the Cathedral Quarter. The event was so well attended last year, and we are really looking forward to bringing the dinosaurs back again to Derby in July.

"We work hard to bring a host of amazing projects to Derby, but 'A Jurassic Day Out in Cathedral Quarter' really is one of the best. We can't wait to let our Jurassic friends loose in the Market Place again."

As well as Zeus, Tank and Bronty in the main arena, there will be several smaller dinosaurs roaming the streets of Cathedral Quarter throughout the day. With plenty of opportunities for 'meet and greets' and selfies with an array of different species, youngsters will also be encouraged to visit the hatchery to meet baby dinos in their first stages of life and learn about the evolution of the legendary creatures.

Brad Worley, BID Manager for Cathedral Quarter, said: "This event really is too good to miss. We encourage everyone to put it in their diary and come to Derby for a really amazing day. If last year's event is anything to go by, it'll be another terrific free day out in the Cathedral Quarter, and we look forward to seeing everyone there."

Save the date for 'A Jurassic Day Out in Cathedral Quarter' from 11am, on Saturday, July 22, in the city's Market Place.

---
More News From Amber Valley Info
Read Some Of The Latest News Articles From Amber Valley Info
Derby events company proves knock-out success in Canada A Derby company that has helped raise over £31m for charity by hosting bucket-list challenges for adventurous people ha read more

---

Developer Set To Make Special Wish For Mission Christmas An East Midlands based house builder, which was named one of the top fundraisers in the East Midlands last year by Mission C read more

---

CCTV released after thousands of pounds of jewellery stolen during burglaries Police Officers are appealing for the publics help after a series of burglaries in Derby, Amber Valley, read more

---

Visit Santa at the National Stone Centres Free Christmas Festival Santa Claus is coming to the National Stone Centre as the Derbyshire visitor attraction welcomes families for a mag read more

---

Operation Re-Fit At Heage Windmill The first of the six newly refurbished sails was lifted from the ground and transported to the mill cap read more

---
The Amber Valley Info Noticeboard
Read Some Of The Latest Posts On Our Noticeboard
Heage Windmill Update for Visitors - Change to Opening Times Now that the sails and cap have been safely removed from the windmill, work to replace the sheer timbers (and other repa read more

---

Employers! Promote your vacancies at the Amber Valley Recruitment Event Amber Valley Borough Council is working in partnership with the Job Centre, Department for Work and Pensions read more

---

King Charles's Coronation Celebrations And Community Activities Let's Celebrate this Special Occasion Together Riversdale, Ridgeway, Sawmills. read more

---

The Social Hub @ JGFC - Daytime Social Group The Social Hub @ JGFC is a daytime social group for adults with learning disabilities. One of our 3 Hubs is based in the Amber Valley ar read more

---

Derbyshire Time Swap Give time, get time, make a difference read more

---
---