Warm Welcome For Local Families
Published on Thursday 12 January 2023
Derbyshire's specialist child exploitation charity, Safe and Sound, has launched a 'warm welcome' support programme for the families they support in the city, thanks to Government's Household Support Fund (HSF) administered through Derby City Council and Derby Communication Action.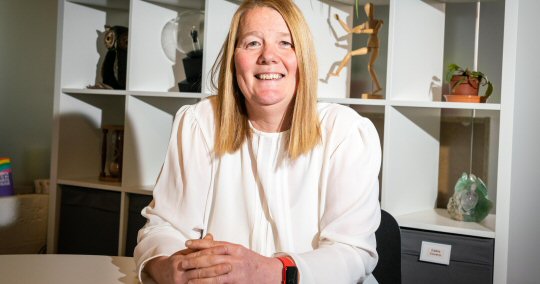 The long-established charity will provide hot meals, energy and food vouchers, family activities as well as support and advice sessions every Friday until the end of March between 11am and 5pm.

The warm welcome sessions will be hosted by leading apprenticeships provider EMA Training in Siddals Road, Derby, as part of their commitment to supporting the well-being of local communities in the city and beyond.

The initiative has been funded through Derby's Winter Asset Grant which aims to invest up to £300,000 across the city to support community assets within localities to support householders facing financial hardship.

Although all the families supported by Safe and Sound across the city will be welcome to attend, the charity estimates that around 20 adults and children will attend a week to have a warm drink and meal.

Safe and Sound CEO Tracy Harrison explained: "Having initially specialised in supporting children and young people who are victims of or at risk of child exploitation, we now support the wider family including parents and siblings whose lives are also impacted by this trauma.

"Although any child is at risk of these heinous crimes – financial hardship can make them more vulnerable to grooming and particularly sexual and criminal exploitation.

"We have therefore focused on doing all we can to ease the emotional, practical and financial pressures that our families face.

"Our role is to engage, advocate and support families to work with other agencies more effectively and help them all to positively move forward with their lives.

Mrs Harrison continued: "The sessions will give our families a welcome break to have a hot meal together, speak directly to our team about further support they need and enjoy activities together which are often a welcome break from the traumas and pressures they face.

"Being part of the city's Warm Welcome network will enable us to relieve some of the financial hardship facing the families we work with by ensuring their homes are warmer and they have nutritious food to enjoy at the sessions and at home."

"Many of our young people and their families have really valued support from the Government's HAF project during school holidays in the past two years and I know that they will benefit from this support."

Tracey Mosley is CEO of EMA Training which has been recognised as 'Good' by Ofsted and won the Small Business of the Year award at the East Midlands Chamber Derbyshire business awards last year.

She said: "Positive collaborations are an important part of the work we do to support young people and adults into apprenticeships to meet businesses' growth plans. I am therefore delighted to be working with Safe and Sound to host these warm welcome sessions.
"Our central location close to the bus station and carparking makes these sessions easily accessible for families across the city and I hope many will feel encouraged to find out more about apprenticeship and training opportunities available whilst they are here."

For more information about the work of Safe and Sound and how to support them, please visit www.safeandsoundgroup.org.uk.

---
More News From Amber Valley Info
Read Some Of The Latest News Articles From Amber Valley Info
Trading Standards Fighting Increase In Illegal Vaping Products Efforts to tackle an influx of illegal vaping products being sold across the county are being stepped up by Derbyshire read more

---

Colleague Box on song with fans of Eurovision Bespoke gift company Colleague Box has tuned-in to the buzz of Eurovision by launching a special pack for people to enjoy while the ann read more

---

Croots Farm Shop named a finalist in the Farm Shop & Deli 2023 Retailer Awards Popular Derbyshire farm shop Croots has been shortlisted as a regional finalist in the 2023 Retailer A read more

---

Can you identify two men in Langley Mill? Police Officers in Amber Valley are asking for the publics help in trying to identify two men seen in the Langley Mill area, as they might read more

---

Three men sentenced for the murder of a man in Somercotes Three men have been sentenced to jail after Peshang Sleman was killed in 2021. read more

---
The Amber Valley Info Noticeboard
Read Some Of The Latest Posts On Our Noticeboard
The Social Hub @ JGFC - Daytime Social Group The Social Hub @ JGFC is a daytime social group for adults with learning disabilities. One of our 3 Hubs is based in the Amber Valley ar read more

---

Derbyshire Time Swap Give time, get time, make a difference read more

---

Do you need help getting to certain routine health appointments, there is help available! If you need help getting to certain routine health appointments, then there is FREE transpo read more

---

You Now Need Photo ID To Vote At A Polling Station Elections are taking place across England on the 4 May. Youll need to bring photo ID to vote at a polling station. Check if your I read more

---

Belper Warm Welcome and Information Hub at Belper Leisure Centre Belper Warm Welcome and Information Hub at Belper Leisure Centre. Monday to Friday 4 - 7 pm until 31st March 2023. P read more

---
---