Choirs Raise Money for RNLI
Published on Thursday 24 November 2022
Three locally based choirs recently performed a concert at David Nieper Academy to raise funds for the RNLI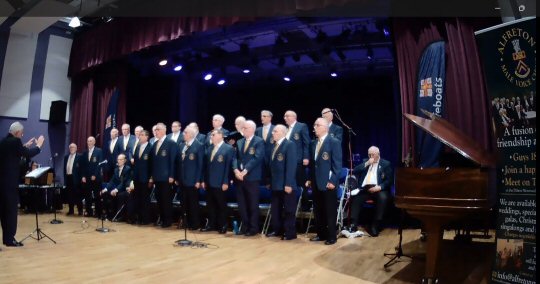 Alfreton Male Voice, Treble Clef Ladies and the DNA group of students from the Academy entertained over 200 people to raise £1065.

Organisers, Alfreton Male Voice Choirs' songs included Bohemian Rhapsody and What a Wonderful World whilst Treble Clef songs included the beautiful C13th sing Panis Angelicus or 'bread of angels'. The audience were in raptures to discover Treble Clef conductor Charlotte Pell (now Harrison) was to be married five days later and the concert included songs Treble Clef were to sing during the wedding including 'Never Enough for Me' from The Greatest Showman.

TheAcademy students singing as 'DNA' wowed the audience with songs including Hakuna Matata from Lion King and 'Welcome to the Rock' from Come From Away, really showing the next generation of choirs is in very good hands! (Young people safety precluded photography)

Chairman of Alfreton Male Voice Choir, Mick Mullarkey said, "It was a very special and wonderful evening as three Alfreton choirs entertained and made music to raise money for an important charity, the Royal National Lifeboat Institution."

After the interval the Choirs were joined by the Sagalouts (four Alfreton Choir Guys) dressed as sailors who performed two sea shanties including 'Sloop John B' with the audience raising to the challenging participation with the repetitive "HUH."

The sea shanties were a fine introduction to the Chairman of the Derbyshire RNLI Fundraising Group, Will Stanier, who was present for the concert and spoke to the audience thanking all the choirs and audience for their generosity, noting the majority of lives saved by the RNLI are inlanders including residents of Amber Valley.

A rousing finale saw the three choirs joining together singing, 'You Raise Me Up' and the final number 'You'll Never Walk Alone' leaving everyone going home with a song in their hearts and the RNLI £1065 better off.

---
More News From Amber Valley Info
Read Some Of The Latest News Articles From Amber Valley Info
Amber Valley Borough Council awarded funding for long awaited skatepark SKATE fans are set to benefit from a UK Shared Prosperity Fund (UKSPF) allocation of Government funding, whic read more

---

Amber Valley Borough Council awarded funding to revamp football facilities HUNDREDS of soccer fans are set to benefit from fresh investment into local football facilities. Amber Val read more

---

Derbyshire Adult Education Rated Good By Ofsted Government inspectors have praised Derbyshire County Council's Adult Community Education Service (DACES) for their dedicated support read more

---

Council has £160,000 in grants for groups to make a difference GRANTS of up to 10,000 are up for grabs for community organisations to help make a big difference in supporting read more

---

Chatsworth opens for new season with design led exhibition adding to 500 years of creativity Chatsworth has always been a centre for creativity, with successive generations of the C read more

---
The Amber Valley Info Noticeboard
Read Some Of The Latest Posts On Our Noticeboard
The Social Hub @ JGFC - Daytime Social Group The Social Hub @ JGFC is a daytime social group for adults with learning disabilities. One of our 3 Hubs is based in the Amber Valley ar read more

---

Derbyshire Time Swap Give time, get time, make a difference read more

---

Do you need help getting to certain routine health appointments, there is help available! If you need help getting to certain routine health appointments, then there is FREE transpo read more

---

You Now Need Photo ID To Vote At A Polling Station Elections are taking place across England on the 4 May. Youll need to bring photo ID to vote at a polling station. Check if your I read more

---

Belper Warm Welcome and Information Hub at Belper Leisure Centre Belper Warm Welcome and Information Hub at Belper Leisure Centre. Monday to Friday 4 - 7 pm until 31st March 2023. P read more

---
---