New BSL Resources Highlight Dangers of Child Exploitation
Published on Saturday 12 November 2022
The Royal School for the Deaf Derby has produced a British Sign Language (BSL) interpreted video in partnership with Derbyshire's specialist child exploitation charity, Safe and Sound.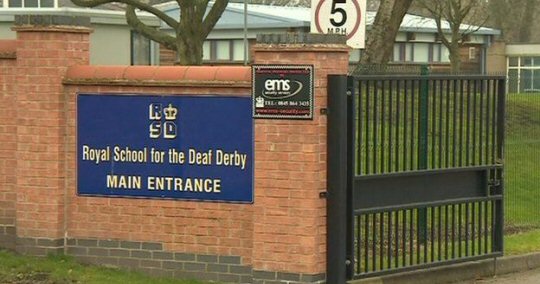 The video feature students from the school in Ashbourne Road who sign the question and answer scenarios that raise awareness amongst the deaf community of child exploitation.

RSDD deputy head – care and guidance, Neil Gorse, explained: "We have been working with Safe and Sound for the past two years and both recognised that there was a huge gap in the BSL resources available around child exploitation.

"The fact that our students do the signing in the video is very impactful for other young people and families in the deaf community and they have been a huge help with the production of this video.

"This video demonstrates the importance of BSL interpreted resources which are increasingly becoming mandatory following the recent approval of the BSL Act."

Mr Gorse continued that all young people, including those who are hearing impaired, were potentially vulnerable to grooming and exploitation and they increasingly spent more time online which could make them more isolated from friendship groups.

"There are groups of perpetrators who specifically target deaf children knowing this.

"We have worked hard to raise awareness of the dangers of exploitation and of online grooming in particular and our students are very good at alerting us when they are contacted by people that they don't know who are potentially a threat."

Safe and Sound chief executive Tracy Harrison concluded: "Around a third of the children and young people who we support have special educational needs and we greatly value the partnership work that we have undertaken with The Royal School for the Deaf Derby.
"I hope that this resource will be shared far and wide so that young people and their families in the deaf community have equal access to the resources that they need to recognise the danger signs of grooming and exploitation and know where to turn for protection and support."

For more information about the work of Safe and Sound and how to support them, please visit www.safeandsoundgroup.org.uk
---
More News From Amber Valley Info
Read Some Of The Latest News Articles From Amber Valley Info
Derby events company proves knock-out success in Canada A Derby company that has helped raise over £31m for charity by hosting bucket-list challenges for adventurous people ha read more

---

Developer Set To Make Special Wish For Mission Christmas An East Midlands based house builder, which was named one of the top fundraisers in the East Midlands last year by Mission C read more

---

CCTV released after thousands of pounds of jewellery stolen during burglaries Police Officers are appealing for the publics help after a series of burglaries in Derby, Amber Valley, read more

---

Visit Santa at the National Stone Centres Free Christmas Festival Santa Claus is coming to the National Stone Centre as the Derbyshire visitor attraction welcomes families for a mag read more

---

Operation Re-Fit At Heage Windmill The first of the six newly refurbished sails was lifted from the ground and transported to the mill cap read more

---
The Amber Valley Info Noticeboard
Read Some Of The Latest Posts On Our Noticeboard
Heage Windmill Update for Visitors - Change to Opening Times Now that the sails and cap have been safely removed from the windmill, work to replace the sheer timbers (and other repa read more

---

Employers! Promote your vacancies at the Amber Valley Recruitment Event Amber Valley Borough Council is working in partnership with the Job Centre, Department for Work and Pensions read more

---

King Charles's Coronation Celebrations And Community Activities Let's Celebrate this Special Occasion Together Riversdale, Ridgeway, Sawmills. read more

---

The Social Hub @ JGFC - Daytime Social Group The Social Hub @ JGFC is a daytime social group for adults with learning disabilities. One of our 3 Hubs is based in the Amber Valley ar read more

---

Derbyshire Time Swap Give time, get time, make a difference read more

---
---