Peter James Homes offers future residents their own piece of history
Published on Tuesday 2 August 2022
Developer Peter James Homes is breathing new life into a pair of historic Derbyshire buildings that are likely to date back to the birth of the industrial revolution.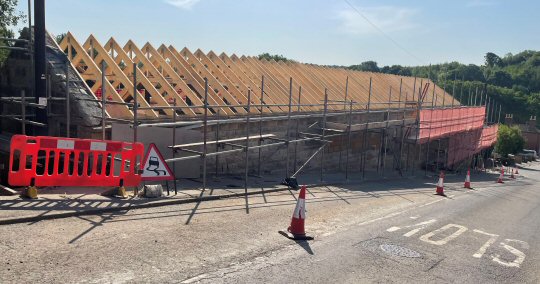 The housebuilder is bringing its construction skills to the fore by transforming the near-derelict buildings in Bullbridge Hill, near Ambergate, into five modern family homes.

Work on the two stone buildings, a three-storey former canal warehouse built towards the end of the 18th Century to serve the adjacent Cromford Canal, and a former malthouse, which later became a factory shop for the old Stevensons Dye Works, began in March and is due to be completed by spring next year.

The warehouse building will contain a two-bedroom and a three-bedroom home, while the long factory shop building will house one three-bedroom home and a pair of two-bedroom homes. All will have two private parking spaces and their own gardens.

The two restoration projects, which sit on opposite sides of Bullbridge Hill, are located next to Peter James Homes' Woodland Heights development, a 148-home scheme of new-build properties on 22 acres overlooking the river Amber.
The developer has a history of demonstrating a wider community approach to its housing projects, ensuring the character of the surrounding areas is maintained or enhanced.

For example, it recently provided funds to aid the completion of renovation works at Aqueduct Cottage, a former lock-keeper's cottage on the banks of the nearby Cromford Canal.

John Knight, Commercial Manager at Nottinghamshire based Peter James Homes, said: "We're very proud of our record as a developer - one that genuinely cares about our neighbouring communities.

"It obviously makes commercial sense for our developments to be welcomed by the surrounding residents – but we are also committed to preserving our wonderful history and making improvements that will benefit future generations.

"There is clearly a cost attached to restoring such historic buildings, which were not in the greatest of conditions, but we know the end result will be worth it – not least because five new households can soon own their own little piece of British industrial history."

Peter James Homes has poured significant amounts of research, collaboration and sympathetic construction techniques into the renovation works, with each step recorded in detail and agreed with planners and heritage experts at Amber Valley Borough Council.

All roofs and roof trusses have been completely replaced, and leaking stonework fully repointed with lime mortar.

The project was initially slow to begin as the developer needed to work alongside Natural England after nesting bats were discovered in both buildings. Local ecologists have since been drafted in to help with the installation of new bat boxes.

Tom Anderson, Senior Site Manager for Peter James Homes' Woodland Heights development, said: "It's been a labour of love.

"To ensure we remain sympathetic to the rich history of these buildings, some elements have been quite challenging, and we've had to employ very different construction techniques to those we use on our new-build properties."
To find out more about the Woodlands Heights development, please visit www.peterjameshomes.co.uk/developments/. To book a site visit, contact Bagshaws Residential in Derby on 01332 361308.
---
More News From Amber Valley Info
Read Some Of The Latest News Articles From Amber Valley Info
Derby events company proves knock-out success in Canada A Derby company that has helped raise over £31m for charity by hosting bucket-list challenges for adventurous people ha read more

---

Developer Set To Make Special Wish For Mission Christmas An East Midlands based house builder, which was named one of the top fundraisers in the East Midlands last year by Mission C read more

---

CCTV released after thousands of pounds of jewellery stolen during burglaries Police Officers are appealing for the publics help after a series of burglaries in Derby, Amber Valley, read more

---

Visit Santa at the National Stone Centres Free Christmas Festival Santa Claus is coming to the National Stone Centre as the Derbyshire visitor attraction welcomes families for a mag read more

---

Operation Re-Fit At Heage Windmill The first of the six newly refurbished sails was lifted from the ground and transported to the mill cap read more

---
The Amber Valley Info Noticeboard
Read Some Of The Latest Posts On Our Noticeboard
Heage Windmill Update for Visitors - Change to Opening Times Now that the sails and cap have been safely removed from the windmill, work to replace the sheer timbers (and other repa read more

---

Employers! Promote your vacancies at the Amber Valley Recruitment Event Amber Valley Borough Council is working in partnership with the Job Centre, Department for Work and Pensions read more

---

King Charles's Coronation Celebrations And Community Activities Let's Celebrate this Special Occasion Together Riversdale, Ridgeway, Sawmills. read more

---

The Social Hub @ JGFC - Daytime Social Group The Social Hub @ JGFC is a daytime social group for adults with learning disabilities. One of our 3 Hubs is based in the Amber Valley ar read more

---

Derbyshire Time Swap Give time, get time, make a difference read more

---
---