Warning to East Midlands bosses: Could your password be guessed from your digital footprint?
Published on Wednesday 22 June 2022
A surprising number of passwords can be guessed by cyber criminals studying someone's digital footprint, a local data security expert has warned.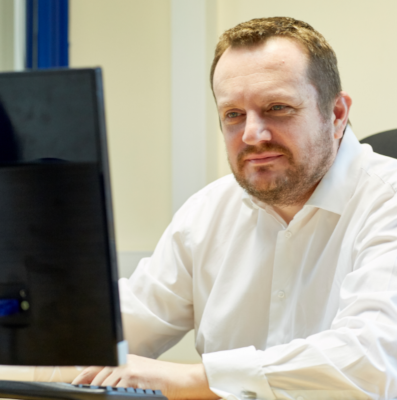 "The internet never forgets content you posted years ago," said Glen Palmer-Barnes from Eastwood based Ace IT Solutions, "even though you do."
"Cyber criminals use a range of tools to try to access a business's accounts. Automated tools that brute force try thousands of weak passwords are popular.
"But so is social engineering, where they will study a person's digital footprint to look for ideas. You might consider using your childhood dog's name to be a safe password, but it probably isn't.
"Especially when you did a Facebook post 7 years ago about how much you miss your dog… including its name."
Glen explained that everyone has a digital footprint – information about them that can be accessed by anyone online.
Bosses of local companies might be careful about what they post today. But cyber criminals will look up content from when they were much younger.
"It's important to use a different password for each account. The National Cyber Security Centre advises using three random words to create a longer difficult to guess password.", Glen added.
"You can also use software called a password manager to remember these passwords for you, and fill in the login boxes across all of your devices."
Ace IT Solutions was formed in 2014 and specialises in supporting local businesses in the Nottingham, Derby and the East Midlands.
---
More News From Amber Valley Info
Read Some Of The Latest News Articles From Amber Valley Info
Alfreton Town Council grant award At their May meeting, the Town Council was pleased to make a grant of £750.00 to James Simpson who is participating in The DECA an ironman tr read more

---

Dual carriageways in Derbyshire to get annual maintenance and clean Derbyshire County Council are gearing up to carry out their annual roads spring clean. read more

---

Safe and Sound CEO Shortlisted For National Award The CEO of Derbyshires specialist child exploitation charity Safe and Sound, has been named as a finalist in a national awards sche read more

---

Time Stands Still for Police Box at Crich Tramway Village A rare historic police box dating from the 1930s is to be restored at Crich Tramway Village. read more

---

Steps, UB40, Aqua & Cascada Headlining For The Back 2 Festival At Catton Park, Derbyshire The most outrageous trip down memory lane, BACK 2 FESTIVAL is returning for summer 2022, wi read more

---
The Amber Valley Info Noticeboard
Read Some Of The Latest Posts On Our Noticeboard
Ripley St. Johns CE Primary School and Nursery Closed Today School will be closed today (24th June) due to problems with the water supply to site which means no toileting or hand wa read more

---

Tell Healthwatch Derbyshire about how changes at your GP practice have impacted you The way we access our GP Practices has changed over the past few years, with these changes potent read more

---

Amber Valley Borough Council - Job Opportunity AVBC are seeking an enthusiastic, experienced and well-motivated person to join their Landscape Services Operations teams for grounds read more

---

Belper Town Council - Vacancy For Outdoor Team Member Could you be the ideal person or do you know someone to join our fantastic Outdoor Team.... read more

---

Amber Valley CVS (AVCVS) Jon Opportunity Another exciting opportunity working in Amber Valley helping local residents after a spell in hospital, with volunteers in the community read more

---
---