Community launches Crowdfunder to protect access to ancient woodland
Published on Saturday 27 November 2021
Friends of Crich Chase have launched a Just Giving campaign to raise money so Derbyshire Wildlife Trust can purchase an important local woodland.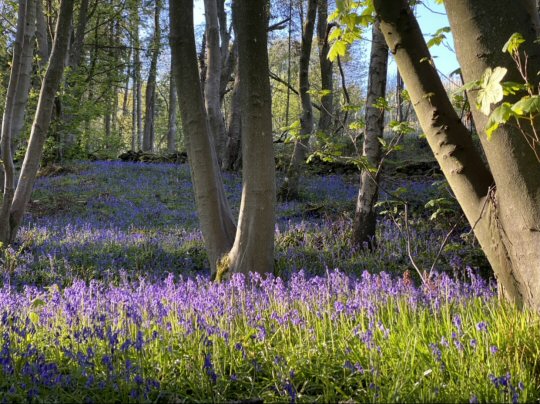 The 182 acre site was recently put up for sale and the community wants to raise £720,000 to buy it and help Derbyshire Wildlife Trust in its management and care. The concern is that a private buyer could change or restrict the informal access currently enjoyed by local people.
The ancient woodland has a history dating back to Medieval times and is protected as a Site of Special Scientific Interest. It is one of the largest and most diverse ancient semi-natural woodlands remaining in the Derwent Valley. Within the woodland are scrubby areas and grassy clearings, making a rich mosaic of habitats for fungi, reptiles, mammals, butterflies and insects, with buzzards often seen soaring overhead.
An anonymous and generous local landowner has already pledged £50,000 to the community appeal to use as match funding so for every £ donated, they will match up to a to £50,000.
Sarah Woodman of Friends of Crich Chase says
"This ancient woodland refuge for both wildlife and people holds a special place in our hearts and we rely on it more than ever. The woods with their scented bluebells and birdsong in spring, dappled summer shade and rich autumn colours are a balm to the senses and the soul. They have played a crucial role in our mental and physical health especially in the last two years - it's unthinkable that our children could grow up not enjoying their own adventures here."
Danielle at Derbyshire Wildlife Trust says
"Crich woodland is incredibly special to the local community, places like this are vital for people and wildlife and we would be honoured to include it in our suite of reserves, and be involved in its care for generations to come. A number of donors have already stepped forward to pledge their support and we encourage anyone who can to help the community before it's too late."
The just giving page is open here Friends of Crich Chase is fundraising for Derbyshire Wildlife Trust (justgiving.com)

---
More News From Amber Valley Info
Read Some Of The Latest News Articles From Amber Valley Info
Appeal for CCTV and dash cam footage following baby's death in Belper Detectives investigating the death of a baby in Belper, two weeks ago, are appealing for dash cam and CCTV foot read more

---

Loreta's new role is just the job as recruitment firm enjoys 50 percent growth A RECRUITMENT specialist who has helped to fill hundreds of roles for the UK's leading health and beau read more

---

Christmas success as the shows go on in Derby Theatre audiences returned for Festive Derby as more than 29,000 tickets were sold for three Christmas shows at Derby Arena and the Der read more

---

Derbyshire Residents Encouraged To Consider Fostering In 2022 Derbyshire residents are being encouraged to make 2022 the year they consider becoming foster carers for Derbyshire Cou read more

---

Derbyshire-based Phoenix Brickwork announces plans to ditch diesel by April 2022 Derbyshire-based Phoenix Brickwork announces plans to ditch diesel and switch its fleet to an ultra- read more

---
The Amber Valley Info Noticeboard
Read Some Of The Latest Posts On Our Noticeboard
Heage Windmill Is Open For Flour Sales This Weekend Come and get some of the flour praised by the Hairy Bikers on TV read more

---

Start 2022 by getting a booster dose of the COVID-19 vaccine Get Boosted Now to protect yourself, your family and the NHS from Omicron. read more

---

Drop Your Old Christmas Trees Off At Brackenfield Alpacas Thankyou so much everyone who has already dropped of a Christmas Tree! We have already had a huge amount delivered! But we read more

---

Completely Free sessions From Rogue Runners Ripley Completely Free sessions starting again on Monday 10th January 2022 read more

---

Ripley Morris will be performing on Boxing Day! See you all on Ripley Market Place at 11.00am on Sunday 26th December. read more

---
---