Lion & Trainee Animal Keeper Help Alfreton Male Voice Choir in First post Covid Performance
Published on Wednesday 20 October 2021
A lion and trainee large animal keeper helped Alfreton Male Voice Choir perform their first post Covid lockdown performance recently in the theatre of the David Nieper Academy, Alfreton, in front of a wonderful audience of around 150 people including the mayors of Amber Valley Borough Council and Alfreton Town Council.
Raising funds for local charity AQUABOX, which sends water filters to disaster areas worldwide, the Choir performed eighteen varied tempo and genre popular songs including, 'Anthem' from the musical Chess, the Queen classic, 'Bohemian Rhapsody', with its mixture of acapella, ballad, opera and rock which surprised and delighted the audience. Whilst 'The Lion Sleeps Tonight' took everyone to the jungle with chimpanzee and lion calls along with a full size lifelike lioness, 'Leonora', making an appearance under the care of audience lion tamer 'volunteers' Rachael and daughter Liberty who happens to be at college training to be a large animal keeper.
Choir Chairman Mick Mularkey said, "What a great night. Our first wonderful live audience for nearly two years and doing what the Choir enjoys, entertaining, having fun and making money for charity.
Trumpeter John Barker woo'd the audience with two sets of four pieces including 'Stardust' Thn the Choirs' Sagalouts skiffle group, comprising guitar, ukulele x2, washboard, drums and tea-chest bass, provided a colourful and fun interlude after changing from their Choir green jackets and black trousers into colourful coats and wigs, performing three sons including the Lonnie Donegan piece 'Does Your Chewing Gum Lose its Flavour on the Bedpost Overnight'.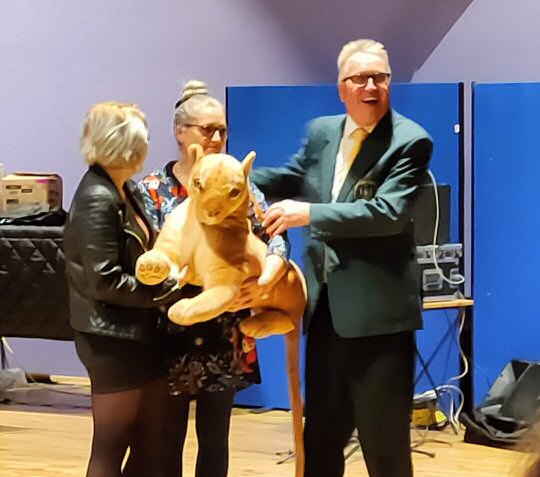 AQUABOX representative Keith Hardy gave a short presentation on the work of the charity sending water filters and other aid to disaster areas such as the recent earthquake in Haiti and thanking both Choir and audience for the fund raising event.
The finale included 'Les Miserable' piece 'Do You Hear The sing' when tricolour flag waving Choir tenor Tom roused people to the barricade and 'join the crusade'. Then trumpeter John Barker joined the Choir for 'High on a Hill' and the final anthem song 'You'll Never Walk Alone'
Chairman Mick said, " A big thanks to trumpeter John Barker, the David Nieper staff and of course the wonderful audience who helped us raise funds for AQUABOX. We've not made the final financial calculations yet but we expect to be able to donate several hundred pounds to AQUABOX."
---
More News From Amber Valley Info
Read Some Of The Latest News Articles From Amber Valley Info
Community launches Crowdfunder to protect access to ancient woodland Friends of Crich Chase have launched a Just Giving campaign to raise money so Derbyshire Wildlife Trust can purc read more

---

Derbyshire Employers offering £500 Sign Up bonuses amid staffing squeeze EAST Midlands employers are going above and beyond to recruit new staff - offering enticing perks incl read more

---

Murder investigation launched as man dies after Somercotes serious assault A murder investigation has been launched after a man was fatally injured following a serious assault in So read more

---

Derbyshire vaccination clinics begin push to protect people for Christmas Vaccination teams across Derby and Derbyshire are beginning a major push this weekend to vaccinate as many read more

---

Routine Safety Checks On Osborne's Pond Routine safety checks are due to take place at Osbornes Pond in Derbyshire County Council-run Shipley Country Park next week. read more

---
The Amber Valley Info Noticeboard
Read Some Of The Latest Posts On Our Noticeboard
Free Course Of Personal Safety Classes For Women And Girls Amber Valley Borough Council, in partnership with Derbyshire Kickboxing, are providing an opportunity for women and girls read more

---

Mobile Library Service The library service has revised mobile timetables for 13 December 2021 to 4 March 2022. read more

---

Nursery places available at Ripley St. John's C of E Primary School. Nursery places available at Ripley St. John's C of E Primary School. Please see below for details read more

---

Please support Ripley Salvation Army Christmas Present Appeal Please support Ripley Salvation Army Christmas Present Appeal by donating new, unwrapped toys and gifts for children read more

---

Spooky Things Happening In Alfreton Grab your broomkstick and head over to Alfreton Town Centre & Indoor Market this Halloween. read more

---
---