Support for residents and businesses affected by flooding
Published on Saturday 23 January 2021
Derbyshire County County made £100,000 available to help residents and businesses affected by recent flooding.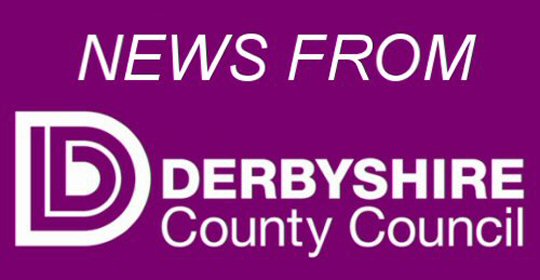 A number of homes and businesses in Derbyshire Dales were affected overnight after persistent rain fell on saturated ground, closing some roads and causing local disruption.
DCC have reinstated the Derbyshire Floods Hardship Fund for Residents and the Derbyshire Floods Business Hardship Fund which were established following floods in 2019.
Residents directly affected by flooding can access financial help of up to £104 via a fast track application process.
Businesses of 50 employees or less whose premises were flooded will be eligible to apply for a one-off payment of £500.
Council leader Councillor Barry Lewis said:
"We understand the impact that an event like this can have on residents and small businesses, particularly whilst managing the challenges of the pandemic.

"It is again important to react to this immediately which is why we are offering Derbyshire residents and businesses support. Having your home or business flooded is extremely distressing and we want to be able to help people who may be in financial difficulty."
To apply for the residents' fund only, people should call Call Derbyshire on 01629 533190.
Call centre staff will be available between 8am and 6pm during the week and on Saturday morning to take information. Payments will then be processed as quickly as possible.
To apply for the fund for businesses, firms should download the application form and email it to regeneration@derbyshire.gov.uk
You can download the application form and find more information on flooding including how to report flooding, who is involved in managing flooding risk in Derbyshire and how residents can protect themselves.
---
More News From Amber Valley Info
Read Some Of The Latest News Articles From Amber Valley Info
Police Appeal After Body found in Ilkeston At around 3pm Friday 5 March, a call was received by Police from a member of the public regarding a body near to a canal path in Ilkeston. read more

---

Female Training Expert Urges Women To Change the Male Landscape of Utilities Sector In the build-up to International Women's Day on 8th March, an acclaimed senior lecturer at a Derb read more

---

Covid costs lead to council tax increase Costs relating to the Covid-19 pandemic have left Amber Valley Borough Council around 550,000 out of pocket and partly led to a council tax read more

---

Further Investment In Derbyshire's Roads Set To Be Agreed Derbyshire County Council's Cabinet is set to agree works totalling over £46m to be carried out on the county's roads an read more

---

Closure Order on Heanor property after anti-social behaviour A Heanor property which was at the centre of drug dealing, disorderly and violent behaviour has had a Closure Order plac read more

---
The Amber Valley Info Noticeboard
Read Some Of The Latest Posts On Our Noticeboard
Delays With Amber Valley Refuse Collections From Amber Valley Borough Council: Please be aware we are currently experiencing some delays with refuse collection services. If your roa read more

---

Latest Vacancies At Derbyshire Constabulary Are you on the lookout for a new challenge or a change in career? Derbyshire Police have the following opportunities in force: read more

---

You can't catch Covid-19 from the vaccination. You can't catch Covid-19 from the vaccination. It doesn't contain the live virus and cannot give you COVID-19 infection. It is possibl read more

---

Stay at home and still vote on 6 May Stay at home and still vote on 6 May in the local elections. Register for your postal vote now! read more

---

Monday sees the return of Traffic Cops to our screens. Derbyshire's officers will again star in the popular Channel Five series Traffic Cops. read more

---
---