Further funding to boost Derbyshire's rural connectivity
Published on Saturday 19 September 2020
Some of the most rural parts of Derbyshire are to get a helping hand from Derbyshire County Council in accessing high speed broadband.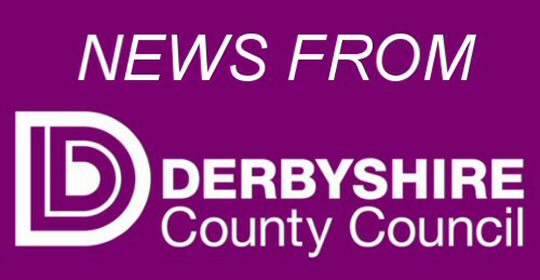 £500,000 is being invested by the county council to 'top-up' the Government's existing Gigabit Broadband Voucher Scheme which helps people in hard-to-reach locations get a fast, reliable broadband service.

The extra funding will double the amount of financial support that eligible households and businesses with broadband speeds of less than 100Mbps in rural parts of Derbyshire are entitled to and will help pay for the cost of installing faster and more reliable connections to their premises.

It means these premises, providing they are not already in a government-funded plan for a broadband upgrade, can now apply for up to £3,000 per household and up to £7,000 per small to medium sized business.

This investment by the council is in addition to its existing Digital Derbyshire programme - a multi-million pound partnership with UK Government and Openreach which has made better, faster broadband available to more than 102,000 premises across the county.

Derbyshire County Council Cabinet Member for Highways, Transport and Infrastructure Councillor Simon Spencer said: "A number of Derbyshire communities have already benefitted from the voucher scheme and this new 'Top-Up' funding means more homes and businesses in the hardest to reach locations of Derbyshire can take advantage of the scheme.

"The coronavirus pandemic has highlighted just how important it is to have access to fast and reliable broadband. Whether it's keeping in touch with loved ones or working from home the demand to be digitally connected has increased and this extra investment by the county council will further help to bridge the digital divide."

Digital Infrastructure Minister, Matt Warman said: "We're committed to levelling up rural communities across the UK with world-class broadband that will improve lives and boost the economy."

"Derbyshire County Council is backing our mission to bring gigabit speed broadband to every corner of the country. I'm urging the county's rural homes and businesses to check our website to see if they're eligible for a voucher to give them a broadband boost."

To apply for the scheme residents and businesses can visit the Gigabit Broadband Voucher Scheme website at www.gigabitvoucher.culture.gov.uk to find a list of suppliers in their local area.

Once they have made contact with a supplier, the supplier will apply for the relevant level of funding required to help pay for an upgraded service.

The deadline for applying for the voucher scheme is 31 March 2021.

---
More News From Amber Valley Info
Read Some Of The Latest News Articles From Amber Valley Info
Mobile speed camera locations in Derbyshire until the 5th November Derbyshire Casualty Reduction Enforcement Support Team (C.R.E.S.T) will be carrying out mobile safety camera enfor read more

---

Motorcyclist critically injured following a collision in Duffield A motorcyclist is in a critical condition following a collision yesterday evening. read more

---

Autumn Edition Of Derbyshire Now Coming Soon The latest edition of Derbyshire County Councils magazine for residents is about to drop through letterboxes. read more

---

Appeal after man allegedly assaulted during burglary in Alfreton Police are appealing for information after a man was allegedly assaulted, and his home broken in to, in Alfreton. read more

---

Beware Of Cold Callers in Ripley Derbyshire Constabulary and Derbyshire County Council Trading Standards are warning residents in the Ripley area to be alert following the report of read more

---
The Amber Valley Info Noticeboard
Read Some Of The Latest Posts On Our Noticeboard
Alfreton Town Council - Halloween Scarecrow Competition Only residents of Alfreton Town can enter (Properties within the boundary of Train Line, A38, Brook and Chesterfield Hill) read more

---

Christmas lights switch on goes virtual! in Alfreton Although it won't be possible this year to hold the traditional Christmas Event and lights switch on due to the ongoing Covid-19 read more

---

Ripley Town Council Youth Award. Do you know someone in the Ripley Township who is deserving of recognition for their voluntary work within our local community? read more

---

An Update From Music At Duffield Due to the ongoing Coronavirus situation, Music at Duffield has regretfully taken the decision to postpone our concert read more

---

Temporary Road Closure - Brackenfield Lane Wessington Derbyshire County Council have advised of a road closure at Brackenfield Lane Wessington between a point 180 metres north of it read more

---
---