Don't lose your voice - Check your voter registration
Published on Saturday 1 August 2020
Residents in Amber Valley are being urged to look out for their voter registration details from Amber Valley Borough Council.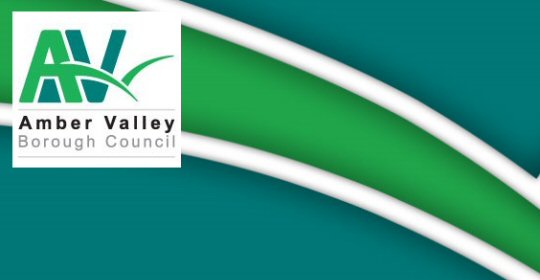 Local residents are being warned not to lose their voice on decisions that affect them by making sure their electoral registration details are up to date.
With elections taking place in Amber Valley in May 2021, this is an important opportunity for residents to make sure they can take part.
The annual canvass ensures that Amber Valley Borough Council can keep the electoral register up to date, identifying any residents who are not registered so that they can be encouraged to do so. They would then be able take part in any future elections.
Jill Harris, Electoral Registration Officer at Amber Valley Borough Council said,
"It's important that residents keep an eye out for messages from us so we can make sure we have the right details on the electoral register for every address in Amber Valley. To make sure you are able to have your say at elections in 20121, simply follow the instructions from your local authority.
"If you're not currently registered, your name will not appear in the messages we send. If you want to register, the easiest way is online at www.gov.uk/register-to-vote, or we'll send you information explaining how to do this in the post."
"This year's canvass, which we have to carry out by law, is taking place during a challenging public health situation. We are working to ensure that we take account of public health guidelines, including the continued importance of social distancing."
People who have moved recently are particularly encouraged to look out for the voter registration messages from Amber Valley Borough Council and check the details. Research by the Electoral Commission indicates that recent home movers are far less likely to be registered than those who have lived at the same address for a long time. Across Great Britain, 92% of people who have been at their property for more than sixteen years will be registered, compared to 36% of people who have lived at an address for less than one year.
Melanie Davidson, Head of Support and Improvement at the Electoral Commission, said,
"It's really important that everyone who is entitled to vote is able to do so. Making sure you provide the necessary information to your local authority when it is needed will ensure the process runs smoothly. This is particularly helpful in the current public health situation, as it will help avoid the need for home visits from canvassers.
"There's lots of helpful information about registering to vote on our website at www.electoralcommission.org.uk/i-am-a/voter."
Any residents who have any questions can contact their local registration team at Amber Valley Borough Council.
---
More News From Amber Valley Info
Read Some Of The Latest News Articles From Amber Valley Info
Derbyshire Trading Standards Back A Campaign Aiming To Stop Loan Sharks Trading standards officers at Derbyshire County Council are backing a campaign to raise awareness of loan sha read more

---

Health Director Urges Caution Over Christmas As Derbyshire To Enter Tier 3 Derbyshire's Director of Public Health is urging residents to be cautious about the risk of spreading coro read more

---

Mobile speed camera locations in Derbyshire until the 10th December Derbyshire Casualty Reduction Enforcement Support Team (C.R.E.S.T) will be carrying out mobile safety camera enfo read more

---

Expressions of interest sought for support with Covid-19 vaccination initiative The NHS and social care sector in Derby and Derbyshire is seeking to create a pool of people willing read more

---

PCC calls for one rule for Derbyshire as lockdown eases Speaking ahead of the Government's Covid Winter Plan, and the widely anticipated stricter tier system for post lockdown, Derb read more

---
The Amber Valley Info Noticeboard
Read Some Of The Latest Posts On Our Noticeboard
Mobile Library Timetable 2021 For Ambergate The Derbyshire County Council Mobile Library will be at the Hurt Arms at Ambergate 10-11am on the following dates: read more

---

Try Out A Game Of Riplopoly By Rogue Runners Looking for something to do during Lockdown #2 as part of your daily exercise? This is a great idea that Rogue Runners Ripley have put t read more

---

Alfreton Town Council - Halloween Scarecrow Competition Only residents of Alfreton Town can enter (Properties within the boundary of Train Line, A38, Brook and Chesterfield Hill) read more

---

Christmas lights switch on goes virtual! in Alfreton Although it won't be possible this year to hold the traditional Christmas Event and lights switch on due to the ongoing Covid-19 read more

---

Ripley Town Council Youth Award. Do you know someone in the Ripley Township who is deserving of recognition for their voluntary work within our local community? read more

---
---