Derbyshire residents urged to 'say something if you see something' to help keep children safe
Published on Wednesday 8 April 2020
Residents are being encouraged by Derbyshire County Council to 'say something if you see something' to help keep children and young people safe during the coronavirus outbreak.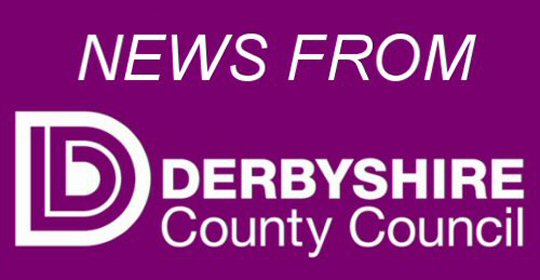 The council is highlighting the national partnership campaign message to respond to a potential increase in safeguarding and domestic abuse issues during lockdown.
Children and young people are usually seen by lots of different adults and professionals every day such as neighbours and teachers but essential lockdown means normal opportunities they would have to notice any problems or check on their wellbeing are reduced.
Where possible schools across Derbyshire have remained open and are continuing to teach vulnerable children identified as needing additional support as well as those of key workers.
Meanwhile the county council is appealing for a community 'say something if you see something' approach to help keep children and young people at risk safe.
Derbyshire County Council Cabinet Member for Young People Councillor Alex Dale said: "Most children and young people across Derbyshire will be adapting well to the new situation and continuing to learn, play and exercise at home safely.
"But it is a stressful time for everyone with new challenges and worries which in some families may increase the risk of neglect and abuse – and at a time where there are fewer opportunities for the usual support networks such as friends, teachers, grandparents and neighbours to spot any warning signs.
"Spending much more time at home means some families may need extra support with parenting and I want to remind people we can all play a part in helping to keep children and young people safe by checking in with families where we can – it's everyone's job.
"While people are seeing less of each other there are still opportunities to spot signs of potential child abuse, such as when people are out exercising, in their gardens or shopping or arguments you may overhear.
"Saying something if we see something is one clear and simple way we can all help and we have our 'Starting Point' referral service making it as easy as possible for people to contact us with any concerns."
Meanwhile, the National Domestic Abuse Helpline has seen a 25% increase in calls for help since lockdown and visits to its website are up 150% on the first week in February.
Councillor Dale added: "Working with our police and community safety colleagues we are now more than ever keenly aware of the need to support people suffering domestic abuse including children who are victims themselves or who may witness it in their home.
"We're working closely with our partnership agencies to reassure anyone who is experiencing domestic abuse that support is there to help them."
Residents who are worried about a child can find support, advice and information as well as how to report their concerns plus find help to deal with domestic abuse here www.derbyshire.gov.uk/staysafe
---
More News From Amber Valley Info
Read Some Of The Latest News Articles From Amber Valley Info
Police Officers investigate fire at mobile phone mast in Breadsall Police are investigating a fire at a phone mast in Breadsall and are appealing for witnesses to come forward. read more

---

Police Appeal to trace the family of a man who fell ill at a shop in Alfreton Police are appealing for information to try to trace the family of a man who fell ill in Alfreton yeste read more

---

Increased concern for missing 16-year-old girl The family of a teenage girl who has been missing for 11 days have asked the public for help to find her. read more

---

Central England Co-op returning store opening hours to normal based on customer feedback Central England Co-op is today announcing that opening hours at its stores are returning to read more

---

Surface dressing to take place on roads around Derbyshire Derbyshire County Council is to surface dress 16 miles of roads starting on 1 June and will take around eight weeks to comp read more

---
The Amber Valley Info Noticeboard
Read Some Of The Latest Posts On Our Noticeboard
Free parking to local NHS staff and volunteers Amber Valley Borough Council are offering free parking to local NHS staff and volunteers, in all of our pay and display car parks. read more

---

Codnor Castle Heritage Trust - Partial Collapse Of Outbuildings Since lockdown has been in place there has been massively increased footfall at Codnor Castle. read more

---

Cervical screening - Scam Alert Derbyshire Trading standards team is warning that some women are being contacted by a text message claiming to be from the call and recall service sa read more

---

New Mayor of Heanor & Loscoe Town Council Elected At the Town Council Meeting held on Thursday 7 May 2020, Councillor Kieran Hill was duly elected as the new Mayor of Heanor & Losco read more

---

Heanor Local History Society - Download A Free VE DAY 75 Newsletter To celebrate the 75th anniversary of the end of fighting in the European theatre of World War II, the Local Histo read more

---
---