Derbyshire Floods - Tell Derbyshire County Council Your Experience
Published on Wednesday 22 January 2020
Derbyshire County Council is urging householders and businesses affected by last year's floods to get in touch.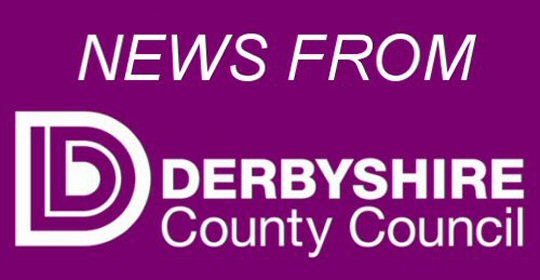 The council is contacting around 2,000 properties countywide, which it believes may have suffered damage during flooding last November (2019).
It wants to gather feedback on the extent of the damage and information about the source of the flooding.
The information will then be used to develop further the council's plans to deal with future flooding.
Councillor Simon Spencer, Derbyshire County Council's Cabinet Member for Highways, Transport and Infrastructure, said: "We already know that around 300 homes and 116 businesses were affected. These were properties in the immediate flood areas.
"But we also want to encourage people in the wider vicinity who may also have experienced damage to get in touch so we can map out any particularly vulnerable areas to help us with our planning if we need to deal with future flooding."
The questionnaire has been sent out this week (21 January) and can be returned by post or completed online at derbyshire.gov.uk/flooding
An information sheet detailing grants and funds that are available to help cover the cost of flood damage is included with the survey.
Questionnaires should be returned by Friday 7 February.
More information about preparing and dealing with floods can also be found at derbyshire.gov.uk/flooding
---
More News From Amber Valley Info
Read Some Of The Latest News Articles From Amber Valley Info
Further funding to boost Derbyshire's rural connectivity Some of the most rural parts of Derbyshire are to get a helping hand from Derbyshire County Council in accessing high speed read more

---

Heanor Residents Urged To Stay Alert Following Coronavirus Spike Derbyshires Director of Public Health is calling on residents in Heanor and the surrounding area to stay alert after read more

---

Ripley Christmas Light Switch On Cancelled It is with deep regret that Ripley Town Council will not be holding the traditional Christmas Light Switch On event and the Christmas Mark read more

---

Coronavirus Act powers used to prevent festival in Riddings A Vegan Camp Out festival planning to bring 1,000 people to the village of Riddings has been served a prohibition notice. read more

---

Man jailed for assaulting police officer A man who assaulted a police officer and ripped her radio from her uniform so she could not call for back-up has been jailed. read more

---
The Amber Valley Info Noticeboard
Read Some Of The Latest Posts On Our Noticeboard
Temporary Road Closure - Brackenfield Lane Wessington Derbyshire County Council have advised of a road closure at Brackenfield Lane Wessington between a point 180 metres north of it read more

---

Prince's Trust start their next Team Programme Prince's Trust start their next Team Programme for 16-25 year olds on 28th September. read more

---

Ripley and Alfreton Tennis Club are Calling all juniors from 4 years to 18 Calling all juniors from 4 years to 18 who would to try tennis at our Club. They are just starting our Aut read more

---

Temporary Road Closure - Jacksons Lane, Heage Derbyshire County Council have advised of a road closure at Jacksons Lane, Heage between its junction with B6013 New Road and a point 1 read more

---

Temporary Road Closure - B6374 Heage Road, Ripley Derbyshire County Council have advised of a road closeure at B6374 Heage Road, Ripley between its junction with Derwent Business Pa read more

---
---