Celebrating the festive season with the National Trust in Derbyshire
Published on Saturday 30 November 2019
If you're looking for somewhere special to spend time with family and friends this Christmas, look no further than the National Trust's places in Derbyshire.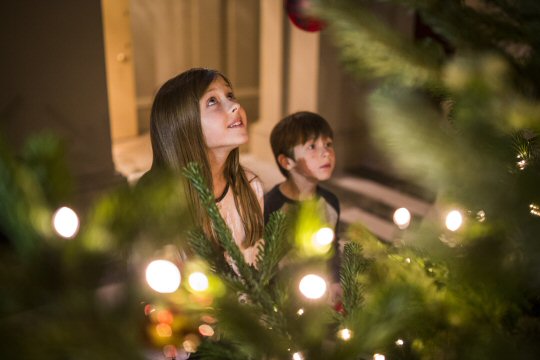 You can see historic houses decked out for the season, interactive giant board games, and twinkling lantern trails. Or you could make the most of crisp, frosty winter days with a stroll through one of your local National Trust countryside spaces before warming up with a hot drink and festive treat in the café.
After all that, warm yourself with the knowledge that each magical day out supports the National Trust's work as a charity looking after special places for future generations to enjoy.
Here are some of the National Trust's Christmas highlights in Derbyshire.

Sudbury Hall and the National Trust Museum of Childhood
This Christmas, bring your family and friends together for some fun and friendly competition. Enter a magical world of festive games as you play your way around the hall with larger-than-life versions of your favourite board games, test your skill with a 2 metre long buzzwire or perhaps take your chances with our giant snakes and ladders game.
There's also the chance to design your own board game or enjoy a festive lunch followed by a family favourite beetle drive. Live theatre will be part of the festive activities at Sudbury Hall this year with the return of the Lost Boys celebrating family favourite board games.
https://www.nationaltrust.org.uk/sudbury-hall-and-the-national-trust-museum-of-childhood

Calke Abbey
Make magical memories this Christmas at Calke Abbey. Whether you want to create festive family traditions, find unique gifts and treats, or enjoy a crisp winter walk in over 600 acres of striking parkland, there's something special for everyone this winter.
Find Christmas cheer in the Riding School every weekend at a range of gift and food markets. As darkness falls, let the lanterns lead the way to the candle-lit church, and see the house and pleasure grounds illuminated in dazzling lights. For a truly magical experience, enter the twinkling tunnels and warm those fingers and toes by the fire in the Entrance Hall.
Discover small acts of kindness along this year's festive family trail and be inspired to share a little joy. The festive trail is open every weekend from Saturday 30 November to Sunday 22 December, 11am-6pm.
http://www.nationaltrust.org.uk/calke

Kedleston Hall
Visiting Kedleston at Christmas has become a tradition for so many and we're excited for another Christmas in the Hall. There's nothing quite like seeing Kedleston's State Apartment, already a spectacle in itself, with a twinkle of Christmas. You can buy your own real Christmas tree to take home and decorate, go on a family winter walk or burn off energy by going orienteering this winter.
From weaving with willow to lantern making, there are a whole host of craft sessions and workshops to get you in the festive spirit. Some activities require advance booking so please check the website for more details.
https://www.nationaltrust.org.uk/kedleston-hall

Ilam Park, Dovedale and the White Peak
Open daily throughout the winter, Ilam Park makes for a peaceful place, away from the hustle and bustle of Christmas, to create festive traditions with family and friends. You'll find wintry walks, moments of calm to admire the far-reaching views of the limestone landscape, the fun family trail and tasty seasonal treats in the Manifold Tea-room.
Join in the festive fun with the Winter Wander Trail that runs from 30 November – 5 January. Discover wintry scenes as you explore the trail and see if you can spot some of Father Christmas' reindeer. Visitors can pick up a trail map from the shop for £1 and your furry four-legged friends on a lead are welcome to join too.
https://www.nationaltrust.org.uk/ilam-park-dovedale-and-the-white-peak

Longshaw, Burbage and the Eastern Moors, Derbyshire
This winter, the team at Longshaw invite you to join them for some festive cheer when selecting your Christmas tree. The Longshaw Christmas trees are grown at the estate or at other local nurseries and when you come to create a family tradition at Longshaw you are helping to look after this beautiful and dynamic estate and its wildlife for future generations.
Families wanting to escape the hustle and bustle of Christmas can also join in the festive fun with the Red Deer Trail which runs from 23 November to 5 January. If you're looking to create some festive decorations for your home then visitors can go to the Moorland Discovery Centre for some natural festive craft-making.
https://www.nationaltrust.org.uk/longshaw-burbage-and-the-eastern-moors

Hardwick, Derbyshire
You'll find plenty of Christmas cheer at Hardwick. Explore the Hall (open Wednesdays – Sundays) until 22 December and see it sparkle with festive stars and lights. Families can follow their noses and enjoy a festive, smelly trail. The Stables shop has gifts for all the family, and you can even choose your Christmas tree too. Indulge in a festive treat in the Great Barn restaurant including traditional Christmas dinner, mulled wine or a cranberry and orange scone. Every visit and penny spent at Hardwick goes back into supporting Hardwick.
https://www.nationaltrust.org.uk/hardwick-hall
---
More News From Amber Valley Info
Read Some Of The Latest News Articles From Amber Valley Info
The NHS Test and Trace service launches today The NHS Test and Trace service launches tomorrow. Here's how YOU can play a part in controlling the virus read more

---

Robertson Safely Completes Derbyshire Dementia Care Home During Covid-19 Crisis One of the countrys leading infrastructure and construction firms announced the completion of a much- read more

---

Co-op customers now offered choice of whether or not to have a receipt Central England Co-op has yesterday announced that customers will be asked if they would like a receipt with t read more

---

Apprentice countryside warden vacancy with Derbyshire County Council Derbyshire County Council are looking for an Apprentice Warden within the Economy, Transport and Environment dep read more

---

Regional Recognition For Safe and Sound Derbyshire's specialist child exploitation charity Safe and Sound has been shortlisted for two regional awards in recognition of its achievem read more

---
The Amber Valley Info Noticeboard
Read Some Of The Latest Posts On Our Noticeboard
Free parking to local NHS staff and volunteers Amber Valley Borough Council are offering free parking to local NHS staff and volunteers, in all of our pay and display car parks. read more

---

Codnor Castle Heritage Trust - Partial Collapse Of Outbuildings Since lockdown has been in place there has been massively increased footfall at Codnor Castle. read more

---

Cervical screening - Scam Alert Derbyshire Trading standards team is warning that some women are being contacted by a text message claiming to be from the call and recall service sa read more

---

New Mayor of Heanor & Loscoe Town Council Elected At the Town Council Meeting held on Thursday 7 May 2020, Councillor Kieran Hill was duly elected as the new Mayor of Heanor & Losco read more

---

Heanor Local History Society - Download A Free VE DAY 75 Newsletter To celebrate the 75th anniversary of the end of fighting in the European theatre of World War II, the Local Histo read more

---
---