Look Out For 'Your Council Your Voice' Survey And Have Your Say
Published on Tuesday 22 October 2019
Residents across Derbyshire are being encouraged to have their say on council services and finances as part of a wide-ranging new survey launched yesterday (Mon 21 Oct).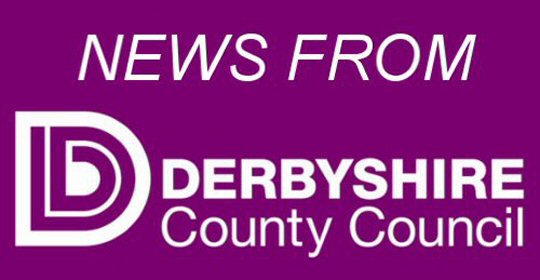 Derbyshire County Council's `Your Council Your Voice' survey gives county residents the chance tell the authority what they think of the services they use, how satisfied they are with them and how they find out about them.

Launching Your Council Your Voice, Derbyshire County Council Leader Councillor Barry Lewis urged residents to take part and have their say by completing the new look survey which is open for six weeks.

People will also have the opportunity to say how satisfied they are with the areas where they live and what they think about Derbyshire as a whole, whether they are proud of the county and if they think it is a safe place to live.

It's the first time the council has combined its annual budget consultation with a more wide-ranging questionnaire.

As well as asking about a range of services the council provides, there are questions about the authority's budget and how spending is prioritised.

People are asked to list their top and bottom three priorities from a list of services the council provides, from transport planning, highways maintenance and libraries to fostering and adoption, museums and arts and welfare rights. There is also an opportunity for people to give additional information about why they have ranked services as high or low priority.

A new question relating to council finances asks people to look at a range of options the council could consider in order to save money or raise additional revenue and to rank them in order of preference. The options include reducing or stopping less important services and putting more services online to increasing council tax or using council assets to win business from the private sector. People are also able to add their own suggestions.

Last year's budget consultation saw nearly 7,000 people responding via the survey and the council is expecting this number to increase due to the questionnaire being expanded to include other issues.

Councillor Barry Lewis said: "We continue to run an effective, efficient and strong council providing the best value for money, and we are doing this in the face of greater demands on our services and on-going budget pressures.

"What we need to know is whether Derbyshire residents think we're getting it right, what changes they'd like to see and whether their priorities have changed from last year.

"We've expanded the survey this year so we can take a closer look at what people think about where they live and what they think the council could do to save money or raise additional revenue.

"It's really important to us that as many people give their views as possible so we get a very clear picture of what people across the county are thinking and what their priorities are."

To take part people should go to www.derbyshire.gov.uk/yourvoice
Papers copies are available on request by emailing haveyoursay@derbyshire.gov.uk

The survey runs until Sunday 1 December. People taking part have the chance to win £100 of shopping vouchers in a prize draw.

No decisions about the council's budget have been made and the council's Cabinet will consider the survey responses relating to the budget, along with budget proposals, at a meeting in January 2020.

Derbyshire residents will be given the chance to have their say about individual proposals which may affect them after decisions have been made about the overall budget.

Responses relating to non-budget issues in the survey will be used to help shape and improve council services in the year ahead.
---
More News From Amber Valley Info
Read Some Of The Latest News Articles From Amber Valley Info
Open culture at Derbyshire NHS trust is one of the best in England, independent finding Derbyshire Community Health Services NHS Foundation Trust has been ranked in the top 10 NHS o read more

---

CCG Annual Report Published NHS Derby and Derbyshire Clinical Commissioning Group has published its first Annual Report and Accounts. read more

---

Mobile speed camera locations in Derbyshire until the 22nd July Derbyshire Casualty Reduction Enforcement Support Team (C.R.E.S.T) will be carrying out mobile safety camera enforcem read more

---

Derbyshire Record Office Set To Reopen This Week Derbyshire Record Office is set to reopen for an appointment only service on Thursday (9 July). read more

---

Appeal after alleged assault in Wirksworth Police are appealing for witness to an altercation between two groups teenagers and an alleged assault in Wirksworth. read more

---
The Amber Valley Info Noticeboard
Read Some Of The Latest Posts On Our Noticeboard
Derbyshire Unemployed Workers' Centres (DUWC) Reopens In Alfreton Have you lost your job? Struggling to pay rent or council tax? Need help filling in forms? DUWC ARE HERE TO HELP. read more

---

New Shop Opening In Heanor Today Behind the Seams is a new haberdashery shop opening tomorrow on Derby Road, Heanor read more

---

A website to help the people of Derbyshire to Live Life Better Whether you want to feel fitter, lose weight or quit smoking here's a website to help the people of Derbyshire to Live read more

---

Emergency Road Closure A609 High Street, Belper. Please find details of the emergency road closure for A609 High Street, Belper. read more

---

Announcements - Waingroves Show Cancelled The Waingroves Show for 2020 has been cancelled, please see the attached statement from the organisers. read more

---
---