American Cars to Heage Windmill
Published on Tuesday 17 September 2019
Once again we are delighted to welcome a visit to Heage Windmill by a group of flamboyant, and large, American cars , trucks and motor bikes owned by members of the 'Coffee and Cars' club. They will include cars, hot rods, trucks and hopefully motor bikes which have been restored and presented as a very colourful display. However any owner of an American car is also welcomed to come as well and help swell the numbers. The best car on show, as judged by the mill, will be awarded a special prize.car of the day trophy, HotRods, Classics, American, Trucks and Bikes all welcome, all donations go to the upkeep on the Windmill, to a great cause keeping the Windmill going. Also on site will be a burger van ,whilst there should also be other stalls as well.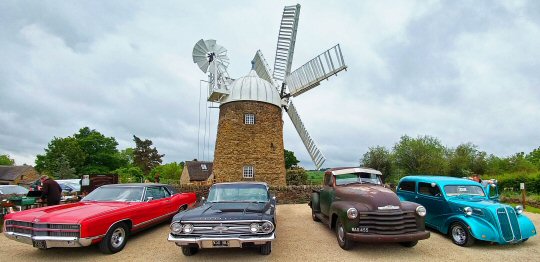 We have enjoyed their previous visits - and so did the car owners and they have asked if we could receive them again next Sunday, September 22nd So there will be another 'Little America' at the windmill when huge Buicks, Cadillacs etc will be on show. The mill and the cars will be open from 11-00 am until about 4-00 pm. The windmill will be open for tours (last tour 3-30) as usual so if readers missed the earlier visit of these amazing cars or want to see more of these monsters this is a date for your diary,
The windmill will be open during 2019 (11-00am to 4-00pm) every weekend from
April 6th until the end of October. Large, free, car park!
Guided Mill Tours Charges for 2019
Adults £4-00 Concessions, including Gold Cards £3-50, Children (5-16) £2-00 (parents can buy one and get one free for children in the same age group) Children under 5 are free.
Organised Adult parties of up to 10 people - £50-00. For each additional person £5-00 is payable).
School Parties and other children's groups -Standard charge of £40.00 for up to 28 people (contact Lynn on 01773 715177)
See web site for more information www.heagewindmill.org.uk
---
More News From Amber Valley Info
Read Some Of The Latest News Articles From Amber Valley Info
This Year's Summer Reading Challenge At Derbyshire Libraries Goes Digital Derbyshire County Council libraries are supporting this year's summer reading challenge which is going digi read more

---

Concerns for missing Mackworth boy Police are concerned for the welfare of a 12-year-old boy who is missing from his home in Mackworth. read more

---

Central England Co-op rolls out its next phase of social distancing measures Central England Co-op has outlined the second phase of social distancing measures aimed at keeping colle read more

---

Video conference for NHS public trust board meeting on 4 June The next trust board meeting of Derbyshire Community Health Services NHS Foundation Trust will be run as a video confer read more

---

Pandemic restrictions force organisers to cancel town's popular classic car show THIS year's Ilkeston Heritage and Classic Vehicle Show has been cancelled because of the Government read more

---
The Amber Valley Info Noticeboard
Read Some Of The Latest Posts On Our Noticeboard
Issues With Severn Trent Water Pressure In Some Areas At Amber Valley Info we are based in Somercotes and have been suffering bad water pressure issues since yesterday (No water at read more

---

Nominations Are Open For The Ripley Town Council Certificate of Merit Award or Youth Award. Do you know an individual volunteer who has gone above and beyond recently? read more

---

From today, you will be able to meet up in a group of up to 6 in England. You must meet outside - in an open public space, or a garden, and keep 2 metres apart. read more

---

Derbyshire Unemployed Workers' Centre provide help and advice on welfare rights They normally have advice sessions in Alfreton, Belper and Heanor but we are now providing a telephon read more

---

More Vandalism At The Midland Railway, Butterley Midland Railway, Butterley have suffered a second day of vandalism at a time when they have no income and are trying to raise funds read more

---
---