Thank You From DLRAA Volunteers To The People Of Belper Who Donated To Our Yellow Cross Collection
Published on Wednesday 11 September 2019
To celebrate the Launch of National Air Ambulance Week (NAAW) On Saturday 7th & Sunday 8th September 2019 a bucket collection was held in the Town Centre of Belper, handing out our special yellow cross pin badges in exchange for donations. The generosity of people was fantastic and the response we got on the streets from the public was amazing despite the mixed weather, we raised £742.39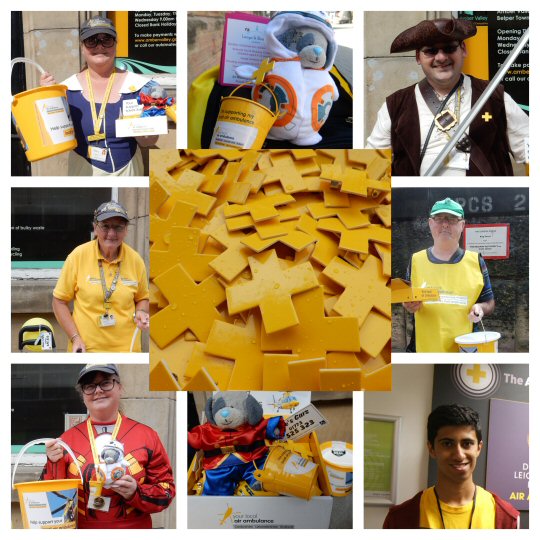 It is a time when Air Ambulance Charities come together across the country, giving a national voice, raising awareness of the lifesaving service provided by your local air ambulance service. The first nationally-coordinated National Air Ambulance Week (NAAW) in 2012 proved an excellent focal point for charities to raise awareness and boost their fundraising, and has grown each year since. Air Ambulance charities across the country receive fantastic support every single day from the community, businesses and friends of the service. However, during National Air Ambulance Week (NAAW) all of the member charities get together to highlight the work undertaken locally and promote all of the hard work which goes on not only during NAAW but every single day of the year in saving lives.
Richard Fletcher Derbyshire Community Representative for DLRAA said "I want to thank all the people and visitors of Belper who were so generous and helped raise this money for the DLRAA, also the volunteers that joined me Grace & Julie Fletcher, Rajan Athwal, Kevin Tryner.
When you're fighting for your life, every second counts. For us, this makes every mission critical. DLRAA was formed in 2008, every day of the year your local air ambulance is helping save lives. Our critical care paramedics, trauma doctors and pilots fly an average of six rescue missions a day – from medical emergencies, to road traffic collisions, to sports injuries, to industrial accidents. Our rapid response gives people the very best chance of survival and recovery. But we couldn't do this without people like you. We rely entirely on donations to raise the £1,700 we need to fund each rescue mission. DLRAA receives no Government and National Lottery funding.
---
More News From Amber Valley Info
Read Some Of The Latest News Articles From Amber Valley Info
Open culture at Derbyshire NHS trust is one of the best in England, independent finding Derbyshire Community Health Services NHS Foundation Trust has been ranked in the top 10 NHS o read more

---

CCG Annual Report Published NHS Derby and Derbyshire Clinical Commissioning Group has published its first Annual Report and Accounts. read more

---

Mobile speed camera locations in Derbyshire until the 22nd July Derbyshire Casualty Reduction Enforcement Support Team (C.R.E.S.T) will be carrying out mobile safety camera enforcem read more

---

Derbyshire Record Office Set To Reopen This Week Derbyshire Record Office is set to reopen for an appointment only service on Thursday (9 July). read more

---

Appeal after alleged assault in Wirksworth Police are appealing for witness to an altercation between two groups teenagers and an alleged assault in Wirksworth. read more

---
The Amber Valley Info Noticeboard
Read Some Of The Latest Posts On Our Noticeboard
Derbyshire Unemployed Workers' Centres (DUWC) Reopens In Alfreton Have you lost your job? Struggling to pay rent or council tax? Need help filling in forms? DUWC ARE HERE TO HELP. read more

---

New Shop Opening In Heanor Today Behind the Seams is a new haberdashery shop opening tomorrow on Derby Road, Heanor read more

---

A website to help the people of Derbyshire to Live Life Better Whether you want to feel fitter, lose weight or quit smoking here's a website to help the people of Derbyshire to Live read more

---

Emergency Road Closure A609 High Street, Belper. Please find details of the emergency road closure for A609 High Street, Belper. read more

---

Announcements - Waingroves Show Cancelled The Waingroves Show for 2020 has been cancelled, please see the attached statement from the organisers. read more

---
---