Margaret Celebrates 75 Years Of Being A Derbyshire Library Member
by Amber Valley Info on Wednesday 11 September 2019


---
Derbyshire library-user Margaret Dennis has celebrated being a member of Ripley library for 75 years.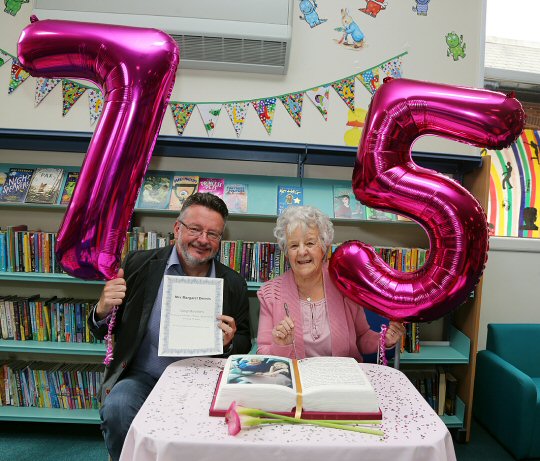 Mrs Dennis joined Derbyshire County Council's Ripley library in 1944 when she was eight years old and she has been a member ever since.
A small celebration was held at the library on Saturday and Council Leader Councillor Barry Lewis, along with Mrs Dennis's family and friends, joined her at the library in Grosvenor Road for cake and a chat.
Councillor Lewis presented Mrs Dennis, who lives in Ripley, with a certificate to mark the occasion. Her daughters Joanne Jones and Cheryl Porter organised flowers and cake.
Councillor Lewis said: "I congratulate Mrs Dennis on her enduring membership of Ripley library. I'm delighted to be here to see her and her family mark this wonderful milestone."
Councillor Lewis added: "Libraries are very important to our communities in Derbyshire and we're working hard to secure their future across the county – by creating some community-managed libraries – so that today's eight-year-olds can look forward to long and happy relationships with their local libraries."