Families And Parents-To-Be Offered Online Support
Published on Thursday 18 April 2019
Online 'hubs' offering expectant mums and families help from "bump" to birth and beyond have been launched by Derbyshire's NHS and care partners.
Jade Jones & Chloe Thompson
The 'Mother Hub' website https://motherhubderbyshire.co.uk/ supports local women and families in making informed choices about their pregnancy, maternity care, features real life stories and a postcode search to find children's centres, maternity units and breastfeeding groups in their area.
A 'For You and Baby' website www.foryouandbaby.org has been created to promote smoke-free pregnancies and provide support for breastfeeding.
Nationally more than 10 per cent women smoke during their pregnancy and at time of delivery. In Derbyshire this is higher at 15.4 per cent and Derby 16.2 per cent for 2017/18*.
The number of families able and choosing to breastfeed in Derby and Derbyshire is currently below national average. Seven out of 10 women give their new born baby breastmilk but by the time the baby is six weeks the numbers breastfeeding are four in 10 mums. For those women wanting to keep breastfeeding longer information, guidance and support is available online.
Both sites have been developed by Joined Up Care Derbyshire, the county's sustainability and transformation partnership (STP), to provide trusted and local advice and information to help them and their little ones stay healthy, well and thrive.
'Mother Hub' was created with the help of local mums and families in the Derbyshire Maternity Voices (DMV) Partnership, who helped design the site around what they felt expectant and new parents would find useful.
Jade Jones and Chloe Thomson, Co-Cordinators of DMV, were part of the work group.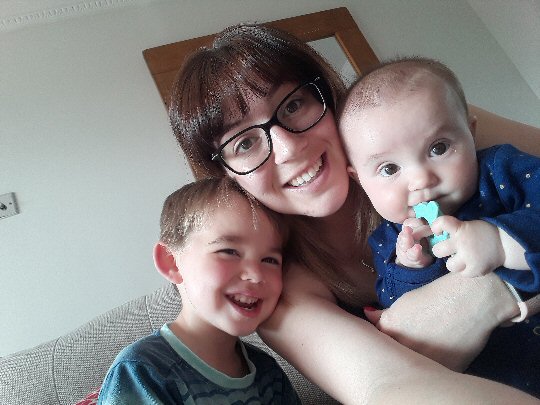 Jade, Finley & Poppy
Jade (27), from Turnditch, found being mum to Finley (three) and Poppy (six months) gave her insight and made her passionate about supporting other families.
She said: "When it's your first time expecting a baby, or if you haven't got friends or family who have had children yet it can be so hard to get good, trustworthy advice because when you look online there's tonnes of much conflicting, unreliable information from a Google search – and very little of it is local.
"We wanted this site to be like an experienced friend who knows the answers to the questions you have – and because it's online you can ask them any time, day or night!"
Chloe (25), mum of Matilda (five) and Ralphie (21 months) agreed, adding: "Becoming a mother and working in the maternity care sector has fuelled my passion for supporting families to get the best experience for them.
"Mother Hub is a really positive step and I would definitely have found it helpful during both my pregnancies and postnatal periods, especially with my first.
"Having a safe and trustworthy source, and feeling part of something bigger in the community is paramount to the wellbeing of mother and baby
"It's true that it takes a village to raise children and this is like our little online village."
Chief Nursing Officer Brigid Stacey, Maternity Lead for Joined Up Care Derbyshire, said:
"All professionals working with pregnant mums and families want birth and the early days to be healthy and as easy as possible for them.
"Having the information you need and a plan helps reassure at a time of anticipation and anxiety so we hope 'Mother Hub' is a boost for Derbyshire families.
"Pregnancy is a unique situation for those lucky enough never to have health reasons for being in regular contact with NHS teams so it can be a bit bewildering to have so many professionals working with you up to and after birth.
"Having constant access to the information and real-life stories on 'Mother Hub' is a guiding and supportive hand through one of the most exciting times of your life."
Dr Aiwyne Foo, Consultant Paediatrician at Chesterfield Royal Hospital NHS Foundation Trust, part of the working group behind the 'For You and Baby' campaign, said: "Smoking in pregnancy causes up to 2,200 premature births, 5,000 miscarriages and 300 perinatal deaths a year in England.
"Even one death in Derby and Derbyshire is too many, which is why we're encouraging families to quit smoking – not just mum to be – as research has shown pregnant women find it harder to quit when partners and family members also smoke.
"Being pregnant can be challenging in itself so quitting smoking at this time is not easy and we are here to help and support all the way".
'For You and Baby' aims to tell everyone, there is so much evidence now, that breastfeeding provides a range of health benefits for mum and baby to help strengthen their bond and provides protection against many illnesses, including ear and chest infections, tummy upsets and lowers the risk of diabetes.
Brigid added: "When mums can breastfeed, we want to support them in doing so.
"More than 250 locations in Derby and Derbyshire are in the 'Breastfeeding Welcome Here Award' scheme and we want to encourage even more shops, cafés, outlets – in fact, any public premises – to sign up to become part of this."
---
More News From Amber Valley Info
Read Some Of The Latest News Articles From Amber Valley Info
Man seriously injured following stabbing in Ripley A man has been left with serious injuries following an incident in Ripley. read more

---

Co-op reveals 380,000 items of single-use plastic removed last year ahead of World Environment Day Central England Co-op has revealed details of how its efforts to reduce its enviro read more

---

Appeal after Mackworth collision Police are appealing for witnesses after a collision between two cars in Derby yesterday. read more

---

Image released after bank card theft in Belper The card was mistakenly left in a Lloyd's bank cash machine in King Street on Monday 11 May at around 3.15pm and it is understood it w read more

---

Mobile speed camera locations in Derbyshire until the 8th June Derbyshire Casualty Reduction Enforcement Support Team (C.R.E.S.T) will be carrying out mobile safety camera enforceme read more

---
The Amber Valley Info Noticeboard
Read Some Of The Latest Posts On Our Noticeboard
Nominations Are Open For The Ripley Town Council Certificate of Merit Award or Youth Award. Do you know an individual volunteer who has gone above and beyond recently? read more

---

From today, you will be able to meet up in a group of up to 6 in England. You must meet outside - in an open public space, or a garden, and keep 2 metres apart. read more

---

Derbyshire Unemployed Workers' Centre provide help and advice on welfare rights They normally have advice sessions in Alfreton, Belper and Heanor but we are now providing a telephon read more

---

More Vandalism At The Midland Railway, Butterley Midland Railway, Butterley have suffered a second day of vandalism at a time when they have no income and are trying to raise funds read more

---

Ripley and Alfreton Tennis Club - New Member Offer Ripley and Alfreton Tennis Club are running an offer to encourage new members at the moment read more

---
---