Morgan Cars at Heage Windmill
by Amber Valley Info on Tuesday 16 April 2019


---
It was a cool, but a mostly sunny day, with just enough wind to gently turn the windmill sails, when the first organised visit by Morgan Sports Cars club arrived at Heage windmill on Sunday April 14th. Some thirty cars, in a wide variety of colours and models, were displayed on the apron in front of the working windmill and were much admired by the many visitors to the site.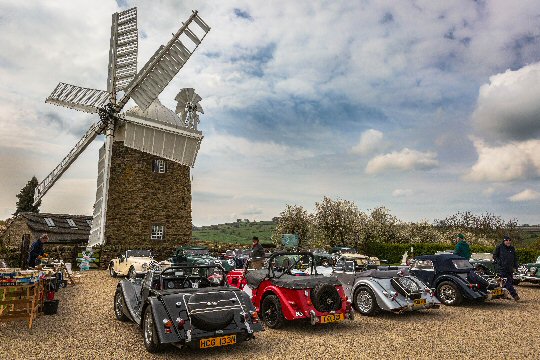 We learnt that Morgan cars were founded in 1909, and have since achieved fame throughout the world due to their unique blend of charisma, craftsmanship and performance and it was easy to see why they well so well loved by their enthusiastic owners. The Morgan Motor Company, based in Malvern, has evolved over 100 years into a true icon, a darling of the automotive industry and a brand synonymous with unrivalled excitement. The cars displayed true British craftsmanship and their owners are justly proud of their vehicles, regardless of their age.
Many of the car owners seized the opportunity to make a tour round the 220 year old windmill, which herself represents years of traditional craftsmanship.
The windmill will be formally opened next Saturday 20th April at 11-00am by John Allsop , from Belper, long time organiser of the visits of vintage tractors to the mill