DLRAA Receives Donation From Ripley Tuesday Club 2019
by Amber Valley Info on Monday 21 January 2019


---
On Tuesday 15th January 2019 Ripley Tuesday Club donated £236.45 for the Derbyshire, Leicestershire & Rutland Air Ambulance (DLRAA).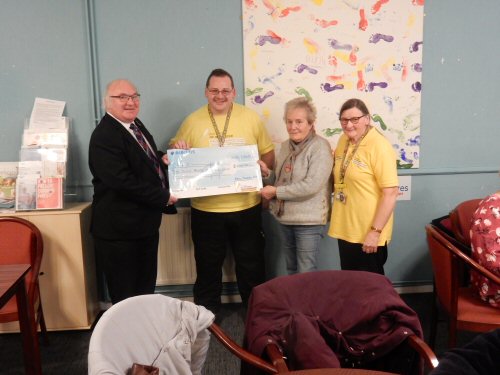 Roland Emmas-Williams presented Richard & Grace Fletcher Derbyshire Community Representatives for DLRAA, with the money at the meeting which is at Field Terrace Community Centre Ripley. The donation was made following a talk presented by Richard on the Air Ambulance Service. The members decided to have a collection to raise some money for us and the club doubled the donation and with merchandise sales the total raised was £236.45
Richard said: "We were delighted to be presented with the money from Ripley Tuesday Club. DLRAA relies entirely on donations from members of the public as it receives no Government or National Lottery funding. Therefore, support from people and this club really is invaluable and goes a long way to helping to keep our lifesaving service flying and saving lives.
DLRAA was formed in 2008 and has carried out more than 16,200 rescue missions and saved many lives in the process, each rescue mission costing on average £1,700 with DLRAA completing on average 5-6 missions every single day, 365 days a year