Classic Bikes revisit Heage Mill
Published on Wednesday 12 September 2018
On Sunday September 9th well over 300 classic motor bikes made Heage Windmill their destination. The weather was very kind with enough wind to turn the sails! About 500 visitors came specially to see these lovely, often gleaming, machines and talk to their owners. Many were able to tour the windmill and once again obtain flour, stone milled by the wind, at Heage.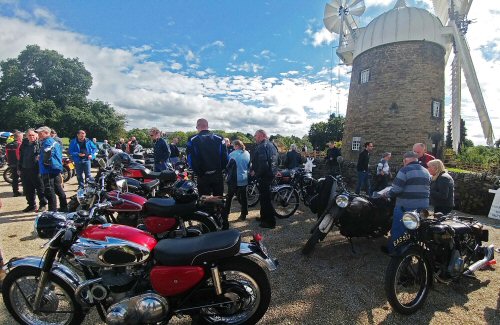 The bikes were of all types, ranging from tourers to out and out racers, and included many well-known makes, such as BSA, Honda, Royal Enfield but notable were some beautiful Vincents, Harley Davidsons and an MV Augusta.
The best bike was judged by Colin Clemens and Les Cross to be a Triumph Trident T160, 1976 and the proud owner is Bill Myles who was presented with a certificate and the recently launched 'Dave Cleaver' trophy, commemorating a man who had just loved bikes. This was presented by Colin Clemens, who organised the bikes on show.
There was the ever popular Bric-a-Brac on site plus 2 tombolas – one for adults and one for children. Also, refreshments were in high demand both from the Burger Van and from the Visitor Centre. Many thanks to Alex for providing her Burger van. All in all the day was a great success, with great feedback from everyone involved. All profits, of course, go into keeping the mill working and improving the available facilities and we thank everyone for their support.
Amber Valley Classic Car Club are dropping into the Mill on Saturday 16th September – this will not be a big event and will be weather dependent.+
Then on Sunday September 23rd at Heage Windmill there will be the 2nd visit from the vintage tractors – normally a big event.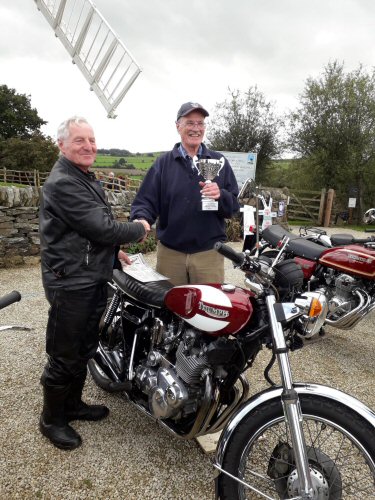 The windmill will be open during 2018 (11-00am to 4-00pm) every weekend from
April 1st until the end of October. Large, free, car park!
Admission Charges for 2018
Adults £4-00 Concessions, including Gold Cards £3-50, Children (5-16) £2-00 (parents can buy one and get one free for children in the same age group) Children under 5 are free.
Organised Adult parties of up to 10 people - £50-00. For each additional person £5-00 is payable).
School Parties and other children's groups -Standard charge of £40.00 for up to 28 people (contact Lynn on 01773 715177)
See web site for more information www.heagewindmill.org.uk
---
More News From Amber Valley Info
Read Some Of The Latest News Articles From Amber Valley Info
Man seriously injured following stabbing in Ripley A man has been left with serious injuries following an incident in Ripley. read more

---

Co-op reveals 380,000 items of single-use plastic removed last year ahead of World Environment Day Central England Co-op has revealed details of how its efforts to reduce its enviro read more

---

Appeal after Mackworth collision Police are appealing for witnesses after a collision between two cars in Derby yesterday. read more

---

Image released after bank card theft in Belper The card was mistakenly left in a Lloyd's bank cash machine in King Street on Monday 11 May at around 3.15pm and it is understood it w read more

---

Mobile speed camera locations in Derbyshire until the 8th June Derbyshire Casualty Reduction Enforcement Support Team (C.R.E.S.T) will be carrying out mobile safety camera enforceme read more

---
The Amber Valley Info Noticeboard
Read Some Of The Latest Posts On Our Noticeboard
Nominations Are Open For The Ripley Town Council Certificate of Merit Award or Youth Award. Do you know an individual volunteer who has gone above and beyond recently? read more

---

From today, you will be able to meet up in a group of up to 6 in England. You must meet outside - in an open public space, or a garden, and keep 2 metres apart. read more

---

Derbyshire Unemployed Workers' Centre provide help and advice on welfare rights They normally have advice sessions in Alfreton, Belper and Heanor but we are now providing a telephon read more

---

More Vandalism At The Midland Railway, Butterley Midland Railway, Butterley have suffered a second day of vandalism at a time when they have no income and are trying to raise funds read more

---

Ripley and Alfreton Tennis Club - New Member Offer Ripley and Alfreton Tennis Club are running an offer to encourage new members at the moment read more

---
---