Local History Cafe calls out for votes to bag a share of Tesco's carrier bag fund
by Amber Valley Info on Tuesday 10 July 2018


---
Local History Café at Brackenfield is bidding to bag a cash boost from the Tesco Bags of Help initiative.
Tesco teamed up with Groundwork to launch its community funding scheme, which sees grants of £4,000, £2,000 and £1,000 raised from carrier bag sales in Tesco stores awarded to local community projects.
Three groups in every Tesco region have been shortlisted to receive the cash award and shoppers are being invited to head along to Tesco stores and vote for who they think should take away the top grant.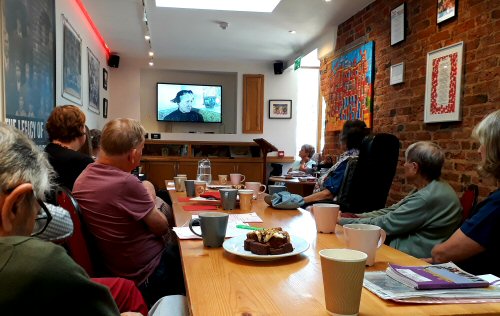 Local History Café at Brackenfield is one of the groups on the shortlist.
What is Local History Café?
Local History Cafes are heritage and wellbeing get togethers for over 50s at risk of loneliness. Each month a group meets for tea and cake, a speaker on an agreed topic of local heritage interest and a related activity.
Katherine Brown, Founder of Local History Cafes – There are eight Local History Cafes up and running across the East and West Midlands, with each one making a real difference to community members. Stories and local knowledge have been shared and, as a result, friendships have been formed and lots of spin off projects are starting to take place.
We are very much looking forward to working with Brackenfield and surrounding villages, supporting the good work already taking place within the community.
Volunteer Co-ordinator, Mike Edwards first came across the Local History Cafe initiative via a friend in Leicestershire, who was enthusing about the project in their village. He is delighted to be launching this fun and exciting scheme in rural Derbyshire and hopes to encourage other communities to get involved. 'Cafes will be held in Brackenfield and will be open to residents in neighbouring areas. There will be some transport available to help get people involved.'
Voting is open in the Alfreton Tesco store throughout July and August 2018 and customers can cast their vote using a token given to them at the check-out in store each time they shop. If you are not offered a token, please ask for one!
Tesco's Bags of Help project has already delivered over £52 million to more than 16,000 projects up and down the UK. Tesco customers get the chance to vote for three different groups every time they shop. Every other month, when votes are collected, three groups in each of Tesco's regions will be awarded funding.
Alec Brown, Head of Community at Tesco, said:
"Bags of Help has been a fantastic success and we've been overwhelmed by the response from customers. It's such a special scheme because it's local people who decide how the money will be spent in their community. There are some fantastic projects on the shortlists and we can't wait to see these come to life in hundreds of communities."
Groundwork's National Chief Executive, Graham Duxbury, said:
"Bags of Help continues to enable local communities up and down the UK to improve the local spaces and places that matter to them. The diversity of projects that are being funded shows that local communities have a passion to create something great in their area. We are pleased to be able to be a part of the journey and provide support and encouragement to help local communities thrive."
Funding is available to community groups and charities looking to fund local projects that bring benefits to communities. Anyone can nominate a project and organisations can apply online. To find out more visit www.tesco.com/bagsofhelp.