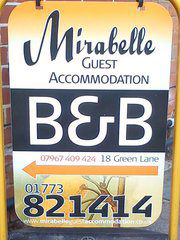 18 Green Lane
Belper
Derbyshire
DE56 1BY


The Belper Mirabelle Holiday Guest House

Number one guesthouse in belper for economy, class, style, comfort and food. We provide all requirements - double, single and kingsize rooms & beds. All our beds are "hilton delux" mattresses, and our rooms are all onsuite toilets & bathrooms.

We are fully disabled friendly and will provide any additional requirements needed. We accept children, and we have a large garden & play area for children to safely play and adults to relax in. We do accept pets and we also provide a smoking area.

We are central belper and near to rail & bus links. We also provide parking at the back of the guesthouse. We provide a large choice of breakfast & evening meal if required. We provide guests with their own keys, and they can come & go at their own convenience.

The guests who stay at The Mirabelle Holiday Guesthouse are always our No.1 priority, and their needs and comfort always come first. Within reason we shall always strive to provide whatever our guests ask for or require. If anything is ever not to your liking, then just say, and we will put it right - immediately without fail.

We provide discounts for O.A.Ps and for longterm stays. We provide tea/coffee and T.Vs in all rooms, and there is a large lounge with T.V and facilities also.

We will not let you down with comfort, service, or economy. We simply are the very best in our absolute determination to provide you with quality and value for money at low low prices.

We want you to recommend us to friends & family, and for you to do that, then we must be the very best we can be for you.