Denby Pottery Village 30th Anniversary & Cookshop Launch
Published on Friday 8 September 2023
Denby Pottery Village is celebrating its 30th Anniversary on 16th September as an experiential Visitor Centre, great shopping and eat & drink venue situated in a characterful courtyard adjacent to Denby's original 200-year-old pottery. Denby has long offered tours of its original pottery but it was in 1993 that the Visitor Centre was formally opened by HRH The Duke of Gloucester.
Over those 30 years, Denby has continued to make award winning pottery from local hardy stoneware clay; welcomed HRH The Princess Royal for the bicentenary celebrations; launched Denby Porcelain which is produced here in Derbyshire; appeared on countless TV programmes; increased overseas sales to 50% of our total production and won awards for sustainability.
Today Denby Pottery Village is a much-loved destination for both tourists to Derbyshire wishing to take tours of Denby Pottery and the local community who regularly visit our popular Bournes Café & Bistro, Farmshop, Cook and Giftshops and enjoy our pottery and seasonal craft experiences.
Meanwhile at Denby's successful Farm Shop, Greedy Pig Butchers have settled in and with a reputation for quality locally sourced meats is bringing their expertise to the Farm Shop Deli. The Greedy Pig Butchers will offer home cooked artisan pies, home roasted meats, premium cheeses, and lots more delicious deli items some of which will be available to try on 16th September and there will special offers on Deli produce too.
Denby's Premium Cookshop has had a total revamp, with many new brands and categories added, making it the ideal place to browse for the novice cook to the master chef and with items to suit every budget. Denby Pottery Village has become one of Derbyshire's largest premium destination Cookshops and includes a comprehensive selection for the kitchen, dining, laundry, cleaning and storage, supported with excellence in colleague knowledge. There will be product demos by some of the brands and a great selection of Cookshop offers too.

Alongside these new developments, Denby are running a special 30th anniversary clearance event with many items available at 1993 prices! Taking place in the Pavilion, this will be a good time to buy those extra plates for Christmas entertaining?

Commemorating 30 years, a brass band will play celebratory music in the courtyard and visitors should also look out for the generous prize draw giveaway, which has an enviable collection of cookware items and delicious Farm Shop produce as its prize.

There will be chance to try Denby Craft activities including 'play with clay' and for a small fee you can 'Have a go throw' on a Denby Potter's Wheel or paint a pot. It's also open day in the Museum so come along and chat to our Museum Curator and learn how pottery is made in our Denby Discovery Experience.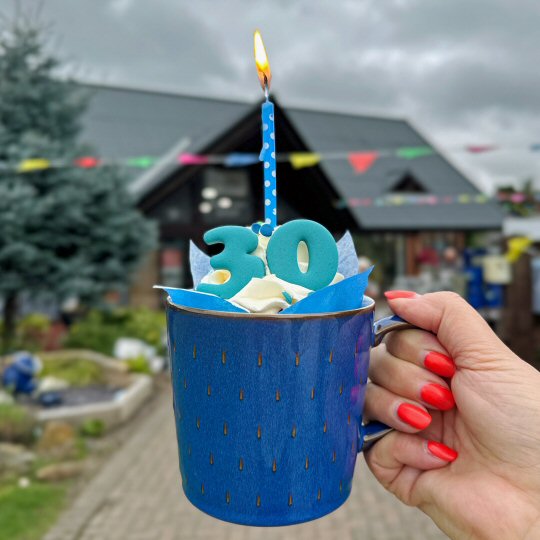 There will be lots to eat and drink in Bourne's Coffee Shop & Bistro and The Farm Shop Café, plus Greedy Pig Butcher's will have their BBQ and cakes will be available from Emma's Cakes.

So come along to join the celebrations at Denby Pottery Village 9-5pm, Saturday, 16th September. We look forward to welcoming you.
---
More News From Amber Valley Info
Read Some Of The Latest News Articles From Amber Valley Info
Appeal for information after aggravated burglary in South Normanton Police are appealing for anyone with information to come forward after an aggravated burglary in South Normanton. read more

---

DCG celebrates outstanding success in the National Teaching Excellence Framework (TEF) Derby College Group (DCG) has been awarded Gold for Student Outcomes and Silver for Student Ex read more

---

Quit Smoking For Good This Stoptober And See Good Things Happen Derbyshire smokers are being urged to quit for 28 days and see the difference that it can make. read more

---

Trust launches appeal to reclaim more space for people and nature in the heart of Ambergate! Derbyshire Wildlife Trust has secured the purchase of more than 80 acres of retired farm read more

---

Wilder Shipley event this Saturday - Celebrate Nature! Derbyshire Wildlife Trust is inviting residents across the county to Wilder Shipley, a full day of free activities to celebrat read more

---
The Amber Valley Info Noticeboard
Read Some Of The Latest Posts On Our Noticeboard
Heage Windmill Update for Visitors - Change to Opening Times Now that the sails and cap have been safely removed from the windmill, work to replace the sheer timbers (and other repa read more

---

Employers! Promote your vacancies at the Amber Valley Recruitment Event Amber Valley Borough Council is working in partnership with the Job Centre, Department for Work and Pensions read more

---

King Charles's Coronation Celebrations And Community Activities Let's Celebrate this Special Occasion Together Riversdale, Ridgeway, Sawmills. read more

---

The Social Hub @ JGFC - Daytime Social Group The Social Hub @ JGFC is a daytime social group for adults with learning disabilities. One of our 3 Hubs is based in the Amber Valley ar read more

---

Derbyshire Time Swap Give time, get time, make a difference read more

---
---