Success of Somercotes Salvation Army Plant Fair and Coffee Morning
Published on Wednesday 7 June 2023
On Saturday 20 May, Somercotes Salvation Army, held its Annual Plant Fair and Coffee Morning.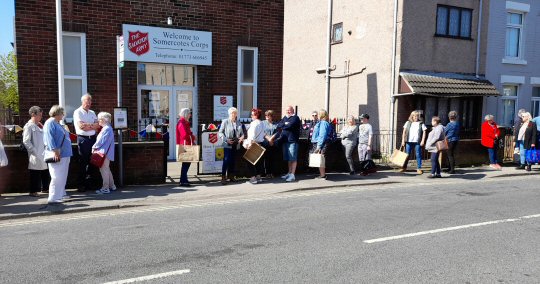 Following weeks of preparation and a hall brimming at the seams with plants, it was a relief when the doors opened to find long queues of people outside. The event was the best attended ever and greatly enjoyed from comments received and a wonderful atmosphere throughout.

This was the tenth Plant Fair held since it first began in 2012 and raised a record sum of £1,300.00, which will be used for the work of the Salvation Army in the area.

The local community entered into the spirit of the event by not just buying a variety of plants for stocking their gardens, but also in donating items for sale and helping out on stalls, which was much appreciated and since returned plant pots for recycling.

The idea behind the sale has always been to encourage people to dig up self set plants and split down overgrown areas of plants from their gardens, pot up and donate and then buy other plants they have not got at sensible prices to benefit everyone attending, and having fun.

Although the event was supported by numerous newcomers, it also saw the return of many people who previously came along each year to what is regarded as a not to be missed community, social event.

The availability of a wide variety of drinks and homemade cakes made especially for the sale encouraged people to sit down and engage in conversation in a friendly environment.

At the end of the three-hour sale, despite starting off with a hall full of plants, very little was left with almost everyone attending, taking home boxes of plants for stocking their gardens.

Somercotes Salvation Army would like to thank everyone who supported the Plant Fair and Coffee Morning, for their donations, generosity, and kindness.
---
More News From Amber Valley Info
Read Some Of The Latest News Articles From Amber Valley Info
Appeal for information after aggravated burglary in South Normanton Police are appealing for anyone with information to come forward after an aggravated burglary in South Normanton. read more

---

DCG celebrates outstanding success in the National Teaching Excellence Framework (TEF) Derby College Group (DCG) has been awarded Gold for Student Outcomes and Silver for Student Ex read more

---

Quit Smoking For Good This Stoptober And See Good Things Happen Derbyshire smokers are being urged to quit for 28 days and see the difference that it can make. read more

---

Trust launches appeal to reclaim more space for people and nature in the heart of Ambergate! Derbyshire Wildlife Trust has secured the purchase of more than 80 acres of retired farm read more

---

Wilder Shipley event this Saturday - Celebrate Nature! Derbyshire Wildlife Trust is inviting residents across the county to Wilder Shipley, a full day of free activities to celebrat read more

---
The Amber Valley Info Noticeboard
Read Some Of The Latest Posts On Our Noticeboard
Heage Windmill Update for Visitors - Change to Opening Times Now that the sails and cap have been safely removed from the windmill, work to replace the sheer timbers (and other repa read more

---

Employers! Promote your vacancies at the Amber Valley Recruitment Event Amber Valley Borough Council is working in partnership with the Job Centre, Department for Work and Pensions read more

---

King Charles's Coronation Celebrations And Community Activities Let's Celebrate this Special Occasion Together Riversdale, Ridgeway, Sawmills. read more

---

The Social Hub @ JGFC - Daytime Social Group The Social Hub @ JGFC is a daytime social group for adults with learning disabilities. One of our 3 Hubs is based in the Amber Valley ar read more

---

Derbyshire Time Swap Give time, get time, make a difference read more

---
---