Derbyshire's £2.6 Million Surface Dressing Programme Starts In June
Published on Friday 5 May 2023
The county council's annual surface dressing programme will start in June to improve the surface of roads across the county.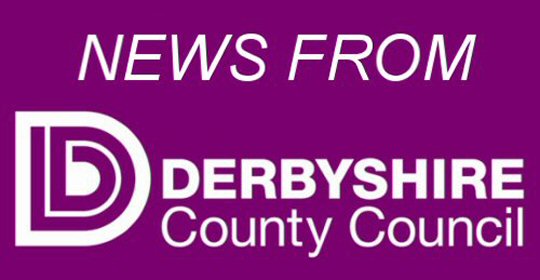 The county council's annual surface dressing programme will start in June to improve the surface of roads across the county.

In total, 34.5 miles of carriageway at 60 sites across the county will be surface dressed by the end of June at a cost of £2.6 million.

Surface dressing is a cost effective, preventative repair process which helps to prolong the life of the county's roads and makes the council's budget go further.

Yellow signs on each of the roads to be improved will be put up around 2 weeks before each job is to be carried out. Some roads will need to be closed and diversions will be in place. On some sites the road will be closed 1 side at a time under 'stop and go' boards for around 1-2 hours while the works are completed.

This investment in Derbyshire's roads is part of the county council's three-year, £120 million highways capital programme, and many other roads and pavements will be resurfaced. A full list of these roads will be published soon online at www.derbyshire.gov.uk/surfacedressing

Councillor Kewal Singh Athwal, our Cabinet Member for Highways Assets and Transport, said:

"Following the wintry weather, we've been busy repairing the damage caused by freezing conditions, fixing more than 42,000 potholes since January, across our network of around 3,500 miles of roads and pavements.

"Our surface dressing programme is an essential part of our annual planned maintenance programme, helping to prevent potholes and extend the lifespan of local roads.

"The warmer months are when we carry out our surface dressing programme as we need better weather conditions in the day-time to dry the road and for vehicles to compact the new surface.

"As 1 mile of road can be treated in just a few hours, we can work quickly and effectively, reducing the need to close roads for any longer than is necessary, minimising delays for local residents and businesses.

"I'd like to thank residents and visitors to the county in advance for their patience and understanding while these improvement works take place."

To make work more efficient the jobs have been grouped together so that all those in an area are carried out at around the same time.

Surface dressing is a technique that extends the life of a road surface between 10 and 15 years. First any potholes are mended, then a layer of bitumen is laid which acts as the glue for the chippings that are rolled on top.

Driving over the chippings helps to further bed them in and any loose chippings are then swept away one week later. Road markings (including cats' eyes) will be repainted within 14 days.

Roads can only be surface dressed when the weather is warmer and the materials can bind together more effectively and the chippings are less likely to be washed away by rain.

You can report potholes and other road defects online. A reference number will be generated so progress of the fix can be tracked.

To check roadworks in your local area, visit One.Network and sign up to create a personalised email alert tailored to your neighbourhood or for the route you drive to work.

---

Article by Derbyshire County Council
---
More News From Amber Valley Info
Read Some Of The Latest News Articles From Amber Valley Info
Success of Somercotes Salvation Army Plant Fair and Coffee Morning On Saturday 20 May, Somercotes Salvation Army, held its Annual Plant Fair and Coffee Morning. read more

---

'A Summer's Evening of Music' - Three Choir Appeal Gresley, Bestwood and the Pye Hill & District Male Voice Choirs are joining forces to support the Derbyshire, Leicestershire and R read more

---

Fly-Tipper Fined £400 For Dumping Waste Derbyshire County Council has welcomed a £400 fine handed to a fly-tipper after he dumped his waste at the gates of its household read more

---

The Derby Retro and Classic Car Show returns One of Derbys favourite summer events, the Retro and Classic Car Show, returns to Markeaton Park on Sun 2 Jul 2023. read more

---

Weight loss scheme for people with type 2 diabetes to benefit hundreds more people in Derbyshire Hundreds more people in Derbyshire are to be helped to lose weight and put their typ read more

---
The Amber Valley Info Noticeboard
Read Some Of The Latest Posts On Our Noticeboard
Employers! Promote your vacancies at the Amber Valley Recruitment Event Amber Valley Borough Council is working in partnership with the Job Centre, Department for Work and Pensions read more

---

King Charles's Coronation Celebrations And Community Activities Let's Celebrate this Special Occasion Together Riversdale, Ridgeway, Sawmills. read more

---

The Social Hub @ JGFC - Daytime Social Group The Social Hub @ JGFC is a daytime social group for adults with learning disabilities. One of our 3 Hubs is based in the Amber Valley ar read more

---

Derbyshire Time Swap Give time, get time, make a difference read more

---

Do you need help getting to certain routine health appointments, there is help available! If you need help getting to certain routine health appointments, then there is FREE transpo read more

---
---