Council Leader Welcomes Full Reinstatement Of Derwent Rail Service.
Published on Thursday 9 February 2023
The reinstatement of a full seven days a week rail service from Matlock to Nottingham has been welcomed by Derbyshire County Council Leader Councillor Barry Lewis.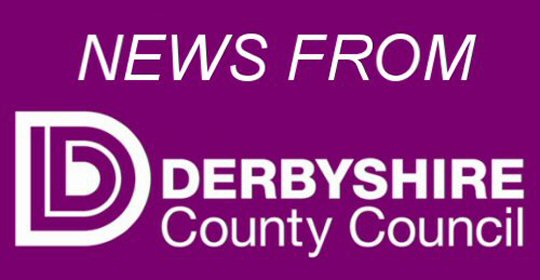 Councillor Lewis added his voice to the campaign to have the full service on the Derwent Valley Line reinstated after it was suspended by East Midlands Railway (EMR) as part of cutbacks to 43 services at the start of the coronavirus pandemic. It briefly restarted again in May 2021 only to be cut back again shortly afterwards.
EMR blamed shortages of rolling stock, high levels of staff absence because of covid and operational issues for cutting the service.

The change to the service, which had been running since 2008, resulted in passengers travelling from Matlock to Nottingham having to change at Derby and seeing their journey times double as a result.

A petition calling for the service to be reinstated was launched in July 2021, gathering more than 10,000 signatures, with Councillor Lewis joining campaigners including Derbyshire and Nottinghamshire MPs, the Derwent Valley Community Rail Partnership (which is managed by Derbyshire County Council) and The Friends of the Derwent Valley Line, to call for the return of the service to its pre-pandemic level.

Two well-attended public meetings were organised by Belper Town Council and the Derwent Valley Community Rail Partnership and Councillor Lewis met with EMR management at County Hall in Matlock urging them to listen and take action.

Councillor Lewis lobbied Government, writing to several rail ministers and Transport Secretaries in post since 2021, and in May last year he joined forces with Derby City Council Leader Councillor Chris Poulter to write to the then Secretary of State for Transport Grant Shapps, outlining the importance of the service to the area and calling for Mr Shapps to intervene to get it reinstated as soon as possible.

In May 2022 EMR reintroduced through services from Matlock to Nottingham again on Sundays and in December 2022 they introduced three morning and three evening peak time through services from Monday to Friday.

However, campaigners including Councillor Lewis, felt this did not go far enough and continued to call for a full reinstatement.

Today (8 Feb 2023) EMR has confirmed that all day through services seven days a week are due to resume this May when the timetable changes again.

Councillor Barry Lewis said: "I am extremely pleased to hear that EMR is to reinstate the full through service between Matlock and Nottingham as its withdrawal has had a major impact on the area, our residents, businesses and visitors, with a knock-on to the local economy and our tourism trade.

"The effect on people's everyday lives, for example getting to work or to school and college has been significant and has really taken its toll.

"Thanks must go to the officers at the county council who have used their expertise and worked very hard on this to ensure a positive outcome.

"It's to be welcomed that EMR has listened to the many thousands of people, groups and organisations, including Derbyshire County Council, who have called for this important service to be reinstated and it really can't come soon enough."

Local businesses have also welcomed the announcement.

Rupert Pugh, development director at Heights of Abraham in Matlock Bath said: "We are delighted and relieved to hear the news.

"The service from Matlock to Nottingham is of key importance to the local community and to us here at the Heights of Abraham.
"Train services really do help to reduce the number of cars on the road, especially as many Matlock Bath and Heights visitors do come from the Nottingham area.

"The May reinstatement coincides with special events planned here at the Heights, so it's great that we can now promote the train route alongside our events."
---

Article by Derbyshire County Council
---
More News From Amber Valley Info
Read Some Of The Latest News Articles From Amber Valley Info
Council has £160,000 in grants for groups to make a difference GRANTS of up to 10,000 are up for grabs for community organisations to help make a big difference in supporting read more

---

Chatsworth opens for new season with design led exhibition adding to 500 years of creativity Chatsworth has always been a centre for creativity, with successive generations of the C read more

---

Derbyshire Fire & Rescue Service Launches 15 Minutes to Save a Life Campaign 15 minutes to save a life! Yes, that's all it could take to protect someone you care about from the risk read more

---

Drone Helps Choir Catch New Recruits A group of local music loving, singing, entertaining, and laughing guys called Alfreton Male Voice Choir are after guys to join this forward-loo read more

---

Extra Government Money For Pothole Repairs Welcomed By Derbyshire County Council News announced in the Budget that the Government intends to provide highways authorities with an ext read more

---
The Amber Valley Info Noticeboard
Read Some Of The Latest Posts On Our Noticeboard
The Social Hub @ JGFC - Daytime Social Group The Social Hub @ JGFC is a daytime social group for adults with learning disabilities. One of our 3 Hubs is based in the Amber Valley ar read more

---

Derbyshire Time Swap Give time, get time, make a difference read more

---

Do you need help getting to certain routine health appointments, there is help available! If you need help getting to certain routine health appointments, then there is FREE transpo read more

---

You Now Need Photo ID To Vote At A Polling Station Elections are taking place across England on the 4 May. Youll need to bring photo ID to vote at a polling station. Check if your I read more

---

Belper Warm Welcome and Information Hub at Belper Leisure Centre Belper Warm Welcome and Information Hub at Belper Leisure Centre. Monday to Friday 4 - 7 pm until 31st March 2023. P read more

---
---