DLRAA Receives Donation From Belper Halloween Spooktacular Bucket Collection 2022
Published on Saturday 5 November 2022
On Friday 4th November 2022 Andy & Nikki Fearnley donated £1119.13 for the Derbyshire, Leicestershire & Rutland Air Ambulance (DLRAA)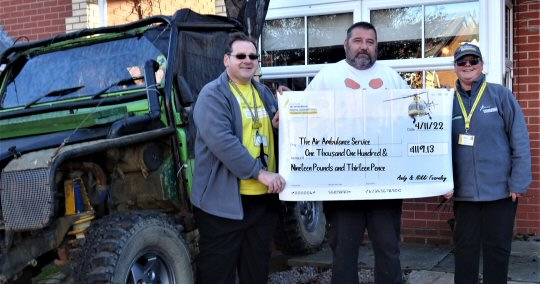 Andy & Nikki presented Richard, Julie & Grace Fletcher, Volunteer Derbyshire Community Representatives for DLRAA, with the money at their house in Belper.

They decided they would support the DLRAA in a very unique way, to decorate their front garden for Halloween and ask passers-by to make a donation. John May has done us proud over the years and this year we continue the event now in its 12th year. Andy & Nikki invited Richard and friends to the event and they helped with the setup, bucket collection and the night activities.

Richard said: "We were delighted to be presented with the money by Andy & Nikki. DLRAA relies entirely on donations from members of the public as it receives no Government or National Lottery funding. Therefore, support from people such as Andy & Nikki really is invaluable and goes a long way to helping to keep our lifesaving service flying and saving lives." We also would like to thank Andy & Nikki's Neighbours for allowing us to take over quite a few of their front gardens; and our fantastic friends for their amazing support and attendance on the evening, Emma & Jen`s Super Whippy Ice Creams, John May, the Belper Fire Service, the Hungry Hut team, Mark & Derbyshire Blood Bikes, Ben from Thomas Ryde & Son, Richard and Nailers MCC, De Bradelei Mill Belper, and The Amber Band for performing special Halloween Songs throughout the night. A huge thank you to Morrisons Belper and to the people and business who donated the sweets for the evening and Andy at Total Hire and Sales for providing the Flood Lights, and Amberon Ltd for providing all the traffic management solutions and Simon Nelson of Nelson Distribution Ltd for providing a truck for the band, who were extremely grateful for the driest spot on the night.

Andy & Nikki would also like to personally thank all their friends & family, all the people who donated and supported this event, all the amazing residents on Pottery Close that made this event possible and for Skanska who allowed Andy the time off to put this whole event together.
We are already planning for next year's event, please come and support this amazing evening at 6 Pottery Close Belper it will be Halloween Spookdracular fun for all the family & fiends. If you or a business would like to join us at the event, please email me at richf75heli@gmail.com, as we celebrate our 13th Year.

When you're fighting for your life, every second counts. For us, this makes every mission critical. DLRAA was formed in 2008, every day of the year your local air ambulance is helping save lives. Our critical care paramedics, trauma doctors and pilots fly an average of eight rescue missions a day – from medical emergencies, to road traffic collisions, to sports injuries, to industrial accidents. Our rapid response gives people the very best chance of survival and recovery. But we couldn't do this without people like you. We rely entirely on donations to raise the £1,700 we need to fund each rescue mission.

---
More News From Amber Valley Info
Read Some Of The Latest News Articles From Amber Valley Info
Trading Standards Fighting Increase In Illegal Vaping Products Efforts to tackle an influx of illegal vaping products being sold across the county are being stepped up by Derbyshire read more

---

Colleague Box on song with fans of Eurovision Bespoke gift company Colleague Box has tuned-in to the buzz of Eurovision by launching a special pack for people to enjoy while the ann read more

---

Croots Farm Shop named a finalist in the Farm Shop & Deli 2023 Retailer Awards Popular Derbyshire farm shop Croots has been shortlisted as a regional finalist in the 2023 Retailer A read more

---

Can you identify two men in Langley Mill? Police Officers in Amber Valley are asking for the publics help in trying to identify two men seen in the Langley Mill area, as they might read more

---

Three men sentenced for the murder of a man in Somercotes Three men have been sentenced to jail after Peshang Sleman was killed in 2021. read more

---
The Amber Valley Info Noticeboard
Read Some Of The Latest Posts On Our Noticeboard
The Social Hub @ JGFC - Daytime Social Group The Social Hub @ JGFC is a daytime social group for adults with learning disabilities. One of our 3 Hubs is based in the Amber Valley ar read more

---

Derbyshire Time Swap Give time, get time, make a difference read more

---

Do you need help getting to certain routine health appointments, there is help available! If you need help getting to certain routine health appointments, then there is FREE transpo read more

---

You Now Need Photo ID To Vote At A Polling Station Elections are taking place across England on the 4 May. Youll need to bring photo ID to vote at a polling station. Check if your I read more

---

Belper Warm Welcome and Information Hub at Belper Leisure Centre Belper Warm Welcome and Information Hub at Belper Leisure Centre. Monday to Friday 4 - 7 pm until 31st March 2023. P read more

---
---