The best Christmas days out with the National Trust
Published on Saturday 5 November 2022
The nights are drawing in, it's getting colder, and Christmas isn't far away. Which means it's time to get into the festive spirit – and there's no better way than visiting the National Trust.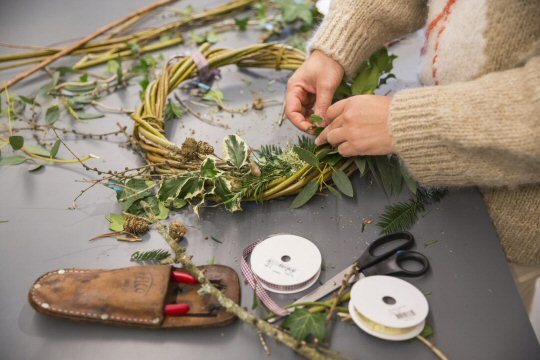 See historic houses decorated in the style of Christmases gone by, enjoy festive family trails, take part in classic Christmas crafts, or have a good old sing-along with open-air carols concerts. Experience the magic of Christmas after-dark with illuminated trails, wander through festive gardens and enjoy twinkling lights, dazzling installations and seasonal sounds. Plus, if you're lucky, you might even spot Father Christmas on one of his annual visits.
Carl Greenman, National Programming & Production Manager at the National Trust said:

"Christmas at the National Trust is always magical but this year we've got more events and activities than ever before. We can't wait to see families and friends coming together, making memories, and experiencing the festive atmosphere at the places the National Trust cares for."
Here's a roundup of some of the National Trust's best Christmas events in Nottinghamshire and Derbyshire.
Derbyshire
Hardwick Hall

The Elizabethan gardens of National Trust Hardwick Hall will be bathed in lights when it plays host to Luminate's Light Trail, from 23 November until 24 December. For the very first-time visitors will be able to walk through the illuminated gardens and experience Hardwick's history like never before. Visitors will be greeted by the formidable Bess of Hardwick herself, as they begin their journey into Hardwick's story and Elizabethan Christmas traditions.
The eyes of Hardwick's most notable faces will follow you, as magical portraits come to life to cheekily tease visitors as they pass. The Christmas traditions of Hardwick's past era will also be brought to life, as the gardens magically transform with Fairies and Sprites. Visitors will also be able to interact with the figures of Hardwick's past, proudly illuminated on the East of the magnificent hall itself. Visitors can book their tickets by visiting the Luminate website via www.luminate.live/Hardwick-hall, and can share memories of their visits by tagging in @NTHardwick.

Ilam Park, Dovedale and the White Peak

Come together at Ilam this Christmas for festive fun. From wreath-making and bauble needle felting workshops to family trails and crisp winter walks, there's lots at Ilam to get you and your family feeling Christmassy.

A very special guest, Father Christmas himself, will be visiting the Manifold Tea-room in December. Guests can enjoy a traditional breakfast, and Father Christmas will read a festive story and hand out gifts for the children. Afterwards, head out and explore the stunning Ilam Park - see how many snowflakes you can spot hidden around in our free snowflake trail. Follow the zigzag garden path to the River Manifold, have a game of pooh sticks from St Bertram's Bridge, and head up Paradise Walk. How many snowflakes will you discover on your way?

The White Peak offers some bracing and beautiful winter walks, and Ilam Park makes an ideal base to start from; pick up a takeaway hot drink to keep you warm as you explore, and finish up in the cosy Manifold tea-room for a warming lunch or cake.

High-quality, sustainable Christmas trees will be for sale at Ilam Park, with all profits going to support vital conservation work across the Peak District. Choose to buy your tree from here and help to look after the special places you love.

Longshaw, Burbage and the Eastern Moors, Peak District

Longshaw offers a special place to get together with friends and family and create festive traditions. Have a go at making your own wreath using natural materials gathered from the local area, or join a family craft session and make a Christmas decoration to take home.

Father Christmas has made time in his busy December schedule to visit the Peak District. Come to the Longshaw café for a traditional breakfast and meet our special guest, who will read a festive story after breakfast (and will of course have gifts for the children!) A free reindeer trail will be on for families every day from Saturday 26 November – search in the woods, look by the pond, see if you can find all of Father Christmas's reindeer hiding around Longshaw!

As always, our rangers will be selling high-quality, sustainable Christmas trees. Longshaw has been selling Christmas trees for nearly 50 years, and we like to say a tree from Longshaw is not just for Christmas. As well as decorating your home for the festive season, a Christmas tree from Longshaw will also help look after the landscape and wildlife of the Peak District all year round. All the money we raise through selling Christmas trees at Longshaw is put towards the vital conservation work we do, from erecting bird boxes in Padley Wood to restoring blanket bog in the High Peak to help tackle climate change.

Take the opportunity over the festive season to take a rejuvenating walk in the crisp air of the Peaks; meet up with family or friends, or take some time to yourself to explore ancient woods and tumbling streams. With the trees bare of leaves, winter is a wonderful time to take advantage of the amazing far-reaching views in the area.

Our café will be open every day serving seasonal warm lunches and hot drinks – sit inside with views across to Millstone Edge and Higger Tor, or get a take-away coffee to accompany you on your winter-wander round the estate.
Nottinghamshire
Clumber Park

Wrap up warm and get out the Christmas jumper, it's the season to celebrate and make memories at Clumber Park. We've got a host of activities to get visitors in the festive mood including a magical Father Christmas Experience (from 10 December), Breakfast with the Elves (from 3 December), Carols in the Chapel with Thoresby Colliery Band (18 December), wreath making (1 December), a Tinsel Trek (27 December) and plenty of free, fun-filled activities for children to enjoy in the Discovery Centre (from 19 November).

With over 3,800 acres to explore, there's plenty of wintery adventures to be had at Clumber Park. Whether you fancy a leisurely stroll under the winter rays or wish to get active ahead of the New Year, Clumber provides the perfect backdrop to your day out in Nottinghamshire this festive season. With a variety of countryside to walk through, from farmland and woodland to heathland, there's something different to discover around every corner. If you're looking for something more energetic, our paths are great for running and the park has over 20 miles of cycle routes to explore. We've got lots of places to play and have adventures, as well as all the open fields and hidden spots in woodlands to create your own games and make dens.
---
More News From Amber Valley Info
Read Some Of The Latest News Articles From Amber Valley Info
Trading Standards Fighting Increase In Illegal Vaping Products Efforts to tackle an influx of illegal vaping products being sold across the county are being stepped up by Derbyshire read more

---

Colleague Box on song with fans of Eurovision Bespoke gift company Colleague Box has tuned-in to the buzz of Eurovision by launching a special pack for people to enjoy while the ann read more

---

Croots Farm Shop named a finalist in the Farm Shop & Deli 2023 Retailer Awards Popular Derbyshire farm shop Croots has been shortlisted as a regional finalist in the 2023 Retailer A read more

---

Can you identify two men in Langley Mill? Police Officers in Amber Valley are asking for the publics help in trying to identify two men seen in the Langley Mill area, as they might read more

---

Three men sentenced for the murder of a man in Somercotes Three men have been sentenced to jail after Peshang Sleman was killed in 2021. read more

---
The Amber Valley Info Noticeboard
Read Some Of The Latest Posts On Our Noticeboard
The Social Hub @ JGFC - Daytime Social Group The Social Hub @ JGFC is a daytime social group for adults with learning disabilities. One of our 3 Hubs is based in the Amber Valley ar read more

---

Derbyshire Time Swap Give time, get time, make a difference read more

---

Do you need help getting to certain routine health appointments, there is help available! If you need help getting to certain routine health appointments, then there is FREE transpo read more

---

You Now Need Photo ID To Vote At A Polling Station Elections are taking place across England on the 4 May. Youll need to bring photo ID to vote at a polling station. Check if your I read more

---

Belper Warm Welcome and Information Hub at Belper Leisure Centre Belper Warm Welcome and Information Hub at Belper Leisure Centre. Monday to Friday 4 - 7 pm until 31st March 2023. P read more

---
---