Ambergate Recreation Ground improvements set to begin
Published on Tuesday 22 September 2020
Contractors have been appointed by Amber Valley Borough Council to undertake the first phase of £90,000 improvement works to Ambergate Recreation Ground, this autumn.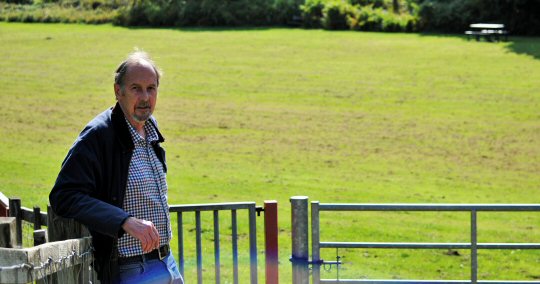 Pictured at Ambergate Recreation Gound is Councillor Paul Lobley, Member for Heage & Ambergate.
The project will consist of a large-scale re-profiling of the grass area to significantly reduce the water logging that occurs on site, to make the park more usable throughout the year.
Also included in the first phase of works is a crushed stone perimeter path, which will enable the full extent of the park to be used by all park visitors, including those with reduced mobility.
The works are due to commence by early October and are anticipated to take 3 to 4 weeks to complete, which may necessitate a closure of the park for a short period. The Council apologies in advance for any short-term inconvenience caused.

The second £50,000 phase of the works is due to be completed before the end of March 2021 and will see a major refurbishment of the children's playground to cater for a wide range of age and abilities.

Councillor John McCabe, Cabinet Member for Environment commented: "I am delighted that we are able to start work on this exciting scheme of improvements to Ambergate Recreation Ground. There could be some very short-term disruption, but I'm sure local residents will agree with me that the end result will far outweigh this."
---
More News From Amber Valley Info
Read Some Of The Latest News Articles From Amber Valley Info
Derbyshire County Council - Ready For The Winter Season Derbyshire County Council is on standby now the official gritting season has started read more

---

Now Is The Time To Take Steps To Protect Flocks From Avian Flu Derbyshire people keeping birds are being urged to take steps now to reduce the risk of their flocks catching avian fl read more

---

Time To Have Your Say In Council's New 2022 Residents Survey A wide-ranging residents survey asking for views on Derbyshire County Councils services and how it should spend its budg read more

---

Croots Farm Shop in Derbyshire named Shop of the Year Popular Derbyshire farm shop Croots has won the title of Shop of the Year in the Great Food Club Awards 2022/2023. read more

---

Local artist completes 50m mural at Chesterfield Royal Hospital Chesterfield Royal Hospital's children's department recently unveiled a special piece of artwork spanning more than 5 read more

---
The Amber Valley Info Noticeboard
Read Some Of The Latest Posts On Our Noticeboard
Heanor Miners Welfare TRUST - Memorial Garden Opening Our memorial garden with be officially opened on Sunday 9th October @ 3pm. The garden will open on the same day a memorial fish read more

---

Local venue hire at Greenwich Community Sports Hub at Nottingham Road, Ripley Local venue hire at Greenwich Community Sports Hub at Nottingham Road, Ripley read more

---

Ripley Town Council Certificate of Merit Award 2022 Do you know someone in the Ripley Township who is deserving of recognition for their voluntary work within our local community? read more

---

Stop Loan Sharks It's not always easy to spot loan sharks. They can take many guises and operate in a variety of ways. You can help protect your community from loan sharks by learni read more

---

Market Towns - Shop Front Improvement Grant Do you run a business in Alfreton, Ripley, Heanor or Belper? If so, you could be entitled to some support for shop front improvements! read more

---
---