New officers on patrol in the Heanor, Loscoe, Shipley, Smalley and Horsley areas
Published on Tuesday 27 February 2018
There are some new officers patrolling the streets of the Heanor and Loscoe and the Shipley, Smalley and Horsley areas.
PCs Garry Statham and Teresa Kay have stepped into roles on the area's Safer Neighbourhood policing teams.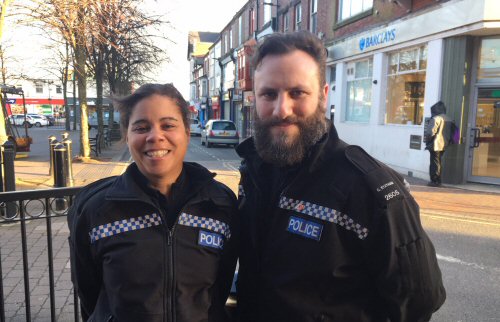 Teresa has been a police officer in Derbyshire for two years, working on the response and investigation teams across the Amber Valley and was formerly a Special Constable in Sheffield for two and half years.
Before becoming a police officer, Teresa was a Teaching Assistant at a primary school for 13 years.
Outside of work Teresa enjoys running, having completed a number of half-marathons, and has a cat called Ruddy.
Garry has almost 16 years' experience as a police officer, and during his career has worked on the response and investigation teams in Ripley, Bolsover and Staveley. He is also not a stranger to neighbourhood policing, having spent time on the Safer Neighbourhood teams in the Shirebrook and Creswell areas.
He enjoys photography and boxing, and taking his one year old Beagle puppy, called Teddy, out for walks.
Both officers have been busy out on patrol, and getting to know their area, residents and community members. They are also currently working alongside their colleagues to target concerns around anti-social behaviour in Heanor.
Team Sgt. Mark Weldon said: "We're pleased to welcome two new police officers to our Safer Neighbourhood teams in Heanor and the surrounding area.
"I'm sure Teresa and Garry will be an asset to policing, bringing their own valuable experience, skills and local knowledge to target local concerns and issues, and to help maintain a visible presence within our community."
To contact the Heanor and Loscoe, or the Shipley, Smalley and Horsley, Safer Neighbourhood policing teams, call 101 or send them a message through the My Local Police pages of the website, www.derbyshire.police.uk
You can also follow them on Twitter, @HeanorLMillSNT
---
More News From Amber Valley Info
Read Some Of The Latest News Articles From Amber Valley Info
Support for residents and businesses affected by flooding Derbyshire County County made £100,000 available to help residents and businesses affected by recent flooding. read more

---

The census is coming By taking part in the 2021 census, you can help inform decisions on services that shape your community, such as healthcare, education and transport. read more

---

Appeal after cannabis plants are discovered at a property in Pinxton Police are appealing for information after hundreds of suspected cannabis plants were discovered at a property i read more

---

Council seeks operator for Belper River Gardens pleasure boats Amber Valley Borough Council has today launched a competition to find an experienced commercial operator to run an exp read more

---

County Council Sets Out Budget And Council Tax Proposals For Year Ahead Proposals to keep a rise in council tax as low as possible while protecting vital services and meeting signif read more

---
The Amber Valley Info Noticeboard
Read Some Of The Latest Posts On Our Noticeboard
Sign Up For Flood Alerts As Heavy Rain Forecast For Derbyshire Heavy rain is forecast across the county in the coming days - with an amber weather warning in place due to the potent read more

---

Temporary Road Closure - High Road, South Wingfield Derbyshire County Council have advised of a road closure at High Road, South Wingfield between its junction with Inns Lane and a read more

---

Temporary Road Closure - Pentrich Road, Ripley Derbyshire County Council have advised of a road closure at Pentrich Road, Ripley between its junctions with Wood Lane and Mount Pleas read more

---

Lockdown Advice For Clinically Extremely Vulnerable If you are classed as clinically extremely vulnerable you need to take extra steps to stay safe read more

---

Derbyshire County Councils Community Response Unit Support is available for Derbyshires most vulnerable during the national lockdown. read more

---
---