Chatsworth opens for new season with design led exhibition adding to 500 years of creativity
Published on Monday 20 March 2023
Chatsworth has always been a centre for creativity, with successive generations of the Cavendish family commissioning art and design contemporary to their times.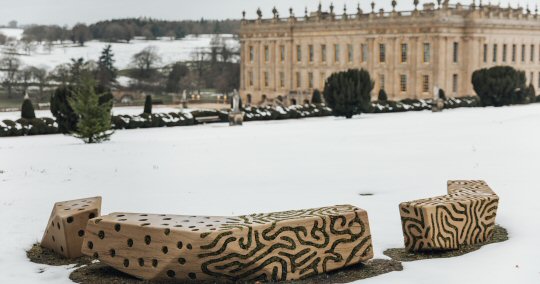 Mirror Mirror: Reflections on Design at Chatsworth' continues this legacy and will be on display in the house and garden from Saturday 18 March when the estate opens for the new season.

The exhibition features commissioned works by 16 contemporary designers. Each has responded to one of Chatsworth's spaces, either indoors or outside in the garden and have been chosen for the way that they reflect on the key issues of today, from climate, sustainability and equality to how people connect.

Alex Hodby, Senior Curator of Programme at Chatsworth, said: "This project is a fantastic opportunity to reflect on the design histories at Chatsworth and bring them to the fore with an exciting array of international artists and designers. We're fascinated with how the contemporary works in our exhibition have used materials in innovative ways to make functional and intriguing objects that are also deeply connected to the house, garden and the collections here at Chatsworth - a place where design has been a key feature for 500 years."

Jane Marriott, Director of Chatsworth House Trust, said: "We have invited 16 world renowned artists and designers to reflect on 500 years of design and craftsmanship at Chatsworth. Their bold, inspiring and sometimes humorous works allow us to connect with the many stories at Chatsworth and to also reflect on the urgent issues of our time from our use of materials, sustainability and the climate crisis. As a charity, we are very proud to continue to commission and support artists and by doing so we make Chatsworth's history come alive, while looking forward to the future."

Lord Burlington, Chairman of the Chatsworth House Trust said: "We are thrilled to bring Mirror Mirror and these 16 remarkable designers to Chatsworth, to continue the tradition of placing new objects and ideas in direct conversation with creative choices from generations past. With this exhibition, as well as a significantly enhanced programme of talks, tours and workshops, the aim is to ensure Chatsworth upholds its role as a gathering place and a resource for artists, thinkers, makers and learners. We look forward to welcoming them all in 2023."
Co-curated by Alex Hodby, Senior Curator of Programme at Chatsworth, and writer, historian and curator Glenn Adamson, the exhibition places contemporary works in direct relationship to the historic design at Chatsworth, creating unexpected connections with the house's architecture, interiors, furniture, ceramics, as well its essential materials of glass, stone, wood, and light.

The sixteen contemporary artists and designers featured in the exhibition are: Ini Archibong, Michael Anastassiades, Wendell Castle, Andile Dyalvane, Ndidi Ekubia, Najla El Zein, Formafantasma, Joris Laarman, Max Lamb, Fernando Laposse, Jay Sae Jung Oh, Samuel Ross, Chris Schanck, Ettore Sottsass, Faye Toogood, and Joseph Walsh.

For more information, visit www.chatsworth.org
---
More News From Amber Valley Info
Read Some Of The Latest News Articles From Amber Valley Info
Success of Somercotes Salvation Army Plant Fair and Coffee Morning On Saturday 20 May, Somercotes Salvation Army, held its Annual Plant Fair and Coffee Morning. read more

---

'A Summer's Evening of Music' - Three Choir Appeal Gresley, Bestwood and the Pye Hill & District Male Voice Choirs are joining forces to support the Derbyshire, Leicestershire and R read more

---

Fly-Tipper Fined £400 For Dumping Waste Derbyshire County Council has welcomed a £400 fine handed to a fly-tipper after he dumped his waste at the gates of its household read more

---

The Derby Retro and Classic Car Show returns One of Derbys favourite summer events, the Retro and Classic Car Show, returns to Markeaton Park on Sun 2 Jul 2023. read more

---

Weight loss scheme for people with type 2 diabetes to benefit hundreds more people in Derbyshire Hundreds more people in Derbyshire are to be helped to lose weight and put their typ read more

---
The Amber Valley Info Noticeboard
Read Some Of The Latest Posts On Our Noticeboard
Employers! Promote your vacancies at the Amber Valley Recruitment Event Amber Valley Borough Council is working in partnership with the Job Centre, Department for Work and Pensions read more

---

King Charles's Coronation Celebrations And Community Activities Let's Celebrate this Special Occasion Together Riversdale, Ridgeway, Sawmills. read more

---

The Social Hub @ JGFC - Daytime Social Group The Social Hub @ JGFC is a daytime social group for adults with learning disabilities. One of our 3 Hubs is based in the Amber Valley ar read more

---

Derbyshire Time Swap Give time, get time, make a difference read more

---

Do you need help getting to certain routine health appointments, there is help available! If you need help getting to certain routine health appointments, then there is FREE transpo read more

---
---