Drug offences in schools across Derbyshire rise
Published on Friday 26 June 2020
The number of drug offences for the possession of Cannabis and the possession of hard controlled drugs like Heroin, Cocaine and Ecstacy in schools across Derbyshire have risen in the last few years, according to new insight by leading drug addiction experts UKAT.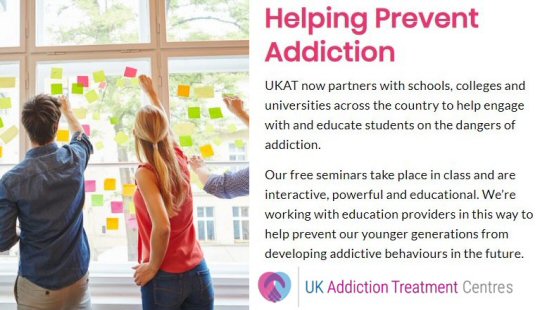 As part of a recent Freedom of Information Request, UKAT asked Derbyshire Police for the number of offences for the possession of cannabis, possession of other controlled drugs and drug trafficking recorded in schools and colleges across their patch.
The results show that in just three years, drug offences for cannabis possession have more than doubled in schools here, from 6 in 2016 to 14 in 2018.
The data also shows that in the same time period, no offences for the possession of controlled drugs were recorded until 2018, when 1 was recorded in schools across the area.
The investigation has been the catalyst for the launch of the UK Addiction Treatment Group Addiction Education Programme - a completely free, interactive workshop led by a drug and alcohol specialist, on site in schools to educate and engage with pupils on the dangers of substance misuse and peer pressure.
Part of the workshop explores the risks that come with selling drugs, something that is proven to be happening more and more in schools across Derbyshire.
UKAT's data shows that trafficking in controlled drugs offences have risen in schools across Derbyshire by 200% in just one year, from 2 offences back in 2017 to 6 in 2018.
Nuno Albuquerque, Treatment Lead at UKAT explains the importance of schools across Derbyshire taking proactive steps to prevent the problem developing further;
"Our investigation has unearthed every parents worst nightmare; that some children are exposed to and involved in drugs whilst at school; a place they thought they'd be safe at.
"It's important to stress the power of preventative action and interactive education when it comes to substances, but teachers at schools across Derbyshire may not have the time or the knowledge to confidently and correctly educate pupils on the dangers of drug and alcohol misuse.
"That's why our addiction awareness programme has launched; to take this burden from the teachers and to place it in the hands of our addiction experts.
"We are so passionate about working with schools across Derbyshire to collaborate and prevent children from developing life-changing problems with drugs and alcohol. Together, we can make a real difference."
It's not just UKAT's investigation which justifies the need for schools to take greater proactive action when it comes to tackling substance misuse on their premises.
Latest data from NHS England shows that a staggering 38% of pupils aged 11-15 years old were offered drugs in 2018. Furthermore, 19% of 15 year olds used drugs last month (data from 2018) and 29% of 15 year olds who were offered Class A drugs took them.
Nuno continues;
"Misusing drugs and alcohol as a child can cause significant short and long term life and health problems. The child could become physically and psychologically dependent on the substance, which more often than not, leads to taking 'harder' substances or consuming more alcohol in order to feel any effect.
"Because of their substance use, the child could miss out on their education, resulting in a lack of employability. They could then turn to crime to fund their lifestyle and to 'fit in' with others around them. Taking proactive, preventative measures will go a long way to ensuring this doesn't happen to the children at schools across Derbyshire."
Details on the UKAT Addiction Education Programme can be found here.
Signs of Drug Use in Children (by Therapists at the UK Addiction Treatment Group)
Changes in mood, eating and sleeping patterns
Socialising with different friends
Emotional distancing and isolating from family or loved ones
Lying or being evasive about whereabouts after school
A lack of interest in personal appearance or hygiene
Drug paraphernalia in bedroom, school bags, pockets
Physical changes like weight loss, bloodshot eyes, regular headaches and sore throats
---
More News From Amber Valley Info
Read Some Of The Latest News Articles From Amber Valley Info
Derbyshire Students Set To Receive Their A-Level And GCSE Results Thousands of students across the county are preparing to receive their A-level and GCSE results. read more

---

£47M Confirmed To Improve Bus Services In Derbyshire £47million has been awarded to Derbyshire County Council to improve bus services over the next two and a half years. read more

---

Heatwave and dry weather warning from Derbyshire Fire & Rescue Service With a ten year high in incidents recorded during the July heatwave, Derbyshire Fire & Rescue Service is renew read more

---

Three Choir Appeal Success as £1160.00 raised for Air Ambulance Carlton, Sandiacre and Pye Hill & District Male Voice Choirs joined forces to raise money for the vital service read more

---

Mobile speed camera locations in Derbyshire through August Derbyshire Casualty Reduction Enforcement Support Team (C.R.E.S.T) will be carrying out mobile safety camera enforcement o read more

---
The Amber Valley Info Noticeboard
Read Some Of The Latest Posts On Our Noticeboard
Administration Assistant Job Vacancy at Ripley Town Council Deadline for applications is 15th August 2022. read more

---

Ripley Town Council Certificate of Merit Award 2022 Do you know someone in the Ripley Township (Ripley, Waingroves, Marehay, Ambergate, Nether Heage, Heage, Bullbridge, Sawmills, St read more

---

Alfreton Male Voice Choir are looking for new members Ever fancied joining a choir, Alfreton Male Voice Choir are looking for new members... read more

---

Ripley St. Johns CE Primary School and Nursery Closed Today School will be closed today (24th June) due to problems with the water supply to site which means no toileting or hand wa read more

---

Tell Healthwatch Derbyshire about how changes at your GP practice have impacted you The way we access our GP Practices has changed over the past few years, with these changes potent read more

---
---