Time To Have Your Say In Council's New 2022 Residents Survey
Published on Tuesday 4 October 2022
A wide-ranging residents' survey asking for views on Derbyshire County Council's services and how it should spend its budget has been launched.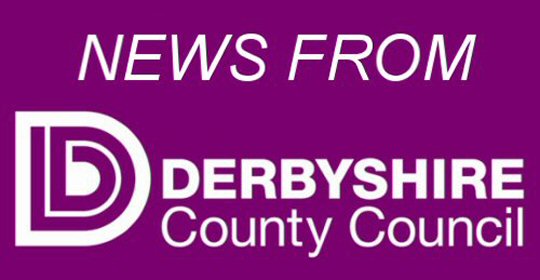 All Derbyshire residents are being encouraged to take part in the annual Your Council Your Voice survey www.derbyshire.gov.uk/yourvoice2022 which was launched yesterday (Monday 3 October).

Thousands of Derbyshire residents are expected to take the survey and give their views on a number of council-related areas.

The survey is an opportunity for Derbyshire residents to tell the council what they think about the services they use, how satisfied they are with them and which ones they think are most important and why.

As well as the online questionnaire, a series of face-to-face and online focus groups will be set up in the next few weeks and details will be announced shortly as to how to register to take part.

Derbyshire County Council Leader Councillor Barry Lewis launched the 2022 survey encouraging people to take part and give their views which will be used to shape how the council is run and spends its budget in the next financial year.

Councillor Lewis said: "It's been an incredibly busy and productive year and we've achieved many things that will benefit and support our residents and communities as we continue to recover from the effect the pandemic has had on our lives and our economy.

"It's obvious to all that there are tough times ahead too as we face the rising cost of living which is already being felt in households across the country and will impact on the council's budget and services too.

"We are doing all we can to continue to offer high quality services to benefit those who need them, while continuing to push forward with plans that will support households and businesses and invest in vital areas. However, this is with a backdrop of increases in prices that means that the previously identified need to make savings of over £40m in the medium term to balance the books is likely to be revised upwards significantly.

"As an enterprising council we will continue to explore and put in to practice different ways of saving money and generating income while protecting and delivering local services that meet the needs of our residents."

Councillor Lewis added: "We'd like to hear from our residents via our annual survey, as their views will help us to shape the council, our services and how we manage and spend the budget for the year ahead."

The survey itself is divided into clear sections making it straightforward to complete.

One of the main sections asks questions about the council's budget, asking people to give their views on which services should be prioritised when it comes to spending for 2023-24 and which areas they think should not.

People are asked to list their top and bottom three priorities from a list of council services, with an opportunity to give additional information about why they have ranked services as high or low priority

Other topics covered include asking people how satisfied they are with where they live, if they are proud of Derbyshire and if they think it is a safe place to live.

People are also asked if they are involved in any organisations or groups, whether they offer help and support to others as a volunteer and if they feel supported and know where to get advice and support.

Ideas for saving money and raising additional revenue are also areas covered, with the opportunity for participants to give suggestions.

The survey runs until Sunday 13 November 2022.

Papers copies are available on request by ringing Call Derbyshire on 01629 533190.

Those taking part will get the opportunity to enter a prize draw with one person winning £100 of shopping vouchers.

The council's Cabinet will consider the survey responses relating to the budget, along with budget proposals, at a meeting in early 2023, and it will then be considered at a meeting of the Full Council in February.

Derbyshire residents will be given the chance to have their say about individual proposals which may affect them after decisions have been made about the overall budget.

Responses relating to non-budget issues in the survey will be used to help shape and improve council services in the year ahead.
---

Article by Derbyshire County Council
---
More News From Amber Valley Info
Read Some Of The Latest News Articles From Amber Valley Info
Derby College awarded College of Excellence by UKs leading spa resort, Ragdale Hall Spa Derby College has been awarded a College of Excellence 2022 by the UK's 'Best Spa for Guest read more

---

Derby's festive spirit boosted by Cathedral Quarter & St Peters Quarter events Music, colourful Christmas elves, a free Santas Grotto and giant snow globes all arrive in Derby this read more

---

Local opticians focused on supporting community foodbank AN OPTICIANS in Belper has chosen to support local charity Hope for Belper for the second year running. read more

---

Former Derby College Student Wins Prestigious Accolade A former Games Development student at Derby Colleges Joseph Wright Centre has won a Bronze BTEC Award in recognition of his ac read more

---

Appeal For Help On Assault Of Lorry Driver In South Normanton Police Officers investigating an assault of a lorry driver are appealing for the public's help. read more

---
The Amber Valley Info Noticeboard
Read Some Of The Latest Posts On Our Noticeboard
Job Vacancies At Ripley Nursery Childcare Job Vacancies At Ripley Nursery Childcare read more

---

Waingroves Community Asociation Appeals For More Active Members The Community Association are seeking new members to assist with the day-to-day running of the Centre on Church Stree read more

---

Belper & Duffield Rotary - Santas elves are busy Santas sleigh is having a makeover in a quiet studio on Belpers outskirts. A fresh coat of paint, new wheels and tyres and electrics read more

---

Heanor Miners Welfare TRUST - Memorial Garden Opening Our memorial garden with be officially opened on Sunday 9th October @ 3pm. The garden will open on the same day a memorial fish read more

---

Local venue hire at Greenwich Community Sports Hub at Nottingham Road, Ripley Local venue hire at Greenwich Community Sports Hub at Nottingham Road, Ripley read more

---
---