Local artist completes 50m mural at Chesterfield Royal Hospital
Published on Friday 30 September 2022
Chesterfield Royal Hospital's children's department recently unveiled a special piece of artwork spanning more than 50 metres, created by local illustrator and artist, Sally Anderson.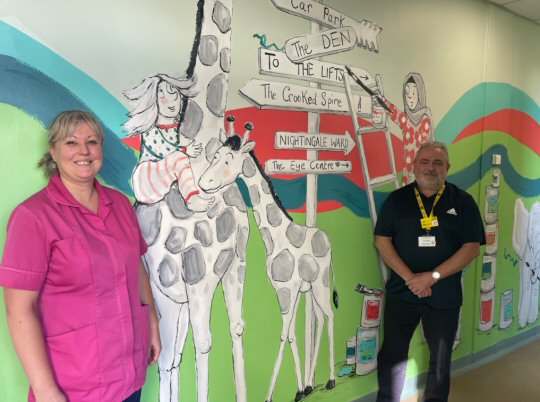 Image (L-R) features Jenny Reaney, Play Specialist Team Leader and Ken Godber, Charity Director.
Sally's largest piece of artwork to date, which took more than a month to plan, was commissioned by Chesterfield Royal Charity to boost the spirits of some of the hospital's smallest patients, their family, and colleagues.
The original Nightingale Ward main corridor was an impressive backdrop for Sally's creativity and unique style of drawing and illustration – which features animals, people and some local landmarks patients and colleagues might recognise.
The artwork took six weeks to paint by hand, with Sally carefully choosing the paint colours that worked well together and suited the existing colour scheme. The final artwork creates a bright and friendly entrance to the hospital's children's ward.
Ken Godber, Charity Director said: "Charitable funds allows unique opportunities to improve the 'face' of our hospital, benefiting colleagues, patients, and visitors. This corridor leading to our children's ward was plain and uninviting – now with Sally's mural, the journey to our Nightingale Ward is exciting and certainly more welcoming for our patients."
Sally Anderson, local artist from Chesterfield said: "I really enjoyed the interaction I had with people as I painted the corridor and seeing how children reacted to certain animals was really rewarding and fulfilling.
"It's not always a nice experience to walk down a hospital corridor for a child, or even a grown-up, so I thought if I could get them to look at the animals and children instead, it may distract them and make them smile."
When asked about the vision for the artwork, Sally said: "I wanted the mural to be inclusive of all children, regardless of race, ability, or age. My inspiration was to make sure children who visited the hospital could see themselves within the artwork – this mural is for them, and when entering Nightingale Ward, I hope they are able to take a few moments to enjoy the artwork and imagine themselves as part of it."
Jenny Reaney, Play Specialist Team Leader, approached the hospital's charity to commission a local artist to freshen up the corridor after receiving feedback from patients and colleagues. She said: "We're delighted to be able to unveil this artwork to our little patients, their families, and our colleagues. The design by Sally is incredible and we're delighted with the outcome. It really improves and enhances the area; I've already seen some patients stop to look and follow the illustrations down the whole 50m corridor!
"Thank you, Sally, for the time and effort you put into this mural – we're delighted with it and we're proud to have this on our site as a welcome for our little patients coming onto site for their treatment and care."

---
More News From Amber Valley Info
Read Some Of The Latest News Articles From Amber Valley Info
Derby College awarded College of Excellence by UKs leading spa resort, Ragdale Hall Spa Derby College has been awarded a College of Excellence 2022 by the UK's 'Best Spa for Guest read more

---

Derby's festive spirit boosted by Cathedral Quarter & St Peters Quarter events Music, colourful Christmas elves, a free Santas Grotto and giant snow globes all arrive in Derby this read more

---

Local opticians focused on supporting community foodbank AN OPTICIANS in Belper has chosen to support local charity Hope for Belper for the second year running. read more

---

Former Derby College Student Wins Prestigious Accolade A former Games Development student at Derby Colleges Joseph Wright Centre has won a Bronze BTEC Award in recognition of his ac read more

---

Appeal For Help On Assault Of Lorry Driver In South Normanton Police Officers investigating an assault of a lorry driver are appealing for the public's help. read more

---
The Amber Valley Info Noticeboard
Read Some Of The Latest Posts On Our Noticeboard
Job Vacancies At Ripley Nursery Childcare Job Vacancies At Ripley Nursery Childcare read more

---

Waingroves Community Asociation Appeals For More Active Members The Community Association are seeking new members to assist with the day-to-day running of the Centre on Church Stree read more

---

Belper & Duffield Rotary - Santas elves are busy Santas sleigh is having a makeover in a quiet studio on Belpers outskirts. A fresh coat of paint, new wheels and tyres and electrics read more

---

Heanor Miners Welfare TRUST - Memorial Garden Opening Our memorial garden with be officially opened on Sunday 9th October @ 3pm. The garden will open on the same day a memorial fish read more

---

Local venue hire at Greenwich Community Sports Hub at Nottingham Road, Ripley Local venue hire at Greenwich Community Sports Hub at Nottingham Road, Ripley read more

---
---