Derbyshire-developed Rootles snack named a finalist in prestigious baking awards
Published on Wednesday 17 August 2022
The team behind the Rootles brand of snacks is celebrating after the milk chocolate variety was shortlisted in the New Bakery Product of the Year Award.
The new brand of chocolate-covered, veg-based biscuits has been created by Helen Yates, who runs Luke Evans Bakery in Derbyshire with her husband David Yates.

Believed to be the first sweet vegetable-based snack to hit the market, Rootles are baked with 35% root veg and covered in chocolate. They are currently available in three different flavours – milk chocolate and dark chocolate with carrot, and white chocolate and beetroot, with the dark chocolate biscuit being suitable for vegans.

It's the milk chocolate Rootles snack which has caught the eye and tickled the tastebuds of the judges at the Baking Industry Awards 2022, run in conjunction with British Baker magazine, who have named the snack a finalist in the New Product of the Year Award.

"I'm absolutely thrilled," said Helen. "The Rootles brand has been specifically developed to satisfy demand for indulgent, guilt-free treats. Each pack has 121 calories which is fewer than many other chocolate snack bars because the biscuits are naturally sweetened by nutritious root veggies including carrot, beetroot and sweet potato.

"The concept of using vegetables to sweeten snacks is pretty innovative and we're delighted that the judges have awarded Rootles a place in the final of these prestigious awards."

Each pack of Rootles contains three crunchy biscuits.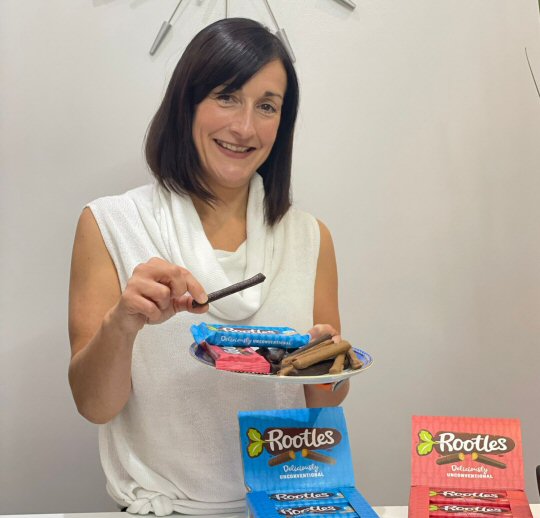 Helen was inspired to develop the product through her work mentoring and supporting international business students at the University of Nottingham. The concept of using veg in biscuits was developed as a market research project, which sparked her interest in the idea.

She later received funded support from Mission Ventures and the Good Food Fund, which identified Rootles as being a winning healthy snack to help fight obesity in children.

The innovative snacks have been welcomed as a truly ground-breaking concept in the snack world and British Baker magazine selected Rootles as one of its top picks of 2021.

Luke Evans Bakery, based at Riddings, is one of the oldest family-run bakeries in the country, with a history stretching back to 1804.

Rootles are currently on sale via Amazon, via the Rootles website and at stores across Derbyshire and the East Midlands including Croots Farm Shop in Duffield, Whites of Calver Spar and fuel station, James Retail at Derby Bus Station, Ascona Heanor fuel station as well as a number of coffee shops and cafes. They have also had success further afield, being stocked in a number of outlets across London and Northern Ireland.

The finals of the Baking Industry Awards 2022 take place at the Royal Lancaster, London on Thursday 20th October 2022.

For more details visit http://www.rootles.co.uk

---
More News From Amber Valley Info
Read Some Of The Latest News Articles From Amber Valley Info
Derbyshire County Council - Ready For The Winter Season Derbyshire County Council is on standby now the official gritting season has started read more

---

Now Is The Time To Take Steps To Protect Flocks From Avian Flu Derbyshire people keeping birds are being urged to take steps now to reduce the risk of their flocks catching avian fl read more

---

Time To Have Your Say In Council's New 2022 Residents Survey A wide-ranging residents survey asking for views on Derbyshire County Councils services and how it should spend its budg read more

---

Croots Farm Shop in Derbyshire named Shop of the Year Popular Derbyshire farm shop Croots has won the title of Shop of the Year in the Great Food Club Awards 2022/2023. read more

---

Local artist completes 50m mural at Chesterfield Royal Hospital Chesterfield Royal Hospital's children's department recently unveiled a special piece of artwork spanning more than 5 read more

---
The Amber Valley Info Noticeboard
Read Some Of The Latest Posts On Our Noticeboard
Heanor Miners Welfare TRUST - Memorial Garden Opening Our memorial garden with be officially opened on Sunday 9th October @ 3pm. The garden will open on the same day a memorial fish read more

---

Local venue hire at Greenwich Community Sports Hub at Nottingham Road, Ripley Local venue hire at Greenwich Community Sports Hub at Nottingham Road, Ripley read more

---

Ripley Town Council Certificate of Merit Award 2022 Do you know someone in the Ripley Township who is deserving of recognition for their voluntary work within our local community? read more

---

Stop Loan Sharks It's not always easy to spot loan sharks. They can take many guises and operate in a variety of ways. You can help protect your community from loan sharks by learni read more

---

Market Towns - Shop Front Improvement Grant Do you run a business in Alfreton, Ripley, Heanor or Belper? If so, you could be entitled to some support for shop front improvements! read more

---
---