Help To Get You On Your Bike
Published on Friday 13 May 2022
Are you getting the most out of your bike? Whether you're looking to become more active or reduce your reliance on your car and save on fuel costs, Derbyshire County Council can help you find your pedal power.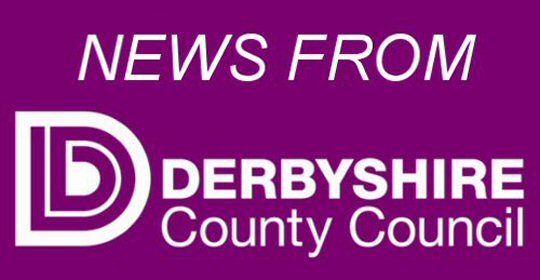 With more than 270 miles miles of traffic-free cycle routes across the county there's plenty of paths to choose from to explore Derbyshire or simply get from A to B. And the new interactive cycling map at derbyshire.gov.uk/cycling is a great place to start for ideas about where your bike could take you.
There are plenty of flat, off-road routes such as the Monsal Trail, Five Pits Trail and the recently created Clowne greenway which are perfect for cyclists just starting out.

New to cycling? Or just looking to brush up your skills? Then take a look at County Rider – the free cycle training course for adults. Provided by the county council, the course is ideal for all ability levels and great for building confidence to ride on the road. Take a look at derbyshire.gov.uk/countyrider to find out more including how to book up to four sessions with a trained cycle instructor.

Cyclists in the Chesterfield and North East Derbyshire area might also be interested in getting their bike serviced for free. The county council has teamed up with Inclusive Pedals to run a series of "Dr Bike" events where cyclists can get their bike serviced for free by a mechanic. Email info@inclusivepedals.org.uk to book a slot on the next Dr Bike event near you.

Free bike maintenance sessions are also available for cyclists who want to learn how to maintain their bike themselves. Simply email info@inclusivepedals.org.uk for more information and to book a space.

Councillor Carolyn Renwick, Derbyshire County Council's Cabinet Member for Infrastructure and Environment, said: "Whether you're a keen cyclist or just starting out, Derbyshire has many miles of traffic-free trails which are perfect for cycling – and we're in the process of adding more as part of our ambition to make Derbyshire the most connected and integrated county for cycling.
"We recognise the benefits of cycling not just for health but for the environment too and with rising fuel prices it's also a low-cost alternative to running a car.

"That's why we're supporting cyclists by making it easier for them to plan routes, keep their bikes well-maintained and brush up on their riding skills."

Dr Bike and Cycle Maintenance courses are being provided by the county council with funding from the Government's Department for Transport.
---
More News From Amber Valley Info
Read Some Of The Latest News Articles From Amber Valley Info
Councillor John Walker elected as Mayor of Alfreton Councillor John Walker elected as Mayor of Alfreton for the municipal year 2022/23 It is the sixth time he has taken the role of read more

---

Derbyshire Scouts welcome 'Jam Roll' to Great British Car Journey Arrival of Baden Powell's Rolls Royce marks 1st birthday of Ambergate classic car attraction read more

---

Derby buzzing about new Bee Bus Stops With tens of new Bee Bus Stops arriving in the city, it's not just residents getting all abuzz about the Derby's latest green investment projec read more

---

Young people in Derbyshire buzzing to raise awareness on World Bee Day! Young people in Derbyshire have been awarded £5,000 to help protect and raise awareness of the importan read more

---

Protect your loved ones as new tactics used by courier fraudsters unveiled Police are urging carers, family and friends of vulnerable people to be on their guard to help prevent the read more

---
The Amber Valley Info Noticeboard
Read Some Of The Latest Posts On Our Noticeboard
Belper Town Council - Vacancy For Outdoor Team Member Could you be the ideal person or do you know someone to join our fantastic Outdoor Team.... read more

---

Amber Valley CVS (AVCVS) Jon Opportunity Another exciting opportunity working in Amber Valley helping local residents after a spell in hospital, with volunteers in the community read more

---

Volunteers Wanted For The Just Good Friends Club The Just Good Friends Club, which is starting soon in Waingroves, is looking for volunteers to work with team supporting adults with read more

---

Advert Spaces Available On Amber Valley Info We have spaces available on Amber Valley Info for local adverts read more

---

FREE legal advice from Derbyshire Law Centre FREE legal advice for all Derbyshire residents from Derbyshire Law Centre read more

---
---