Time to Talk Derbyshire
Published on Thursday 27 January 2022
Mental health issues affect one in four people but it can still feel hard to open up and talk about how we're feeling.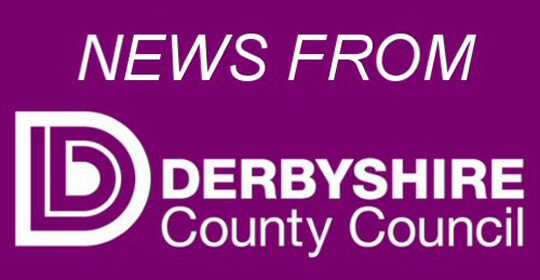 This year Derbyshire County Council is running Time to Talk Derbyshire from February 7th to March 4th.

The campaign aims to encourage everyone to be more open about mental health – to talk, to listen and to help change lives.

Derbyshire County Council's Cabinet Member for Health and Communities, Councillor Carol Hart said: "Mental health and wellbeing affects us all, and the pandemic has deeply impacted on the way that some people are feeling too.

"Sometimes just sharing how you are feeling can be the first step in helping someone to improve their mental wellbeing.

"You do not need to be a health care professional to have a conversation about mental health. Just listen, be supportive and be there."

There's some simple tips around starting a conversation about mental health:
• show you're willing to listen and talk
• listen but don't judge
• step up and make the first move
• be patient
• se supportive
• be yourself

What are you doing to start the conversation? Derbyshire County Council would like to hear from you about your experiences of talking about mental health and wellbeing.

You can email your story or ideas about how to start a conversation about mental health to asch.time2talk@derbyshire.gov.uk and we'll share your tips on social media during the Time to Talk campaign.

You can also get ideas about how to start talking about mental health at www.derbyshire.gov.uk/timetotalk

There's lots of ways to help improve your emotional wellbeing. Have you tried the Five Ways to Wellbeing? They're simple, everyday things to give your mood a little boost. Find out more at www.derbyshire.gov.uk/wellbeing

If you are concerned about your own, or someone else's, mental health then the Samaritans are on hand 24/7

You can call them free on 116 123 or visit www.samaritans.org
The Derbyshire Mental Health helpline is also available to offer free support and help. Call 0800 028 0077.

---
More News From Amber Valley Info
Read Some Of The Latest News Articles From Amber Valley Info
Councillor John Walker elected as Mayor of Alfreton Councillor John Walker elected as Mayor of Alfreton for the municipal year 2022/23 It is the sixth time he has taken the role of read more

---

Derbyshire Scouts welcome 'Jam Roll' to Great British Car Journey Arrival of Baden Powell's Rolls Royce marks 1st birthday of Ambergate classic car attraction read more

---

Derby buzzing about new Bee Bus Stops With tens of new Bee Bus Stops arriving in the city, it's not just residents getting all abuzz about the Derby's latest green investment projec read more

---

Young people in Derbyshire buzzing to raise awareness on World Bee Day! Young people in Derbyshire have been awarded £5,000 to help protect and raise awareness of the importan read more

---

Protect your loved ones as new tactics used by courier fraudsters unveiled Police are urging carers, family and friends of vulnerable people to be on their guard to help prevent the read more

---
The Amber Valley Info Noticeboard
Read Some Of The Latest Posts On Our Noticeboard
Belper Town Council - Vacancy For Outdoor Team Member Could you be the ideal person or do you know someone to join our fantastic Outdoor Team.... read more

---

Amber Valley CVS (AVCVS) Jon Opportunity Another exciting opportunity working in Amber Valley helping local residents after a spell in hospital, with volunteers in the community read more

---

Volunteers Wanted For The Just Good Friends Club The Just Good Friends Club, which is starting soon in Waingroves, is looking for volunteers to work with team supporting adults with read more

---

Advert Spaces Available On Amber Valley Info We have spaces available on Amber Valley Info for local adverts read more

---

FREE legal advice from Derbyshire Law Centre FREE legal advice for all Derbyshire residents from Derbyshire Law Centre read more

---
---