Derbyshire nurses win national award for improvements in leg ulcer care
by Amber Valley Info on Tuesday 12 March 2019


---
Community nurses from Derbyshire Community Health Services NHS Foundation Trust have won a national award for achieving big improvements for hundreds of patients with leg ulcers, through a programme called Time to Heal.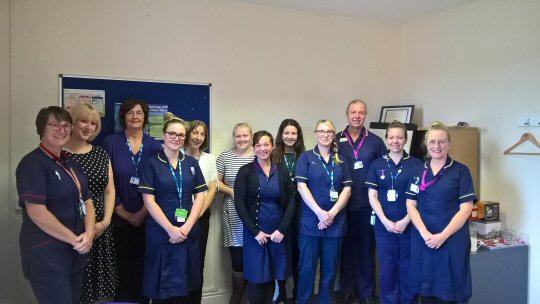 Time to Heal has given more than 200 community-based nurses additional clinical skills in treating complex leg ulcers and also in helping their patients with health coaching self-care to support their recovery at home.
Patients who have often struggled with leg ulcers for years have shown remarkable improvements, with around 300 patients across Derbyshire cured of their ulcers, and hundreds more showing significant improvements, under the new Time to Heal regime.
The success of Time to Heal has now been recognised by organisers of the national Leading Healthcare Awards, named overall winner across all categories at the awards announced on Wednesday 6 March.
Jo Hunter, deputy chief nurse for Derbyshire Community Health Services NHS Foundation Trust, said: "This is such fantastic recognition after so much hard work by the team to achieve big improvements for their patients, many of whom have lived with their leg ulcers for years. The impact on the quality of life for these patients is profound so we are really delighted it has been so successful."
The award winners were announced during a digital awards ceremony on 6 March via Linkedin, Instagram and Twitter.
A total of 214 community nurses have received specialist leg ulcer wound management training, under Time to Heal. Following this, a review of 686 patients across Derbyshire with leg ulcers found that 42% (288 patients) had healed and been discharged from care.
A total of 258 patients had complex problems and of these 17% were healed and 68% were considered to have improved after 12 weeks
Jennifer Townsend, tissue viability matron for Derbyshire Community Health Services NHS Foundation Trust, said: "Wounds have a significant impact both on the quality of life of those who have them as well as the health care system. So being able to bring in these improvements has been good news for everyone.
"The ageing population, people living longer with ever more complex long-term health problems, has resulted in an increase in chronic leg ulcers. As we are now caring for more complex patients in the community rather than in hospital whenever possible, it has been challenging. We are proud of this success and of our teams for working so hard on behalf of patients."
Jennifer added: "This has been a real team effort. Thanks to quality and business manager Lorna Hirst, all the community nurses as well as our administrative team, in particular Georgia Lincoln who did all of the administration for the whole programme."