Police in Mackworth thank public for help in identifying two nuisance motorcylists
by Amber Valley Info on Friday 8 March 2019


---
A couple of weeks ago an officer from Derbyshire Police's Mackworth Safer Neighbourhood Team asked for help in identifying two nuisance motorcyclist that had been causing anti-social behaviour.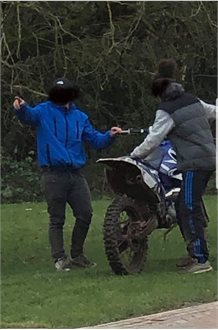 The response Police had was very pleasing and as a result of numerous replies from the community are pleased to be able to say that the two youths from Mackworth have been dealt with.
A 17-year-old young man from Dulwich Road, has been issued with a S59 warning as part of the Police Reform Act 2002, whilst a 22-year-old man from Peckham Gardens has been warned about his conduct and the effect it was having on others.
PC Emma Madden, from team, said: "I am really grateful for all the calls we got about the two lads. It just shows that the majority of the community will not stand for this type of behaviour and together we can do something about it.
"Both lads have been warned about their future behaviour and with a S59 warning having been given, if we get any repeat within a year, we can seize the bike being used"
If you are worried about anti-social behaviour in your area you can contact your local Safer Neighbourhood team using any of the following non-emergency methods:
You can follow the work of the Mackworth Safer Neighbourhood Team on social media on Twitter @MackworthSNT and Facebook at www.facebook.com/MackworthMorleySNT