PCSO provides pedal power for Riddings youngsters, pupils and parents active trips to school campaig
by Amber Valley Info on Tuesday 22 January 2019


---
Police Community Support Officers has been providing some pedal power as part of a campaign by a school in Riddings to promote active trips to school.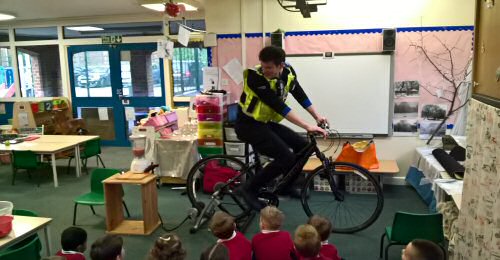 PCSO Matt Thompson, of the Somercotes and Riddings Safer Neighbourhood Policing Team, joined pupils, parents and staff at Riddings Infant School for two days of joint trips to school.
The group met at Riddings Park on Tuesday, January 8 and Wednesday, January 9 and travelled to school together on foot, bicycle or scooter.
He also helped them make some healthy homemade smoothies by lending his legs to a pedal powered blender as an extra incentive to encourage the youngsters taking part in the initiative.
The event was timed to take place during RED January, a campaign which is encouraging people and communities to support your mental health by doing something active every single day.
PCSO Thompson said: "The aim behind this initiative was to try and get children, their parents and staff travelling to school in ways other than driving, and is part of a long-term campaign by the school and Derbyshire County Council to encourage safe, active and sustainable travel.
"It was great to be a part of the school community rides, the youngsters were really enthusiastic and they seemed to enjoy making smoothies as well."
Katie Marshall, nursery teacher at Riddings infant school, said: "There's lots of evidence to show being active every day is a great way to boost physical and mental wellbeing. The added advantage of encouraging more children to make an active journey to school is it also helps to reduce the problems associated with parking and congestion around our school as well as contributing to reducing air pollution.
"It's great to have the support of the Somercotes Safer Neighbourhood Policing Team and the children really enjoyed trying out the smoothies thanks to some PCSO pedal power."
For the third year running Riddings was recognised as the best primary school in Derbyshire for reducing car trips through communal walking and scooting events to school in the East and West Midlands and North West Regional Modeshift Sustainable Travel Accreditation and Recognition for Schools (STARS) scheme awards in November.
You can follow the work of the Somercotes and Riddings Safer Neighbourhood Policing Team on Twitter, @SomercotesSNT or to contact your local officers call 101, or send a message through the My Local Police pages of the website, www.derbyshire.police.uk.
To find out more about the Modeshift STARS scheme visit https://www.modeshiftstars.org/